Student racers break records at Formula competition
Published On Thu 21 Jul 2016 by Dominic Younger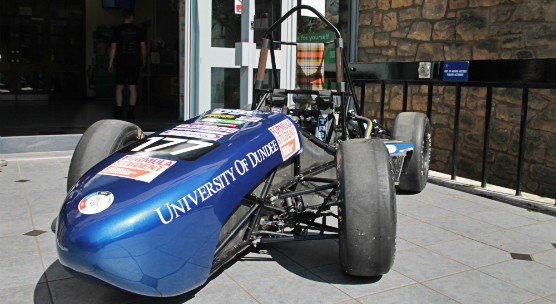 A team of University of Dundee students who build race cars have won a top award at Silverstone during the Institution of Mechanical Engineers (IMechE) annual Formula Student competition.
The global IMechE Formula Student competition sees over 130 teams from more than 30 countries entering their custom-built cars and prides itself on being the best educational engineering challenge in the motorsport industry.
Find out more about Engineering at the University of Dundee
The Dundee team, known as DRIVE, were awarded the Breakthrough Award 2016 by Formula Student's Chairman Andrew Deakin, who congratulated the team, saying "The award was much-deserved and is testament to their hard work and excellent team spirit.
"The Breakthrough Award celebrates teams that either made a significant step forward or have overcome major challenges by showing great tenacity to complete their car and participate in Formula Student."
Formed in 2007, DRIVE have been competing at the international level for almost a decade yet this year's car 'Ralph' marked a significant shift in gear for the group.
(From left to right: Steve Brison, Sol Garrett-Hanna, James Nash, Matthew Pool (sitting in Ralph), Neil Sivewright, and staff technician Tim Linford)

James Nash, Deputy Team Leader of DRIVE and a Mechanical Engineering student, explained, "Ralph is not only our most complicated, but also the most lightweight and inexpensive car to date. Every year our team of volunteers pits themselves against the odds and this year it really paid off.
"I'd like to thank Formula Student for presenting us with the 2016 Breakthrough Award. We had a great time at the event supporting the community we love. I'd like to thank all who supported us, especially our technician Tim Linford who has gone above and beyond his job description to help us, putting in extra unpaid hours and giving invaluable advice as well as help with hands-on fabrication."
DRIVE not only came away from Silverstone with the Breakthrough Award but also recorded a significant improvement in overall design, performance and acceleration than previous years.
Find out more about studying Engineering at the University of Dundee.
Follow DRIVE.
For media enquiries contact:
Dominic Glasgow
Media Relations Officer
University of Dundee
Nethergate, Dundee, DD1 4HN
Tel: +44 (0)1382 385131
Email: d.w.glasgow@dundee.ac.uk