Student puts best foot forward in forensic experiment.
Published On Tue 7 Jun 2016 by Cara Longmuir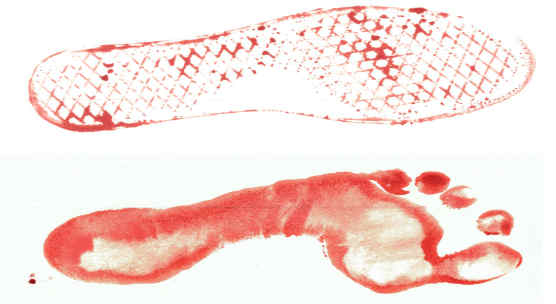 A final-year student at the University of Dundee has used his dissertation to find more ways to use footprints found at crime scenes.
Fernando Bueno Neves wanted to find out if footprints could also be used to identify body movement as part of his dissertation for BMSc Applied Orthopaedic Technology, under the supervision of Professor Rami Abboud, Head of Department and Associate Dean.
He recruited 11 volunteers who had to run and walk along tracks while their bare feet or footwear were covered in artificial blood. Each participant's body movements were recorded using a three-dimensional motion capture system.
Techniques to estimate the dynamic state of a person are currently limited, but Fernando has found that his research may be able to determine if a person was walking or running in a crime scene based on stride length measurements.
Further studies are needed, but it is hoped that the pilot study will be used to help design frameworks that could be used in a court of law.
Fernando said, "Crime fiction has fascinated me since I was young, so I had the desire to know the limitations of actual forensic research and to recognise what investigators can achieve. This was my first attempt to conduct a study of this scale, but I hope that this pilot might help to design new approaches in forensic science."
Professor Sue Black, Director of the University's Centre for Anatomy and Human Identification (CAHID) said, "This is a really interesting and incredibly timely project, given the current high level discussions being held with the Judiciary over the communication of forensic science within the courtroom.
"It is vital that the research that underpins evidence is robust and will stand up to scrutiny and challenge."
The University has been ranked top in the UK for Forensic Science in the 2017 Complete University Guide and Guardian University Guide rankings.
Fernando received a First Class Honours in his BMSc and is also a Ciência sem Fronteiras Student from Brazil. Ciência sem Fronteiras (Science without Borders) is a Brazilian Government scholarship that enables Brazilian students to study science, technology, engineering, medicine and the creative industries at some of the world's best universities.
For media enquiries contact:
Cara Longmuir
Media Relations Officer
University of Dundee
Nethergate, Dundee, DD1 4HN
Tel: +44 (0)1382 385243
Email: c.z.longmuir@dundee.ac.uk