Spooky footage reveals fiendish forensics afoot
Published On Mon 31 Oct 2016 by Cara Longmuir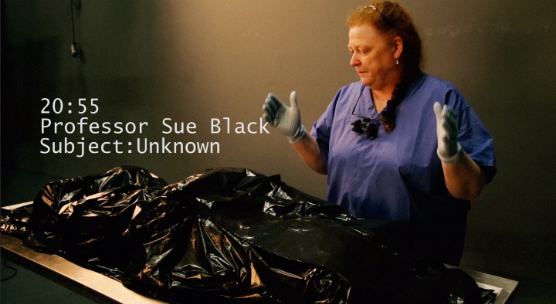 Leaked footage of Professor Dame Sue Black suggests something spooky is afoot at the University of Dundee.
The video, showing what is believed to be an autopsy of a Martian, has been leaked by an unknown source from the University.
In the footage, which is abruptly stopped by a masked man in a hazmat suit, Professor Black suggests that the 'creature' which was delivered to her mortuary is quite unlike anything she has ever seen before.
The footage which can be viewed at https://youtu.be/rHMJZsb13MI , has surfaced only weeks before the Professor conducts an alien-autopsy in front of a live audience and has led many to believe the University may have something to hide.
This special event is part of a series that will celebrate the 150th birthday of H.G. Wells, author of The War of the Worlds.
The autopsy, which will be conducted by one of the UK's top forensic scientists, is just one of several scheduled events the University will host as Scotland's hub for the Being Human Festival 2016.
Other events include, the 'Time Machine: A Walking Tour' with local historian Eddie Small on Sunday, 20th November, as well as a lecture on 'Robert Duncan Milne: Rediscovering Scotland's H. G. Wells' with Dr Keith Williams, the University's H.G. Wells specialist, on Wednesday, 21st November.
To find out more and book tickets for the autopsy or the festival's other events visit www.beinghumanfestival.org.
For media enquiries contact:
Cara Longmuir
Media Relations Officer
University of Dundee
Nethergate, Dundee, DD1 4HN
Tel: +44 (0)1382 385243
Email: c.z.longmuir@dundee.ac.uk