Sixteen Oor Wullies designed by Duncan of Jordanstone graduates
Published On Fri 15 Jul 2016 by Grant Hill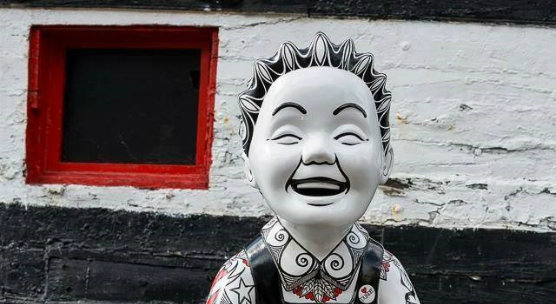 No fewer than 16 of the Oor Wullie sculptures currently wowing Dundonians and visitors to the city have been designed by alumni of Duncan of Jordanstone College of Art & Design
Oor Wullie's Bucket Trail, Dundee's largest ever mass-participation public art event, has seen 55 sculptures of Scotland's favourite comic character Oor Wullie installed in locations across the city. Thousands of fans, young and old, have been trekking across Dundee and its hinterland to bag all the statues and to pose for a selfie with them before they are auctioned off to raise money for The ARCHIE Foundation's Tayside Children's Hospital Appeal.
All sculptures have been individually designed and painted by an array of local and international artists, and the importance of Duncan of Jordanstone, part of the University of Dundee, to the city's cultural community is highlighted in the number of statues designed by its graduates.
The alumni who have decked Wullie out in a variety of eye-catching and attention-raising designs are: Fiona Hay, Nichola Martin, Susan McGill, Vanessa Gibson, Islay Spalding, Joanne MacFadyen, Alison Robertson, Andy MacVicar, Nikki McWilliams, Francis Boag, Nicki Bradwell, Roddy Mathieson, Elena Costella, Rachelle Wong, Nina Garty and Alice Newman.
Project coordinator Suzanne Scott paid tribute to all designers, saying, "I have been absolutely delighted by the imaginative designs and high quality of the work that has gone into creating our sculptures. The enthusiasm and dedication of our artists has been outstanding. Without such fantastic artwork the Oor Wullie Bucket Trail couldn't have happened and certainly wouldn't be as big a hit as it is with everyone who is already following the trail.
"Dundee is full of smiles thanks to a lot of wonderful creative people all working towards the same goal, raising money for the ARCHIE foundation's Tayside Children's Hospital Appeal. It's going to be a braw colourful and creative summer ahead!"
Each sculpture has been sponsored by a business or organisation, with many local and national companies joining the Bucket Trail, supporting a unique project that will be enjoyed by thousands of people, young and old, and remembered for a long time after the summer is over. A group of Oor Wullie sculptures are also taking part in a national tour in association with Scotrail.
At the end of the trail, in September, all the sculptures will be sold at an auction in Dundee, with all proceeds going to The ARCHIE Foundation's appeal to raise funds to create a brand new twin operating theatre paediatric surgical suite for the Tayside Children's Hospital at Ninewells.
For media enquiries contact:
Grant Hill
Press Officer
University of Dundee
Nethergate, Dundee, DD1 4HN
Tel: +44 (0)1382 384768
Mobile: 07854 953277
Email: g.hill@dundee.ac.uk