Shanghai showcase for Scottish video art
Published On Wed 14 Dec 2016 by Grant Hill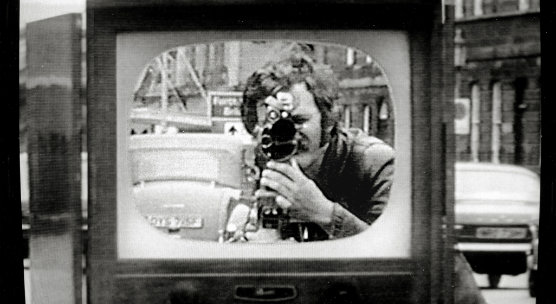 The second phase of a major Chinese showcase of Scotland's internationally renowned contemporary art scene, led by the University of Dundee's Cooper Gallery, opens this weekend.
Phase Two of 'CURRENT: Contemporary Art from Scotland' opens at Shanghai Minsheng Art Museum on Saturday, 17th December. It takes place during the Shanghai Biennial, the biggest arts event of its kind in Asia which is expected to attract hundreds of thousands of visitors from around the world.
CURRENT comprises exhibitions and other events featuring more than 50 artists over a two-year period and is co-curated by Sophia Hao, of Cooper Gallery, and Wang Nanming, an independent curator and critic in Shanghai. It is the first showcase of Scottish contemporary art of this scale to take place in China and is funded and supported by the British Council, Creative Scotland, Scottish Government, Shanghai International Culture Association, China-UK Connections through Culture and LUX Scotland.
The second phase of CURRENT focuses on the history, development and current conditions of artists' moving image works to further explore the distinctiveness of contemporary art made in Scotland, its grass-roots spirit and its keen debates with the social and political dimensions of art and culture.
The exhibition has two components, REWIND and >>FFWD. REWIND is a national research project, based at the University's Duncan of Jordanstone College of Art & Design, seeking to create an archive from the first two decades of artists' works in video.
Focusing on contemporary artists' moving image, the >>FFWD exhibition features works by twenty-four artists including winners of prestigious awards. The >>FFWD programme also includes DJCAD graduates such as Katy Dove, Duncan Marquiss, Sarah Forrest and Pernille Spence.
"Phase One of CURRENT noted that the present is 'the only moment that ever matters'," said Sophia. "Phase Two sustains this observation with the caveat that the 'contemporary' is nothing but the shadow of this very moment.
"Crashing in and out of focus, cutting and editing time the moving image is the aesthetic medium of the contemporary. Yet as a medium it holds more than just the present moment, its play of film strips and pixels is marked by radical histories.
"Fast-forwarding to yesterday and rewinding today, Phase Two of CURRENT throws light on the shadow we call the contemporary. Replete with radical aesthetics and artistic passions, >>FFWD and REWIND bring into startling focus the moving images that give the contemporary its fiction of permanency."
Playing off its Chinese translation of 'untimely', CURRENT questions the political, social and economic discourses that contest this present moment and its apparition as culture. The artists brought together in CURRENT illustrate the oppositions, contradictions and paradoxes that give contemporary art and culture in Scotland such experimental energy.
Artists' and writers' residencies run alongside the exhibition, as do international speakers' forums with speakers from Scotland and around the world discussing contemporary and transnational global aspects of the arts. There is also a public engagement programme allowing artists and curators to interact with Chinese artists, curators and the public.
First Minister Nicola Sturgeon has previously praised Cooper Gallery for enhancing Scotland's standing in the world of contemporary art and helping create cultural exchanges with China.
Ms Sturgeon, who visited Phase One of CURRENT during a trip to Shanghai earlier this year, said, "The CURRENT programme promotes Scotland as a world-class leader of a vibrant contemporary art scene, and was the first time a contemporary art programme of this scale and ambition has been exhibited in China by Scotland.
"It's exciting to see Cooper Gallery working with Chinese curators and cultural organisations to further enhance Scotland's standing in the world of contemporary art and foster new connections and future opportunities for innovative cultural exchange between Scotland and China."
From early in the 20th century Shanghai has been one of the most exciting cities for international cultural exchange. Since 1994, Shanghai's Biennale has led the rapid development of contemporary art in China and Asia and fed an expanding art scene which now supports over 200 government-run and privately funded art museums and galleries and eight major art schools.
Following the exhibition openings in Shanghai, the CURRENT project will present screening and in-conversation events at prestigious art venues in Beijing and Wuhan to extend its dialogue with Chinese audiences.
For media enquiries contact:
Grant Hill
Press Officer
University of Dundee
Nethergate, Dundee, DD1 4HN
Tel: +44 (0)1382 384768
Mobile: 07854 953277
Email: g.hill@dundee.ac.uk