Royal Society of Chemistry award for Dundee researcher
Published On Tue 26 Jan 2016 by Roddy Isles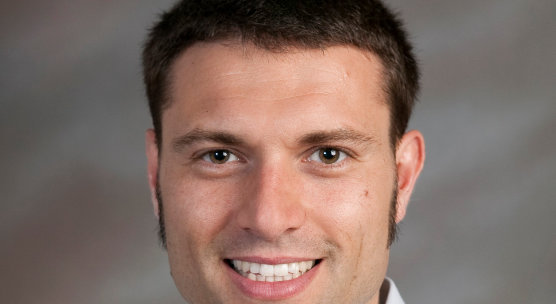 Dr Alessio Ciulli of the University of Dundee has been named the winner of a major award from the Royal Society of Chemistry.
Dr Ciulli, from the University's School of Life Sciences, has been named joint winner of the Capps Green Zomaya Memorial Award by the RSC. The award recognises outstanding work in medicinal or computational medicinal chemistry and is given to `an individual judged to have made an important contribution to the discovery or development of new medicines', with nominations open to candidates up to the age of 40.
The award has been given to Dr Ciulli in recognition of his work at Dundee on protein-protein interactions involved in disease.
"I am absolutely delighted to receive this recognition for our work from the Royal Society of Chemistry," said Dr Ciulli. "The work we are doing offers exciting possibilities for drug development for cancer and anti-inflammatory diseases, and to receive this kind of external recognition is very encouraging. It is also a testament to the hard work of many talented students and postdocs in my group over the past few years, and of our many great collaborators."
The award cites in particular two major breakthroughs made by Dr Ciulli. First, for his contribution to the discovery of first-in-class small molecules which disrupt the binding of the ubiquitin-related complex VHL-E3 to the transcription factor HIF-1?; and also for the discovery of highly selective inhibitors targeting a group of proteins known as BET (Bromodomain and Extra Terminal motif) using the 'bump and hole' approach.
Both of these targets are widely believed to have important implications for the development of new immunosuppressive and anti-cancer medicines.
Specifically, the new VHL inhibitors developed by Dr Ciulli and colleagues provide in their own right new selective chemical probes of the hypoxic signalling pathway, which is fundamental to normal physiology and important in many diseases.
The work on the E3 ligands has opened up unprecedented opportunities in a new and exciting area, to develop novel drugs that induce targeted protein degradation. The `bump and hole' approach has enabled specific targeting of BET proteins, offering a much more refined method of testing and drug development.
Dr Ciulli shares the 7th Capps Green Zomaya Award with Alison Woolford of Astex Pharmaceuticals. They will each be presented with a Medal, a certificate from the RSC, and a cheque for £1500.
Professor Mike Ferguson, Regius Professor of Life Sciences at the University, said, "I am really pleased to see this recognition of Alessio's elegant and impactful research by The Royal Society of Chemistry. This comes hot on the heels of two other international awards in 2015 and it goes to show that we have been recruiting the very best young scientists to Dundee, and that they are thriving here."
For media enquiries contact:
Roddy Isles
Head of Corporate Communications
University of Dundee
Nethergate, Dundee, DD1 4HN
Tel: +44 (0)1382 384910
Mobile: 07800 581902
Email: r.isles@dundee.ac.uk