Research reveals genetic mutations driving skin cancer
Published On Mon 26 Sep 2016 by Grant Hill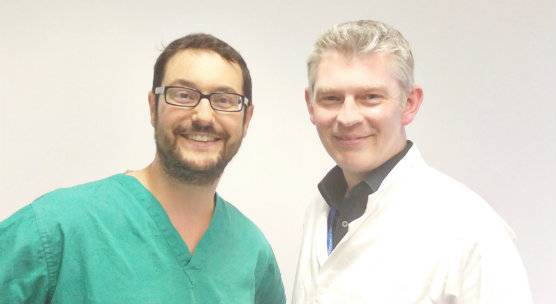 A research collaboration led by the University of Dundee and the Cancer Research UK Beatson Institute has uncovered a common underlying cause in many cases of one of the most widespread forms of skin cancer.
The rate of cutaneous squamous cell carcinoma (cSCC), a potentially devastating form of the disease, is rapidly rising and has more than doubled in Scotland over the last 20 years. Despite this growing problem, there is relatively little concrete understanding as to what drives these cancers to form. In order to gain a fuller picture of the processes driving cSCC, the multidisciplinary research team examined the cell type from which they originate.
By genetically sequencing human cSCC tumours, they were able to demonstrate inactivating mutations of two genes, TGFBR1 and TGFBR2, occurring at relatively high frequency. Functional analysis of these mutations revealed that they commonly impair the effects of TGF-β signalling, a key tumour suppressor pathway in skin cells.
When TGF-β signalling is active in normal skin it appears highly localised to a specific stem cell compartment within hair follicles. Expanding on this observation, the team then targeted deletion of TGF-β signalling specifically within these hair follicle stem cells. When coupled with other key initiating events of cSCC formation, this targeted loss of TGF-β signalling appears to drive the rapid formation of aggressive cSCC.
These findings demonstrate that inactivating mutations of TGFBR1 and TGFBR2 are capable of driving cSCC tumour formation and suggest that some human cSCC may be derived from the equivalent stem cell compartment in the skin. The researchers now plan to go on to determine the potential consequences of these findings for classification, treatment and management of this disease.
Dr Gareth Inman, one of the researchers from the Division of Cancer Research in Dundee's School of Medicine, said, "Less is understood about the specific mechanisms that drive the formation of this particular form of skin cancer.
"Ultimately, the effect of this is a restricted number of treatment options that are available for patients with advanced forms of disease. We are really excited about our latest data, which indicates that the inactivation of TGF-β signalling may be a common early event in the formation of human cSCC and that some of these cancers may originate in specific stem cell compartments.
"With these intriguing insights into the biology of this disease we are hopeful - through future investigations - that we can make significant strides towards defining future novel therapeutics, to the benefit of patients."
The paper has been published in the journal Nature Communications.
Notes to editors:
Cancer Research UK Beatson Institute
The Cancer Research UK Beatson Institute in Glasgow is one of Europe's leading cancer research centres, supporting cutting edge research into the molecular mechanisms of cancer development that is focused on the understanding of cancer metabolism, invasion and metastasis. Its mission is cancer discovery for patient benefit, while its research goals are to understand the mechanisms that regulate cancer cell proliferation, survival and dissemination; to identify critical components of these pathways as targets for novel cancer therapies; and to help translate this knowledge to patient benefit.
The University of Dundee
Scottish University of the Year, Times / Sunday Times Good University Guide 2016 and 2017
Ranked 1st in Scotland and 4th in the UK for Medicine in the Guardian University League Table 2016.
Ranked 7th in the UK for impact on global health by the All-Party Parliamentary Group on Global Health.
Dundee's Medical graduates consistently rank in the top 5 for graduate preparedness for early postgraduate training.
For media enquiries contact:
Grant Hill
Press Officer
University of Dundee
Nethergate, Dundee, DD1 4HN
Tel: +44 (0)1382 384768
Mobile: 07854 953277
Email: g.hill@dundee.ac.uk