'Redesigning the Dundee Experience' – Friday, 27th May
Published On Thu 26 May 2016 by Grant Hill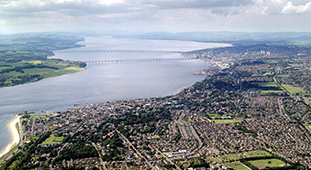 The ways in which design can be used to transform Dundee's visitor experience will be explored at the Dundee Design Festival tomorrow.
Hazel White of innovation consultancy Open Change and the University of Dundee's Professor Mike Press will lead the two-hour workshop, which aims to provide vivid new concepts to both attract tourists and benefit the experience of living in Dundee for all its citizens.
'Redesigning the Dundee Experience' takes place at West Ward Works and is open to all. The fun, engaging and highly visual event will provide participants with access to powerful service design tools that help understand people and generate ideas.
Hazel White explained, "This event is very timely. With a direct flight now linking Dundee to Europe's major hub airport, we have an incredible opportunity to attract visitors and give them a stunning Dundee welcome. So we have to think very creatively about how we make best use of all the city has to offer and provide experiences that people will come back to time and time again."
The organisers will be joined by special guests, who will share their perspective on how the Dundee experience can be enhanced by design. They include:
Derrick Lang, Manager of Dundee Airport
Dr Bharti Rajput, Winner of Most Enterprising Business in Women Ahead Awards 2016
Ali McGill, Director of Ashton McGill Strategy and Business Growth Agency
Jessica Reid, Head of Marketing at Dundee Contemporary Arts
Jennifer Caswell, Economic Development Team Leader at Dundee City Council
Professor Press said, "The expertise and inspiration of our guests adds a vital dimension to the event. We've developed the workshop as an introduction to the tools we use in service design, so that participants can apply them in their own work afterwards.
"But we really do want to come up with workable ideas that could make a real difference to our city. Our special guests are Dundee change-makers who will be working with participants and sharing their ideas."
The event takes place at 10am on Friday, 27th May at West Ward Works, Guthrie Street.
More information about Dundee Design Festival is available at http://www.dundeedesignfestival.com/.
For media enquiries contact:
Grant Hill
Press Officer
University of Dundee
Nethergate, Dundee, DD1 4HN
Tel: +44 (0)1382 384768
Mobile: 07854 953277
Email: g.hill@dundee.ac.uk