Record levels of student satisfaction see Dundee ranked in UK's top 10
Published On Wed 10 Aug 2016 by Grant Hill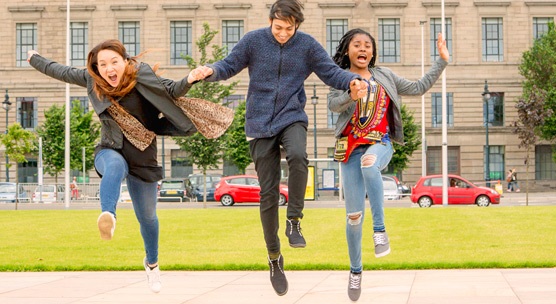 Dundee rises seven places in 2016 poll
Ranked number one in the UK for Personal Development
DUSA once again top students' union in Scotland
The University of Dundee has been ranked 8th in the UK in the 2016 National Student Survey (NSS) after receiving its highest ever scores in the survey.
The University recorded overall satisfaction of 91 per cent, up one per cent on last year and well above the sector average of 86 per cent. This figure represents Dundee's best ever NSS result and led to a seven-place rise in the UK league table, while Dundee University Students' Association (DUSA) remains the top students' union in Scotland and fourth in the UK in this year's poll.
The survey, completed by 82 per cent of final year students, asks 22 questions across six themes relating to their experiences. Of these, Dundee students ranked their university 1st in the UK for Personal Development, 3rd for Learning Resources, 4th for Teaching, and 6th for Academic Support.
A 100 per cent satisfaction rating was recorded by Physics students at Dundee, meaning it came top in the UK, while a further 12 subjects were ranked in the top 10 nationally – Computing (3rd), Dentistry (3rd), Design (3rd), Fine Art (3rd), Others in Creative Art and Design (3rd), Maths (5th), Nursing (6th), Human and Social Geography (7th), Architecture (8th), Teacher Training (9th), Others in Education (10th), and Philosophy (10th).
Professor Karl Leydecker, Vice-Principal (Learning & Teaching) at the University, said, "Dundee is now in the top 10 in the UK for student experience, something we can be very proud of. This fantastic result has been achieved thanks to a huge collective effort by staff right across the University and in our partner organisations such as the NHS, working together with our students.
"The 2016 figures represent our best ever scores in the NSS, with strong performances at both institutional and subject levels. The results strengthen our reputation for outstanding learning, teaching and student experience.
"Our number one ranking for Personal Development shows that our students feel able to present themselves with confidence, have strong communication skills and are confident tackling unfamiliar problems. These qualities make our students stand out in the graduate job market, with the University also ranked in the top 10 in the UK for the employability of our graduates."
Dundee's success is testament to the strong relationship between the University and DUSA in seeking out and responding to student feedback in pursuit of continuous improvement. Eighty-eight per cent of Dundee respondents agreed with the statement that they are satisfied with their students' union, meaning DUSA matched the highest ever score it recorded in 2015.
DUSA President Indre Urbanaviciute said, "The result illustrates the enormous efforts from everyone here at DUSA. We are very happy knowing that the organisation is going in the right direction in safeguarding the outstanding student experience at our university.
"The NSS score tops a great year for the University and we could not be more proud of the relationship between the organisations, which enables us in partnership to help students throughout their university life. We will continue to build on past success to make sure excellence is maintained across all areas."
The NSS results follow on from strong performances by the University in several prestigious rankings. In other recent successes, Dundee has been:
named Scottish University of the Year 2016 (Times and Sunday Times)
ranked in the World's Top 200 Universities and 31st in the UK (Times Higher World University Rankings 2015/16)
ranked in the top 10 in the UK for employability (Times Higher Education 2016)
ranked 1st in Scotland, 7th in the UK and 19th in the world for overall average satisfaction (International Student Barometer 2014)
ranked among the top 20 most innovative universities in Europe, and 5th in the UK and 1st in Scotland (Reuters 2016)
named the UK's top university under 50 years old (Times Higher Education 2016)
For media enquiries contact:
Grant Hill
Press Officer
University of Dundee
Nethergate, Dundee, DD1 4HN
Tel: +44 (0)1382 384768
Mobile: 07854 953277
Email: g.hill@dundee.ac.uk