Professor Sue Black receives her Damehood
Published On Tue 8 Nov 2016 by Roddy Isles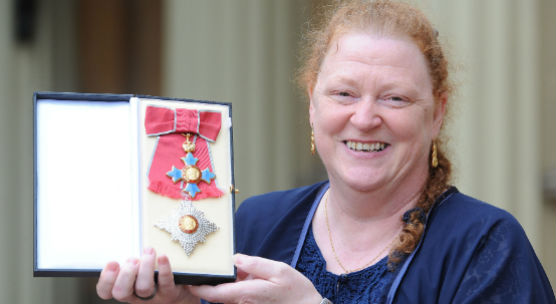 Professor Sue Black, one of the world's foremost experts in forensic anthropology, today received her Damehood from HM The Queen in a ceremony at Buckingham Palace.
Professor Black was named in The Queen's 90th birthday Honours earlier this year.
She is Director of the Centre for Anatomy and Human Identification (CAHID) and co-Director of the Leverhulme Research Centre for Forensic Science, based at the University of Dundee.
Her forensic expertise has been crucial to a number of high-profile criminal cases, including the conviction of Scotland's largest paedophile ring in 2009 and more recently the conviction of Richard Huckle, the UK's most prolific paedophile. At CAHID she leads a team which has developed new forensic techniques such as identification of child abusers through vein and skin patterns of the hand and other parts of the anatomy.
In 1999 Professor Black headed the British Forensic Team's exhumation of mass graves in Kosovo. She has been deployed to aid with disaster victim identification in major events such as the Asian tsunami of 2004.
She founded the British Association of Human Identification in 2001, the same year in which she received an OBE for her services to forensic anthropology in Kosovo.
CAHID was awarded the Queen's Anniversary Prize for Higher Education 2014. It is one of the world's foremost institutions for the study and application of human anatomy, forensic human identification, disaster victim identification, forensic science research and forensic and medical art. The Centre attracts students from around the world.
Last year the University was granted £10million to establish the Leverhulme Research Centre for Forensic Science, which is led by Professor Black and Professor Niamh Nic Daeid. The Centre is dedicated to stimulating the research and evidence base for forensic science.
For more on forensic science at Dundee see http://cahid.dundee.ac.uk/
For media enquiries contact:
Roddy Isles
Head of Corporate Communications
University of Dundee
Nethergate, Dundee, DD1 4HN
Tel: +44 (0)1382 384910
Mobile: 07800 581902
Email: r.isles@dundee.ac.uk