Professor Irwin McLean recognised for skin disease research
Published On Mon 19 Dec 2016 by Grant Hill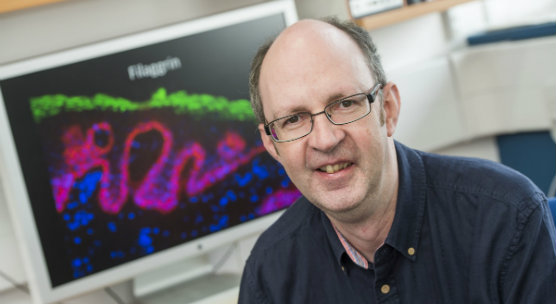 The University of Dundee's Professor Irwin McLean, one of the world's leading authorities on skin diseases, has been elected as a Member of the Academia Europaea.
Members of the prestigious organisation comprise scientists and scholars from across Europe collectively aiming to promote learning, education and research. Members include 52 Nobel Laureates, several of whom were elected to the Academia before receiving the prize.
Irwin McLean is Professor of Human Genetics at the University's School of Life Sciences. His research group has identified the faulty genes that cause dozens of hereditary skin diseases, helping to pave the way for new therapies for eczema, allergy and asthma. Professor McLean's work over the past 25 years has been highlighted by the UK government's research assessment process for its extraordinary impact on society in general and medicine in particular.
"I am delighted, surprised and honoured to have been elected to Academia Europaea," he said. "I am very grateful to my many colleagues and collaborators and, importantly, the many patients and families affected by both rare and common skin conditions, without whose participation we would not have been able to make our mark in the dermatology field.
"I am especially grateful to the University of Dundee for providing us with the world-class research environment which has facilitated our many discoveries. We are now working hard to translate the deep understanding we have accumulated on the causes of skin diseases into new treatments for this somewhat neglected area of medicine."
Founded in 1988, its 3000-plus members including leading experts across an array of subjects from biological sciences and medicine to economics and the law. Members are drawn from across the whole European continent and include European scholars who are resident in other regions of the world.
More information is available at http://www.ae-info.org/ae/.
For media enquiries contact:
Grant Hill
Press Officer
University of Dundee
Nethergate, Dundee, DD1 4HN
Tel: +44 (0)1382 384768
Mobile: 07854 953277
Email: g.hill@dundee.ac.uk