`Phenomenal' performance brings UK competition win for Dundee student
Published On Fri 22 Apr 2016 by Cara Longmuir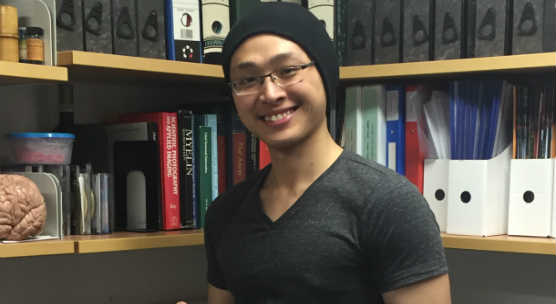 A performance described as `phenomenal' by judges has seen University of Dundee medical student Theron Ng win a major UK competition.
Theron, a fourth-year student who is from Malaysia, was one of over 100 students taking part in the National Undergraduate Neuroanatomy Competition, which tests students on their knowledge of neuroscience, neurosurgery and neurology.
All of the students were asked to complete a practical and written exam in the competition staged at Southampton General Hospital. Theron achieved the highest score of all the competitors, leading one member of the organising committee to describe his result as "phenomenal".
"I am delighted to win this award and it is a validation of the effort I have put in throughout the year," said Theron.
He prepared for this year's competition with support from staff in the University's internationally renowned Centre for Anatomy and Human Identification, one of the world's foremost centres for forensic sciences teaching and research.
"I took part in the competition last year after hearing about it in an email from our Medical School but I didn't make the top places," said Theron. "However, it was a good experience and I thought I could do better with more resources and more hands-on experience, which the University provided.
"It has been great working with the staff in the Centre for Anatomy and Human Identification and I thank them for all their encouragement."
Dr Paul Felts, Senior Lecturer at CAHID, said, "Theron has worked very hard for this and the result is a tribute to his work ethic. The fact that he is willing to put himself forward for a voluntary examination, and against some of the best students in the country, and then perform like this is exceptional."
The National Undergraduate and Postgraduate Neuroanatomy Competition is organised by the University of Southampton Medical School and part-sponsored by the Anatomical Society. The undergraduate competition began in 2012 and is held annually.
For media enquiries contact:
Cara Longmuir
Media Relations Officer
University of Dundee
Nethergate, Dundee, DD1 4HN
Tel: +44 (0)1382 385243
Email: c.z.longmuir@dundee.ac.uk