Peppa Pig and Principal open expanded University Nursery
Published On Thu 8 Sep 2016 by Dominic Younger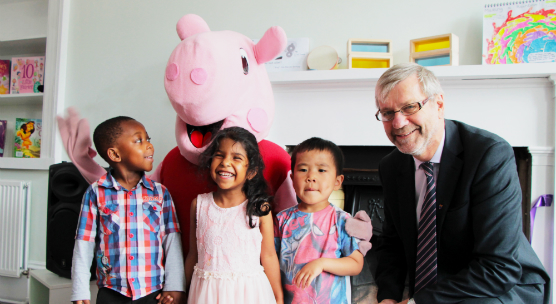 The University of Dundee Nursery will open its doors to more children than ever, following an unveiling by Professor Sir Pete Downes and his friends, Peppa Pig, Olaf and a Paw Patrol Puppy today.
The newly expanded nursery will now accommodate infants from birth as well as pre-school children up to 5 years.
Located on two sites on City Campus - Dundee University Students' Association and now also a newly refurbished site on Airlie Place - the nursery is open to the children of students and staff at the University and offers preferential rates to students.
The enhanced space offers additional features including the possibility of places for families in and around the Dundee area.
Jacky Jones, Nursery Manager, said, "It's great to be able to support even more of our students and staff with their childcare needs. We have a fantastically committed team working here and all of us, especially the children, are thrilled with the new part of our nursery on Airlie Place."
Ruby, aged three, was very enthusiastic about the nursery and said, "I like the toys, the new toys. I like the toys in the garden."
The nursery currently has vacancies for immediate start for children from two years of age and a waiting list for younger children and infants.
Please visit the Nursery website or email the Nursery Manager, Jacky Jones, on Nursery@dundee.ac.uk for further details.
For media enquiries contact:
Dominic Glasgow
Media Relations Officer
University of Dundee
Nethergate, Dundee, DD1 4HN
Tel: +44 (0)1382 385131
Email: d.w.glasgow@dundee.ac.uk