Ninewells Cancer Campaign celebrates £2million fundraising milestone
Published On Wed 21 Sep 2016 by Dominic Younger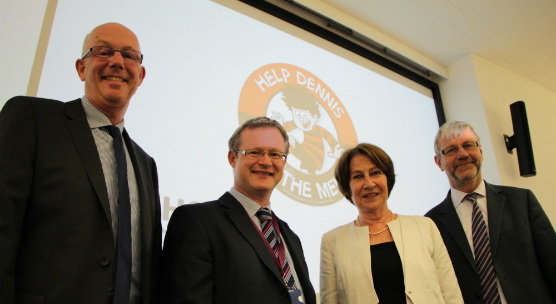 The Ninewells Cancer Campaign (NCC) has announced the successful conclusion of its £2million fundraising appeal at the University of Dundee Medical School.
The fundraising milestone was marked by a public lecture from Professor Russell Petty, Chair of Medical Oncology, on "Achieving the impossible – developing new medicines for hard to treat cancers", as well as thanks from Professor Gary Mires, Dean of the School of Medicine, Professor Sir Pete Downes, the Principal of the University and Lady Fiona Fraser, Chairman of the Campaign.
The £2million campaign has raised funds to equip the state of the art Jacqui Wood Cancer Centre, named in the memory of Dr Jacqui Wood, Chairman of the NCC since its foundation.
Professor Russell Petty said, "It is a testament to the high regard of the campaign that so many people have helped us reach our most recent target.
"Having a leading clinical cancer research programme allows us to make the very latest breakthrough cancer medicines available to patients. We also aim to work ever more closely with our world-leading scientists in the University of Dundee to translate their scientific advances into new more effective cancer treatments. Together this ensures that the cancer treatment we provide in Dundee remains at the cutting edge."
Lady Fiona Fraser said, "This is a wonderful achievement. This campaign continues to grow after 20 years and we have well exceeded expectation. Once again we are humbled by the marvellous support shown by so many around Tayside and beyond."
Since 1991, following the success of what had been intended to be a one-off local appeal for a CAT scanner for Ninewells Hospital, the Campaign has supported the development of the latest research laboratories and recruitment of key scientists to drive forward cancer research programmes in the University and NHS Tayside.
The Ninewells Cancer Campaign continues to fundraise to support the crucial work taking place in the Jacqui Wood Cancer Centre.
For media enquiries contact:
Dominic Glasgow
Media Relations Officer
University of Dundee
Nethergate, Dundee, DD1 4HN
Tel: +44 (0)1382 385131
Email: d.w.glasgow@dundee.ac.uk