Minnie walks 96 miles for Breast Cancer Research
Published On Mon 15 Aug 2016 by Dominic Younger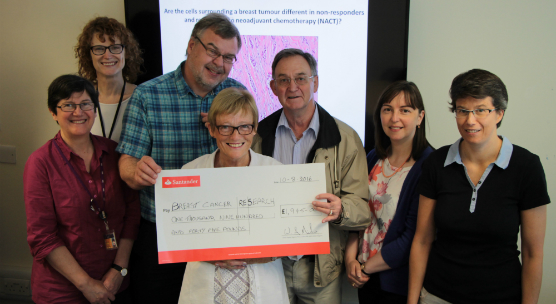 A 63-year-old breast cancer survivor has walked the West Highland Way in less than seven days to help ongoing breast cancer research at the University of Dundee.
Minnie Milne, from Dundee, raised £1,945 to support the advances into breast cancer imaging at the University, after being successfully treated for breast cancer herself at Ninewells Hospital last year.
She said, "After I had breast cancer surgery last year, I was treated really well by everyone here. I was going to do the West Highland Way anyway and thought I should raise some money.
"I had to think long and hard about where I wanted the money to go but I thought here makes the most sense."
The efforts of Minnie and six other hikers who walked the 96-mile route will go towards the research undertaken by the Breast Imaging Research Group, led by Professor Andrew Evans.
He said, "We are delighted Minnie has chosen to give back to the University in such an inspiring way. With her donation we can now add an extra dimension to a study that is collecting detailed information about women with breast cancer, including scans, X-ray's and samples of tissue, all of which can help us investigate further whether or not they will respond to chemotherapy before or after surgery.
"The team here will work with this information to identify which features predict response to neoadjuvant chemotherapy, and develop new ways of predicting the behaviour of the various types of breast cancer. Ultimately this should help tailor new treatments or treatment strategies to women's individual tumours."
Using recent grants from the Breast Cancer Now, as well as the money donated by Minnie and other supporters, the team will continue to develop multimodal imaging and novel immuno-histochemical markers to predict prognosis, metastasis and responsiveness to systemic therapy.
For media enquiries contact:
Dominic Glasgow
Media Relations Officer
University of Dundee
Nethergate, Dundee, DD1 4HN
Tel: +44 (0)1382 385131
Email: d.w.glasgow@dundee.ac.uk