Midwifery experts gather in Dundee to help around the world
Published On Fri 22 Jul 2016 by Grant Hill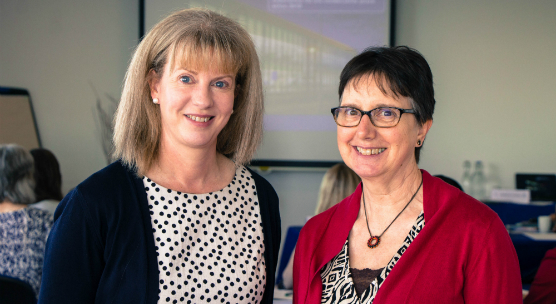 The University of Dundee's expertise in midwifery research and education has helped bring international experts together for a World Health Organisation (WHO) meeting aiming to ensure mothers and babies across the globe receive the highest care standards.
Senior WHO figures will be joined by representatives of other organisations, including the World Bank, UNICEF and Save the Children as well as donors, aid organisations, universities and health services from across the world for next week's event. The meeting, to be held at the University's River Rooms, takes place on Monday 25th and Tuesday, 26th July and will be opened by Shona Robison, Cabinet Secretary for Health, Wellbeing and Sport.
Its purpose is to help bring about a measurable improvement in worldwide midwifery education over the next 15 years, in support of the implementation of the WHO's Global Strategy. The meeting is being hosted in Dundee in recognition of the fundamentally important work of the University's Mother and Infant Research Unit in terms of quality of care and its influence on midwifery globally.
Mary Renfrew, Professor of Mother and Infant Health at Dundee, is a leading health researcher and was Principal Investigator for The Lancet Series on Midwifery, which is now being used by WHO and other organisations and governments to shape global and national strategy. Locally, it is informing the ongoing Scottish Government review of maternity and neonatal services.
"There are huge variations in the level and standard of midwifery around the world," said Professor Renfrew. "In some countries there is no midwifery provision at all while in others the midwives are not educated to international standards. High-quality education of midwives is crucial for high quality care.
"The question we will be addressing at this meeting is how can we work together to ensure women and babies everywhere have access to international-standard midwifery? This is central to a lot of the work we have done here regarding the quality of care for mothers and infants.
"The Quality Framework we developed as part of The Lancet Series on Midwifery features heavily in the meeting programme and has become important in discussions around quality care but also education for health care professionals."
The meeting takes place ahead of the 11th Biennial Conference of the WHO Collaborating Centres for Nursing and Midwifery, at Glasgow Caledonian University later in the week.
Cabinet Secretary for Health and Sport, Shona Robison said, "It is fitting that Scotland has been chosen to host this meeting because we are at the forefront of leading and driving improvements in maternity and midwifery care. Research and education are critical to that aspiration and hosting this meeting shows that Scotland is making its mark on the world in this sector.
"Dundee University has played a crucial role in this, through the contribution of its Mother and Infant Research Unit to the World Health Organisation's work on quality maternity and midwifery care. We are constantly striving to improve what we do to ensure that our mothers and babies receive world class care.
"The role of midwives is at the heart of Scottish maternity care and so I am delighted to see midwives from across the world come together in Dundee for these two days. This meeting will make a real difference for women and babies by considering improvements in the worldwide education of midwives. I am delighted to see Scotland play such a role in the global arena and look forward to continuing such partnership working in the future."
For media enquiries contact:
Grant Hill
Press Officer
University of Dundee
Nethergate, Dundee, DD1 4HN
Tel: +44 (0)1382 384768
Mobile: 07854 953277
Email: g.hill@dundee.ac.uk