Legendary artist to launch new course in comics and graphic novels
Published On Wed 9 Mar 2016 by Grant Hill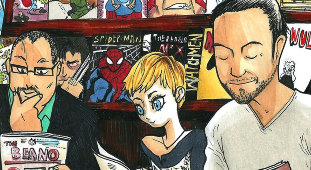 Cam Kennedy, the legendary Judge Dredd and Star Wars artist, will tomorrow help launch a new postgraduate programme for aspiring comics artists, writers and scholars at the University of Dundee.
The new MLitt/MDes Comics and Graphic Novels course will be officially unveiled at a series of workshops at Dundee Comics Creative Space (DCCS) on Thursday, 10th March. The workshops will be led by Cam, one of Scotland's greatest ever comics artists, who will pass on the wisdom of his experience to students and schoolchildren.
Thanks to the internet, big-screen adaptations and a growing recognition of their artistic and literary merits, comics and graphic novels have never been so popular. In recent years, the University has become a hub of comics activity with undergraduate and postgraduate courses, a PhD programme and innovative research projects. Staff have also published a series of comics and graphic novels and regularly host events for comics fans.
Graduates from the various programmes in Dundee can be found working in the comics industry, locally, across the UK and internationally, as artists, writers and editors. Many students go on to publish their own comics or are commissioned to produce them, while academic work has been published in prestigious journals as well as forming the basis for PhD research.
The new Masters programme builds on the pioneering work carried out into the field of comics studies and production. It is an extension of the innovative MLitt in Comics Studies that started in 2011 and offers a blend of critical and creative practice which allows students to learn about the history of the comics medium and its international significance.
They will study genres as diverse as superheroes, science fiction, horror, humour, satire, autobiography and documentary as well as examining the links between comics and film.
"Dundee is the beating heart of comics in Britain, and is becoming THE place to study and create comics," said Phil Vaughan, co-director of the MLitt/MDes Comics and Graphic Novels programme. "We have great contacts with the comics industry and each year we have big name guests who students are able to meet and learn from. This connectivity to industry and ensures that our students are able to network with professionals and learn from people who work in comics for a living."
Dr Chris Murray, co-director of the programme and Director of the Scottish Centre for Comics Studies (SCCS), based at Dundee, added, "Since 2010, the University of Dundee has offered courses in comics and they have proven to be a great success, with graduates establishing themselves at the forefront of the industry.
"The Masters in Comics and Graphic Novels stresses creative and critical thinking. It also allows anyone with an interest in comics to create them by teaching all about production both in terms of print and digital outputs. In addition to the launch of the new programme we are very pleased to announce that we are hiring a new lecturer in Comics Studies."
Ten places on the new programme will be fully funded by the Scottish Funding Council in recognition of the fact the course supports a key sector in the Scottish economy and will help students to develop a high-level of critical and creative skills in order to enhance that sector.
Cam Kennedy's career began in Dundee, working as an illustrator on DC Thomson's Commando. After a spell at the legendary 2000 AD, he moved to the United States and worked for publications in the Marvel Comics, Dark Horse Comics and DC Comics stables. The University's Cam Kennedy Comics Studio was named in his honour and has helped enhance the comics research, teaching and practice taking place at Dundee.
DCCS was created at the Vision Building in Seabraes and is funded by the Rank Foundation and Dundee Place Partnership to act as a focal point for the range of activity taking place at the University and elsewhere in Dundee. The 2016 comics calendar includes Dee-Con, a massive manga and anime festival hosted by animation students from Duncan of Jordanstone College of Art and Design, Dundee Comics Expo and events as part of the Dundee Literary Festival.
For media enquiries contact:
Grant Hill
Press Officer
University of Dundee
Nethergate, Dundee, DD1 4HN
Tel: +44 (0)1382 384768
Mobile: 07854 953277
Email: g.hill@dundee.ac.uk