Last chance to take in the 2016 Masters Show
Published On Thu 25 Aug 2016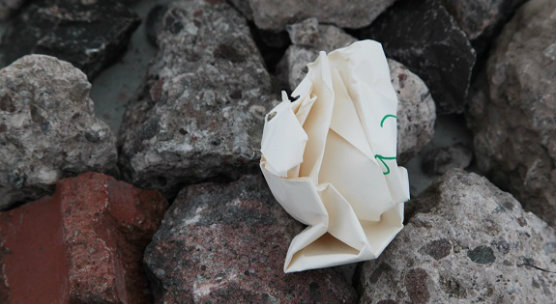 Visitors have until this weekend to immerse themselves in work examining the past, present and future, the individual and the societal, at this year's Masters Show at Duncan of Jordanstone College of Art & Design.
Visually stunning art and engaging design projects which address a range of practical and creative issues produced by 44 students on some of the UK's most innovative and exciting postgraduate courses – Animation & VFX, Art & Humanities, Art Society & Publics, Forensic Art & Facial Identification, and Medical Art – are on display until Sunday, 28th August.
MFA Art, Society & Publics student Frances Law has created a pop-up museum featuring items ranging from Victorian crockery to plastic toy guns she excavated from beneath the Coupar Burn in Coupar Angus.
"In many ways the Coupar Burn could be considered a museum in its own right," she said. "Carrying meaning and memory within its waters, the Burn has its own history, intrinsically linked to the town."
Other exhibits include Mhairi Anderson's contemplation of personal mourning, Chiara Braidotti's exploration of identity and Sam Goncalves' look at urban development in Dundee and its impact on communities and individuals.
The 2016 Masters Show at Duncan of Jordanstone, part of the University of Dundee, follows on from the Art, Design and Architecture Degree Show earlier this summer, which attracted around 15,000 visitors over ten days.
Professor Paul Harris, Dean of Duncan of Jordanstone, said, "We cannot wait to see the fruits of our postgraduate students' imagination, creativity and graft which has created stimulating work informed by the research they carry out.
"Our Masters students are challenged to carry out intelligent and comprehensive work and the Masters Show will demonstrate just how well they have met that challenge, with some truly stunning exhibits that range from the highly artistic to the technically proficient and deeply practical.
"The end result is a series of thought-provoking exhibits that highlight how our students have built on their undergraduate learning, either in Dundee or in other institutions and countries, to develop their work to a new level or in a different direction. The show is a testament to the staff and students who once again have demonstrated that Duncan of Jordanstone is a world-class, 21st Century school of art and design."
The exhibition is open from 10am-8pm on weekdays and from 10am-4pm at weekends.
For more information see www.dundee.ac.uk/mastersshow.
For media enquiries contact:
Grant Hill
Press Officer
University of Dundee
Nethergate, Dundee, DD1 4HN
Tel: +44 (0)1382 384768
Mobile: 07854 953277
Email: g.hill@dundee.ac.uk