Is this the face of the notorious Lord Darnley?
Published On Mon 15 Aug 2016 by Grant Hill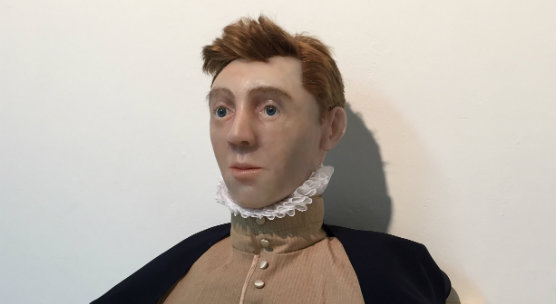 A University of Dundee Masters student has stepped back through the mists of time to recreate the face of one of the most notorious figures from Scotland's history, solving an ancient mystery in the process.
Emma Price (23) has recreated the face of Henry Stuart, better known as Lord Darnley, as part of her MSc Forensic Art & Facial Identification course at Duncan of Jordanstone College of Art and Design, part of the University. Her work will be one of the exhibits at this year's Masters Show, which opens at Duncan of Jordanstone this weekend.
Lord Darnley rose to infamy as the second husband of Mary, Queen of Scots. He was implicated in the murder of Mary's private secretary, David Rizzio, and made enemies in her court as a result of his persistently arrogant and petulant behaviour.
Darnley was himself killed in 1567, just two years after marrying the Queen and at the age of only 21. The circumstances of Darnley's death in Edinburgh's Kirk o' Field remain shrouded in mystery, but suspicion quickly fell on the Earl of Bothwell, who Mary would soon marry, leading to her own downfall.
Darnley was buried in the Royal Vault, Abbey Church, Holyrood but the vault was raided between 1776 and 1778. As a result two skulls purporting to be Darnley's – one held in the University of Edinburgh's collection and the other owned by the Royal College of Surgeons in London – exist.
In an attempt to solve the mystery, the University of Edinburgh engaged the services of Dundee's world-renowned Centre for Anatomy and Human Identification (CAHID). Emma then took on the project as part of her Masters, which is jointly offered by CAHID and Duncan of Jordanstone.
"The University of Edinburgh had a skull in their collection inscribed 'The skull of Lord Darnley, found in Kirk o' Field' and for years that was believed to be the case but there was another one said to be his at the Royal College of Surgeons," explained Emma, originally from Leicester.
"Then, in 1928, a mathematician and scientist called Dr Karl Pearson analysed the RCS skull and pronounced it to be Darnley's. He was an early pioneer of craniofacial superimposition and he used a technique that had only just been invented but the science has obviously moved on massively since then.
"In order to clear up the mystery, Edinburgh asked me to look at both skulls and find which was the most likely match. This wasn't easy as the RCS skull had been destroyed in the blitz so we had to rebuild it using images and Pearson's very precise measurements.
"Craniofacial superimposition is a method of analysis in which an unidentified skull is compared to images of a missing person, or in the case of Lord Darnley, contemporary portraits. Upon completion, one of the skulls was identified as fitting remarkably well.
"The features on the portrait such as the very arched eyebrows and distinct sloping forehead led me to conclude that the Edinburgh skull didn't stand up to scrutiny whereas the RCS one was a good match. From the analysis I did we can say the Edinburgh skull is definitely not Darnley's while I produced a craniofacial reconstruction of the other skull presenting a 3D sculpture of what Lord Darnley would have looked like before his untimely death."
Using 3-D software, Emma produced a model of Darnley's skull and created the reconstruction using wax and silicone. The finished work shows a young man with bright blue eyes and a head of light brown hair, complete with period costume.
"Darnley was said to be very handsome," continued Emma. "He was over 6' tall, which would have been highly unusual for the 16th century. I knew the Mary story before I embarked on this project but had to learn all I could about Darnley. What is interesting is that in a time when Protestant and Catholic figures were depicted as either heroes or villains depending on who the writer was, Darnley was universally hated. People reviled him for his arrogance, drunkenness and promiscuity."
CAHID Director Professor Dame Sue Black had previously headed a panel convened by the Royal Society of Edinburgh to examine the murder of Darnley with modern investigative methods. They came to the conclusion that Mary was not involved in the killing of her husband.
Art that asks questions about the biggest challenges facing society and design work that seeks to tackle them will feature at the Masters Show 2016. Exhibits created by 44 students on some of the UK's most innovative and exciting postgraduate courses – Animation & VFX, Art & Humanities, Art Society & Publics, Forensic Art & Facial Identification, and Medical Art – will be on display from Friday 19th to Sunday 28th August.
Professor Paul Harris, Dean of Duncan of Jordanstone, said, "We cannot wait to see the fruits of our postgraduate students' imagination, creativity and graft which has created stimulating work informed by the research they carry out.
"Our Masters students are challenged to carry out intelligent and comprehensive work and the Masters Show will demonstrate just how well they have met that challenge, with some truly stunning exhibits that range from the highly artistic to the technically proficient and deeply practical.
"The end result is a series of thought-provoking exhibits that highlight how our students have built on their undergraduate learning, either in Dundee or in other institutions and countries, to develop their work to a new level or in a different direction. The show is a testament to the staff and students who once again have demonstrated that Duncan of Jordanstone is a world-class, 21st Century school of art and design."
The Masters Show celebrations will begin with a special, invite-only Preview Evening on Friday 19th, August. It will remain open until Sunday, 28th August. The exhibition is open from 10am-8pm on weekdays and from 10am-4pm at weekends.
For more information see www.dundee.ac.uk/mastersshow.
For media enquiries contact:
Grant Hill
Press Officer
University of Dundee
Nethergate, Dundee, DD1 4HN
Tel: +44 (0)1382 384768
Mobile: 07854 953277
Email: g.hill@dundee.ac.uk