Identity and relationships explored through smartphone-sized portraits
Published On Thu 26 May 2016 by Grant Hill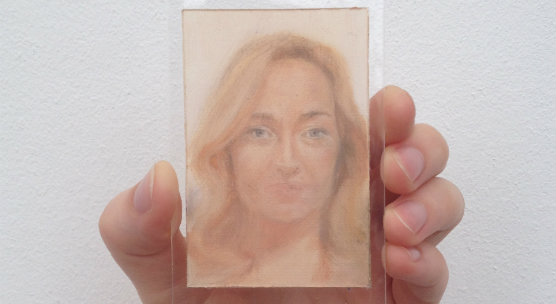 A University of Dundee student has revived the ancient practice of miniature portrait painting as a way of exploring the very modern way we forge and maintain relationships through smartphones.
Emily Stewart, a Fine Art student, painstakingly painted a series of beautiful, small-scale portraits of family, friends and other acquaintances. The resulting paintings measure just 7x5cm, the size of the screen on the iPhone 4s which she used to contact each of the subjects and acquire their image.
Emily, 22, originally from Dunfermline, then laser-cut plastic mounts to the exact size and scale of her phone and placed the portrait in the position where the screen would appear on the device. The size and scale of these portraits recall the tradition of miniature paintings popular from the 16th century as a way of feeling connected to loved ones in their absence.
Eleven of the intricate portraits appear as the centrepiece of Emily's exhibit at the Art, Design and Architecture Degree Show 2016.
"My work examines identity, our condition as social animals and how we are defined by our connections to other people," explained Emily. "I became fascinated with the way relationships are shaped by our phones, which then become both objects and conduits of identity. Everyone has asked me if this is about the selfie culture but it is deeper than that.
"The contrast between these two nearly outmoded models – both my iPhone 4s, which technology has overtaken, and the trade of miniature portraits – and the timeless medium of oil paint to produce the classic portrait was very important to me.
"It brings into question how long these relationships and connections will last, and what role changing technology might play? This inevitably leads to the realisation that these paintings will likely outlive their subjects as many oil paintings do.
"I see this series of portraits capturing not only myself through my connections with others, but also the shifts taking place in communication, culture, and technology. From a respectful distance I capture the image of people who define me, understanding that I will never truly know them, such is the nature of identity."
Miniature portrait painting developed out of the techniques of the miniatures in illuminated manuscripts, and were popular among 16th century elites, mainly in England and France. They spread across the rest of Europe and retained their popularity until the development of photography in the mid-19th century.
Miniatures were used for a variety of purposes. Noblemen proposing the marriage of their daughters sent portraits to potential suitors while soldiers and sailors would carry miniatures of their loved ones while travelling, or a wife might keep one of her husband while he was away.
Emily is one of almost 300 graduands of Duncan of Jordanstone College of Art and Design, part of the University, exhibiting at the Degree Show 2016 until Sunday.
Admission is free and more information is available at http://www.dundee.ac.uk/djcad/degreeshow/.
For media enquiries contact:
Grant Hill
Press Officer
University of Dundee
Nethergate, Dundee, DD1 4HN
Tel: +44 (0)1382 384768
Mobile: 07854 953277
Email: g.hill@dundee.ac.uk