Graduate theatrical artwork on display.
Published On Wed 25 May 2016 by Cara Longmuir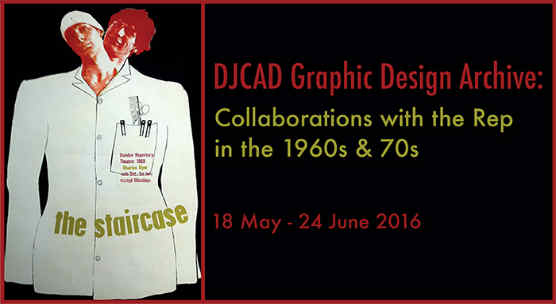 Posters by leading art and design graduates are now on display alongside the University of Dundee's current crop of students, who are exhibiting at this year's Degree Show.
Duncan of Jordanstone College of Art and Design has unearthed a number of Dundee Rep posters from its archives. They were designed by former Graphic Design students, dating back to the mid-60s and early 70s. The exhibition has been curated by former Lecturer in Graphic Design Gordon Robertson.
Many of the posters are uncredited, but one has been identified as being designed by Albert Watson OBE, who has since become a world renowned photographer. There are also posters by other established artists such as Walter Simms, Moira Mclean and Ronald Wilson.
Curator Gordon Robertson said, "In 1963 Myer Lacome was appointed Head of Design and Crafts at Duncan of Jordanstone College of Art and Design.
"As far as we can tell, within a few years of his appointment Mr Lacome had initiated an arrangement whereby senior students in Graphic Design were given the opportunity to design posters for productions at the Dundee Rep. We believe that the arrangement continued until the mid-1970s.
"Legend has it that the students were even paid a small fee for their efforts."
Dundee Rep and Scottish Dance Theatre's Chief Executive Nick Parr said, "We are delighted to see these archived posters from the 60s and 70s on display as part of this year's degree show.
"Dundee prides itself on partnership working and this work highlights the history of a relationship between two of Dundee's longest standing cultural organisations. We would be so interested to hear from anyone who recognises their own work amongst the posters on display."
The exhibition takes place at the entrance of Duncan of Jordanstone College of Art and Design and runs until Friday, June 24th.
The Art, Design & Architecture Degree Show 2016 includes exhibits from students in 11 undergraduate programmes and from graduates in Architecture.
Admission is free and it is open until Sunday, May 29th from 10am until 8pm (Monday – Friday) and 10am to 4pm (Saturday – Sunday).
More details can be found at www.dundee.ac.uk/djcad/degreeshow/.
For media enquiries contact:
Cara Longmuir
Media Relations Officer
University of Dundee
Nethergate, Dundee, DD1 4HN
Tel: +44 (0)1382 385243
Email: c.z.longmuir@dundee.ac.uk