Graduate takes home award for essay on climate change
Published On Tue 29 Nov 2016 by Cara Longmuir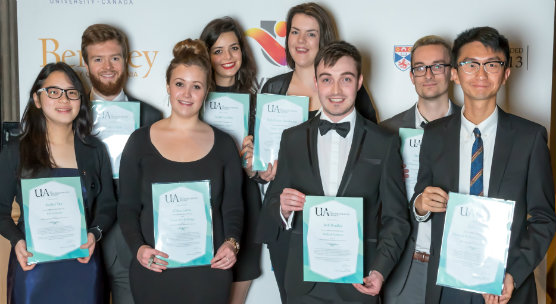 A University of Dundee graduate has won a major European honour at the Undergraduate Awards, the largest international academic awards programme.
Chloe Lewis, who graduated in Jewellery and Metal Design in June, took home the regional award for Visual Arts & Design from the Undergraduate Awards, meaning she came out top in Europe for her essay on the impacts of climate change.
Her writing was inspired by her final year project where she explored the impacts of temperature fluctuation within the Arctic Ocean, creating jewellery in water at different temperatures.
Cited as the ultimate championship of high-potential undergraduates, and often referred to as a "junior Nobel Prize", The Undergraduate Awards is the world's largest international academic awards programme, recognising excellent research and original work across the sciences, humanities, business and creative arts.
Seven other University of Dundee students were highly commended at the awards in Dublin.
Chloe said, "As a contemporary art jeweller stepping out into the creative world and winning the regional award for Europe from the Undergraduate Awards has helped me gain confidence in my ability and creativity.
"It is important to me that jewellery design is recognised as an art form within the visual arts and through this award it has highlighted the creativity of the discipline.
"My motivation since the global summit has strengthened and has filled me with confidence for the future."
Professor Karl Leydecker, Vice-Principal (Learning and Teaching) at the University of Dundee, said, "We are absolutely delighted that Chloe has been named Regional Winner in her category and we congratulate her on her success.
"This is a fantastic achievement, alongside the other seven Dundee representatives who were highly commended. The Undergraduate Awards are fiercely contested among students at highly prestigious universities from around the world so it is a great reflection of the quality of our students here at Dundee that we are so well represented."
For media enquiries contact:
Cara Longmuir
Media Relations Officer
University of Dundee
Nethergate, Dundee, DD1 4HN
Tel: +44 (0)1382 385243
Email: c.z.longmuir@dundee.ac.uk