First Minister praises Dundee-China art collaboration
Published On Tue 8 Mar 2016 by Grant Hill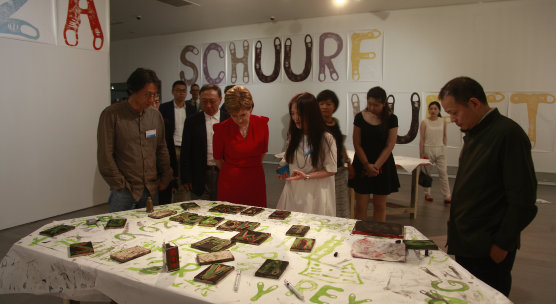 First Minister Nicola Sturgeon has praised the University of Dundee's Cooper Gallery for enhancing Scotland's standing in the world of contemporary art and helping create cultural exchanges with China.
'NEW Wheat, NEW Mud, NEW Machine', a major new exhibition from Glasgow-based artists' group Poster Club will open at the Cooper Gallery with a Preview Evening on Thursday. Chinese Consul General Mr Pan Xinchun will be in attendance at the preview, as will representatives from the Scottish Government and the British Council.
The show stems from Poster Club's participation in 'CURRENT |????: Contemporary Art from Scotland' at Shanghai Himalayas Art Museum last summer.
Curated by Cooper Gallery in collaboration with Chinese curators and organisationsand developed in partnership with the British Council, CURRENT is a two-year contemporary art exhibition and forum programme in Shanghai that showcases for the first time in China the distinctiveness of contemporary art made in Scotland.
Playing off its Chinese translation of 'untimely', CURRENT questions the political, social and economic discourses that contest this present moment and its apparition as culture. 'NEW Wheat, NEW Mud, NEW Machine' repositions Poster Club's exhibition from Shanghai to Scotland, having been reimagined and made anew by the artists through their experience and subsequent reflections on their work in transnational space.
Ms Sturgeon, who visited CURRENT during a trip to Shanghai, said, ""The ties between Scotland and China run very deep, from our businesses and education institutions working together to tourism and cultural collaboration. The CURRENT programme promotes Scotland as a world-class leader of a vibrant contemporary art scene, and was the first time a contemporary art programme of this scale and ambition has been exhibited in China by Scotland.
"I had the pleasure of viewing the first phase of the programme for myself when I was in Shanghai and its success is not only a perfect example of contemporary Scottish artists gaining international recognition, but also of the success of our cultural exchanges with China through our Cultural Memorandum of Understanding.
"It's exciting to see the Cooper Gallery working with Chinese curators and cultural organisations to further enhance Scotland's standing in the world of contemporary art and foster new connections and future opportunities for innovative cultural exchange between Scotland and China."
The exhibition at Cooper Gallery opens with an Artists' Talk and Preview Evening on Thursday, 10th March and runs until 23rd April.
Printing slogans and symbols onto posters, garments and sculpture, Poster Club use the medium of print as a site for experimental collaborative practice. The title of the Cooper Gallery exhibition references the material properties of the objects represented in the exhibition, which was created during or inspired by the artists' week-long residency in Shanghai last summer.
Cooper Gallery curator Sophia Hao said, "Poster Club position printmaking as an experimental site for collaborative practice. At the heart of their approach is a particular take on the manual and mechanistic processes of printmaking. They continually cite, revisit and reappraise their own artworks and this exhibition is an opening into an elusive play of visual and textual possibility."
Collaborating and printing together for more than five years, Poster Club are the award-winning artists Anne-Marie Copestake, Charlie Hammond, Tom O'Sullivan, Nicolas Party, Ciara Phillips and Michael Stumpf. They have previously had major international exhibitions at galleries including Martha Street Studio in Winnipeg, USA, Platform in Glasgow and Eastside Projects in Birmingham.
On 13th April, Poster Club will participate in the Cooper Gallery Forum 'Here Was Elsewhere: A Memorandum of a Summer in Shanghai'. The Forum will share the experience gained and further expand the thoughts and discussions developed along the journey of making exhibitions in the context of China. The forum will feature artists who are involved in the CURRENT programme and specially invited speakers of leading curators, critics and museum directors from both China and UK.
'NEW Wheat, NEW Mud, NEW Machine' is free and open to all from 10am-5pm on weekdays and 11am-5pm each Saturday until 23rd April
More information is available by visiting http://www.dundee.ac.uk/djcad/exhibitions/exhibitions/poster-club-new-wheat-new-mud-new-machine/, emailing exhibitions@dundee.ac.uk or calling 01382 385330.
For media enquiries contact:
Grant Hill
Press Officer
University of Dundee
Nethergate, Dundee, DD1 4HN
Tel: +44 (0)1382 384768
Mobile: 07854 953277
Email: g.hill@dundee.ac.uk