Fire investigation award for Professor Nic Daeid
Published On Wed 13 Apr 2016 by Grant Hill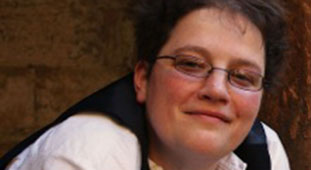 The University of Dundee's Professor Niamh Nic Daeid has been recognised for her internationally leading work to reduce the number of lives lost in fires.
The UK Association of Fire Investigators (UKAFI) has presented Professor Nic Daeid with the Pete J. Ganci Jr Memorial Award 2016 for her dedication and commitment to improving the fire investigation profession in Britain.
Niamh Nic Daeid is Professor of Forensic Science and Director of Research at the University's renowned Centre for Anatomy and Human Identification (CAHID). She has been involved in the development of policy and practice in forensic science for a number of years and leads teams developing protocols for professional practice in fire investigation for both the UK and Europe. She is also the Vice Chair of the Scientific Advisory board of the International Criminal Court.
The UKAFI judges cited Professor Nic Daeid's role in helping to produce the fire investigation protocol and the international workshops she instigated seeking to develop coordinated approaches to investigating and preventing fires as being among the reasons for the award.
Professor Nic Daeid said, "It is an enormous honour to be chosen as the recipient of the Pete J. Ganci Jr Memorial Award. It is a privilege to work with dedicated colleagues as we strive to raise the standards of professional practice for fire investigators across the UK and beyond these shores so that the public and the judiciary within the civil and criminal courts can have confidence in our expertise."
Pete J Ganci Jr was Chief of Department in the New York City Fire Department, the highest ranking uniformed officer, when he was killed in the terrorist attacks at the World Trade Center. His actions on September 11th 2001 saved many lives and his legacy is celebrated around the world. The Pete J. Ganci Jr Memorial Award was inaugurated by a member of the UKAFI, who was a close friend of Chief Ganci.
For media enquiries contact:
Grant Hill
Press Officer
University of Dundee
Nethergate, Dundee, DD1 4HN
Tel: +44 (0)1382 384768
Mobile: 07854 953277
Email: g.hill@dundee.ac.uk