Exhibition celebrates Dundee polymath
Published On Fri 18 Nov 2016 by Grant Hill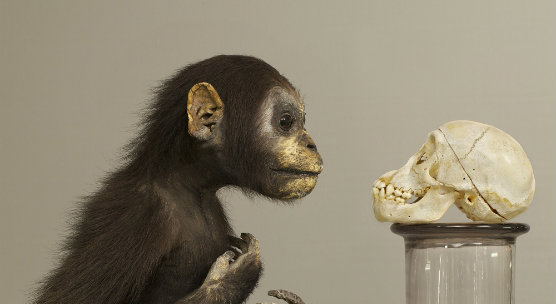 Artworks and artefacts from the University of Dundee's D'Arcy Thompson Zoology Museum will this weekend go on display in Edinburgh at a new exhibition celebrating the polymath who gives his name to the museum.
The City Art Centre is staging 'A Sketch of the Universe: Art, Science and the Influence of D'Arcy Thompson', a major new exhibition of modern and contemporary art inspired by Thompson, Dundee's first Professor of Biology.
The exhibition features more than 90 artworks and other objects on loan from the museum's collection and opens on Saturday, 19th November. Featured artists include Henry Moore, Victor Pasmore, Wilhelmina Barns-Graham, Susan Derges and Daniel Brown, and artworks range from oil paintings, drawings and prints to computer programs and 3D 'rapid prototype' models.
Matthew Jarron, Curator of Museums Services at the University, said, "We acquired many of these artworks thanks to a grant from the Art Fund's RENEW scheme awarded in 2011. Our Dundee visitors will know many of the pieces well but it's great to be taking the University's collection to new audiences elsewhere – particularly to such a splendid venue as the Edinburgh City Art Centre."
D'Arcy Thompson was an extraordinary polymath who combined interests in biology and mathematics with classical art and literature. He is best known for his ground-breaking book 'On Growth and Form', which laid the foundations for the future study of mathematical biology.
His research also provided inspiration for generations of artists, who were drawn to his theories on the development of living organisms. Art critic Herbert Read credited Thompson with building the bridge between science and art.
The artwork included in this exhibition is normally displayed in a rotating selection in the D'Arcy Thompson Zoology Museum at Dundee. The museum displays Thompson's surviving collection of natural history specimens, models and other teaching aids, and is open regularly to the public during the summer months and for special events and activities throughout the rest of the year.
Councillor Richard Lewis, Edinburgh's Culture Convener, said, "D'Arcy Thompson's work had a profound impact on 20th century art and continues to inspire contemporary artists today. This is an exciting opportunity to see artworks by significant Scottish and international artists, and to explore the fascinating crossovers between the worlds of science and art."
'A Sketch of the Universe' will run until February 2017 and is timed to coincide with the start of the celebrations to mark the centenary of 'On Growth and Form', which was first published in 1917.
For media enquiries contact:
Grant Hill
Press Officer
University of Dundee
Nethergate, Dundee, DD1 4HN
Tel: +44 (0)1382 384768
Mobile: 07854 953277
Email: g.hill@dundee.ac.uk