Dundee student recognised for cancer prevention work
Published On Wed 25 May 2016 by Dominic Younger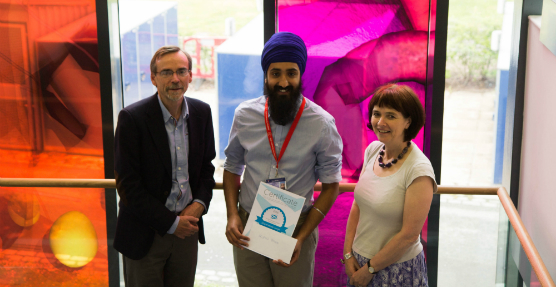 University of Dundee student Sharandeep Singh has been awarded the first elective bursary from the Scottish Cancer Prevention Network (SCPN) recognising his efforts to help reduce rates of cervical cancer in Punjab, India.
Travelling to the rural communities of India, Sharandeep drew upon his clinical experience at Ninewells Hospital to compare the services and knowledge of cervical cancer available to patients in Punjab. With a consistently high number of cervical cancer deaths and no national screening programme in place, his elective explored the willingness Punjabi women have to undergo screening. He also sought to promote the value of prevention, detection and treatment of cervical cancer.
"It's a privilege to be awarded the SCPN elective bursary in recognition of my work," explained Sharandeep, who will graduate next month. "During my elective I explored the knowledge Punjabi women have of cervical cancer and the factors which can led to higher numbers of cancer patients in the region. Following my experiences of working in Punjab, I am now ready to promote the value of cervical cancer screening for the prevention of the disease in the South Asian community here in Scotland when I go back to Glasgow in August as a qualified doctor."
Presenting the £300 award and certificate recognising the achievement, Annie Anderson, Professor of Public Health Nutrition at the University, said, "It's the first time the SCPN has recognised a student's elective work in cancer prevention areas. Sharandeep's elective is a great example of work which can be continued in a medical career in Scotland. Cervical cancer is still the most common cancer in women under the age of 35 in the UK and efforts like those of Sharandeep go a long way in combating the disease."
Professor Robert Steele, co-director of Scottish Cancer Prevention Network at the University, added, "Sharandeep's work reflects the importance of cancer prevention being integrated into the higher education curriculum. India is just one clear example that the SCPN continues to award electives which go above and beyond in preventing cancer both at home and abroad."
The Scottish Cancer Prevention Network promotes action for cancer prevention by hosting workshops and conferences, disseminating news on recent research, initiatives and events.
For media enquiries contact:
Dominic Glasgow
Media Relations Officer
University of Dundee
Nethergate, Dundee, DD1 4HN
Tel: +44 (0)1382 385131
Email: d.w.glasgow@dundee.ac.uk