Dundee International Book Prize 2016 shortlist announced
Published On Tue 26 Jul 2016 by Cara Longmuir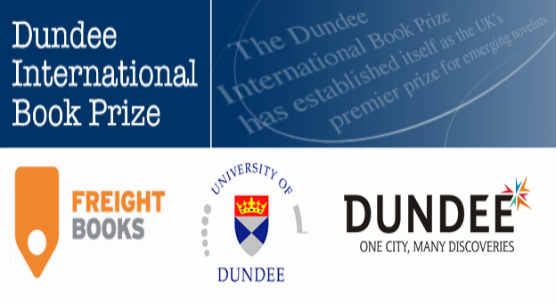 The shortlist for this year's Dundee International Book Prize has been drawn from three continents, with novels from as far south as New Zealand, to Scotland's most northerly tip.
From hundreds of entries, ten authors will battle it out for a publishing deal with Freight Books, a £5000 cash prize, and a week's protected writing time in Dundee.
Peggy Hughes, Manager of Literary Dundee, said, "The Dundee International Book Prize is a vital part of our work, and a key way in which we celebrate and champion new voices. This year's shortlist is a stellar mix of international talent and genres, and we're deeply excited to see which one will win."
The Dundee International Book Prize is now in its 12th year and continues to grow annually. The winner will be announced at a gala dinner during the annual Dundee Literary Festival in October. Previous winners include Amy Mason, with The Other Ida in 2014 and Martin Cathcart Froden, with Devil Take the Hindmost in 2015.
Extracts of the top ten will shortly be published on the Literary Dundee website to allow book lovers to sample the talent on show this year. The prize is a collaboration between the University of Dundee, Freight Books and Dundee City Council's 'One City, Many Discoveries' campaign.
Will Dawson, convener of Dundee City Council's city development committee, said, "Each year the quantity and quality of entrants for the Book Prize goes from strength to strength. I never envy the judges the difficult task they have of choosing just one winner from such a strong field but every time they manage to select a deserving book to take the title."
Adrian Searle from Freight Books said, "With the release of last year's winner, Devil Take the Hindmost by Martin Cathcart Froden, and the hugely positive response it's receiving, it's gratifying but not unexpected that 2016 sees another very strong shortlist. Everyone at Freight is excited to see how the judges vote. Whatever book they choose I'm sure they'll be a worthy successor to Martin.'
The shortlist will be whittled down to a final three, and the 2016 winner crowned at this year's Dundee Literary Festival (19th-23rd October).
The full 2016 shortlist is:
Not to be Reproduced by Kristina Gorcheva-Newberry (US)
The Margins by Jessica Thummel (US)
In Borderlands by Richard Strachan (Scotland)
London Clay by Amy Spencer (England)
Reading Through Binoculars by James Cole (England)
Shadow Jumping by Margaret Ries (Scotland)
The Life of De'Ath by Majella Cullinane (New Zealand)
The Shadow of Pure Light by Emile Cassen (England)
Ghost of a Writer by Helen Dann (England)
The Great Edge by George Gunn (Scotland)
For media enquiries contact:
Cara Longmuir
Media Relations Officer
University of Dundee
Nethergate, Dundee, DD1 4HN
Tel: +44 (0)1382 385243
Email: c.z.longmuir@dundee.ac.uk