Cypriot conflict exhibit a must-see before Degree Show closes
Published On Fri 27 May 2016 by Grant Hill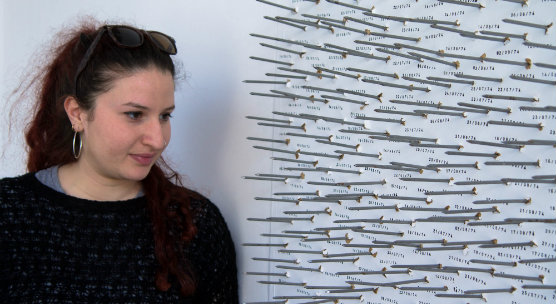 Visitors have just three days left to take in the attention-grabbing, thought-provoking and convention-challenging exhibits at this year's Art, Design and Architecture Degree Show at the University of Dundee.
Almost 10,000 people have already visited the show at the University's Duncan of Jordanstone College of Art & Design, which has temporarily been transformed into Scotland's largest exhibition space, since it opened last Friday.
Greek Cypriot Fine Art student Leda Solomonidou is among the near-300 graduands exhibiting. Her work explores the 1974 Turkish invasion of Cyprus in response to a coup d'état that installed a pro-Greek regime in an island fought over by the two countries for centuries. The northern part was annexed following the invasion, with Greek-Cypriots expelled and Turkish-Cypriots displaced from the south to the north.
In the eye-catching centrepiece of Leda's exhibit, 1619 silver nails protrude from the wall to represent each of the Greek-Cypriot people 'missing' during the conflict and its aftermath. Each nail has the date that person disappeared inscribed underneath it. In creating another piece, Leda has created giant "worry beads" hanging from the wall with 207 clay beads of varying sizes representing each occupied village, town or city on the island.
Leda (22), originally from Larnaca, says her work aims to be non-partisan and draw attention to the effect of war wherever it occurs in the world and the plight of refugees in particular.
"I have deliberately avoided criticising one side or the other or getting involved in the rights or wrongs of the situation," she says. "In war there are always consequences for people on either side – tragedy, human cost and devastation – and that's what I wanted to focus on. This is relevant to today's situation too when you consider the ongoing refugee crisis.
"This is part of our history, what we grew up with. Even though it happened before I was born I knew family and friends were caught up in it. Every Cypriot knows someone who was killed, disappeared or displaced.
"My exhibit is called '1974' and it explores Cyprus's past and its memories, which are embedded in ordinary objects taken from Cypriot culture and tradition, unleashing a transformative power that provokes emotional responses. My practice borrows features and processes from culture, tradition and history, transforming them into forms of conceptual art."
Leda and her fellow graduates from art, design and architecture programmes at the University are exhibiting at Degree Show 2016 at Duncan of Jordanstone College of Art and Design. Admission is free and the show if open from 10am until 8pm (Monday – Friday) and 10am to 4pm (Saturday – Sunday) until Sunday, 29th May.
More information is available at http://www.dundee.ac.uk/djcad/degreeshow/.
For media enquiries contact:
Grant Hill
Press Officer
University of Dundee
Nethergate, Dundee, DD1 4HN
Tel: +44 (0)1382 384768
Mobile: 07854 953277
Email: g.hill@dundee.ac.uk