'Ballads of Battle - Joseph Lee, Poet and Artist' – exhibition opens on Friday, 26th August
Published On Wed 24 Aug 2016 by Grant Hill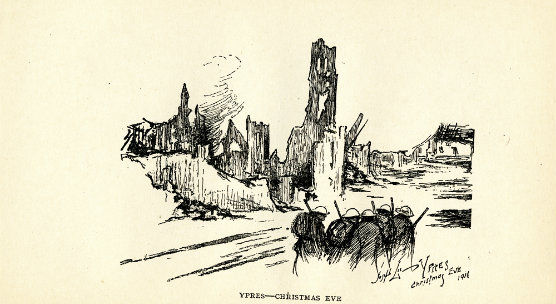 A new exhibition celebrating the life and work of the Dundee war poet Joseph Lee, whose verse from the trenches captured the horrors of WWI, will open at the University of Dundee this week.
As part of the on-going commemorations of the centenary of the Great War the University will host 'Ballads of Battle - Joseph Lee, Poet and Artist', which features original sketches and artwork, manuscripts of poems, Lee's journals kept while he was a prisoner of war, photographs and correspondence, and examples of some of Lee's work as a journalist in early 20th century Dundee.
The exhibition marks the centenary of the publication of Lee's first book of war poetry, 'Ballads of Battle' while the items on display are drawn from the unique collection of artworks, publications and documents held by the University of Dundee's Archive and Museum Services, as well as other local collections. It opens at the Lamb Gallery on Friday, 26th August.
University Archivist Caroline Brown said, "Ballads of Battle established Lee as one of Scotland's finest Great War poets, and critics placed him alongside the likes of Owen, Brooke and Sassoon. Although his reputation has since been unfairly eclipsed, his poetry and war memoirs remain powerfully evocative and authentic.
"What makes Lee even more remarkable is that before the war he had a highly successful career as a journalist and was also a skilled artist who illustrated his own books and periodicals. After the war he moved to London to study at the Slade alongside the likes of Stanley Spencer."
At the time war was declared in 1914, Lee was working in Dundee as a newspaper editor, writer and illustrator. Even though he was 38 and suffered from bronchial asthma, he joined many of his younger colleagues in the 4th Black Watch, known as 'Dundee's Own'. The group became known as the 'fighter-writers' and often sent back articles, poems and drawings from the front.
Arriving in France in February 1915, Lee soon saw action in many major battles including Neuve Chapelle, Ypres, Loos and the Somme. He found expression for his experiences in his sketches and poems.
In November 1917 Lee was taken prisoner at the Battle of Cambrai and spent the rest of the war in various prison camps including Karlsruhe and Beeskow. Even as a prisoner of war he retained his creativity, organising concerts and plays and sketching his fellow prisoners and their captors.
'Ballads of Battle - Joseph Lee, Poet and Artist' will be on show in the Lamb Gallery until November 26th, and is open from 9.30am-7pm on weekdays and 1-5pm each Saturday.
For media enquiries contact:
Grant Hill
Press Officer
University of Dundee
Nethergate, Dundee, DD1 4HN
Tel: +44 (0)1382 384768
Mobile: 07854 953277
Email: g.hill@dundee.ac.uk