Art exhibition poses questions on the issue of fracking
Published On Wed 20 Apr 2016 by Cara Longmuir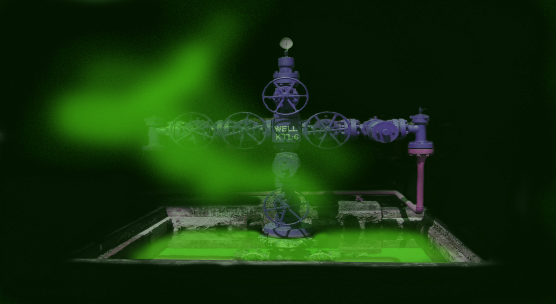 The University of Dundee's Centrespace Gallery will be home to a new contemporary art exhibition, honing in on the contested operation of fracking.
'When The Future Was About Fracking' opens tomorrow and is an immersive installation by Paris-based artists' group HeHe. It depicts a doomed landscape after extensive hydraulic fracking. They will use the space to display leaky hissing ghostly wellheads. This will also mark HeHe's first ever exhibition in Scotland.
The exhibition has been curated by internationally renowned Rob La Frenais, in collaboration with Cooper Gallery, Duncan of Jordanstone, College of Art and Design and the University of St Andrews research fellow Mette High.
Organiser Mette High said, "I am an anthropologist who does oil field research. I wanted to bring some of the concerns from the US oil fields right here, to Dundee and to Scotland. Art is an amazing medium for getting people to reflect and I was inspired by that potential.

"I really hope lots of people will pop by the Centrespace Gallery. It is an ambitious, provocative installation that does not seek to tell people what they should think. It has been crucial for both the artists and myself that this installation lets people make up their own minds. It isn't our job to tell people what they should think, but it is our job to create environments in which such reflection can happen."

The exhibition runs until May 18th and is open Monday to Saturday 12-4pm.
There will also be a preview evening will be held on Thursday, 21th April from 5.30-7.30pm when curator Rob La Frenais will give a tour at 6pm.
The installation has been funded by Creative Scotland and the British Academy.

For more information about When the Future Was about Fracking and biographies for the artists and organisers, please visit the website here: http://www.dundee.ac.uk/djcad/exhibitions/exhibitions/ hehe-when-the-future-was-about-fracking/, or email exhibitions@dundee.ac.uk
Centrespace Gallery is part of DJCAD's Visual Research Centre which is located on the lower levels of Dundee Contemporary Arts.
For media enquiries contact:
Cara Longmuir
Media Relations Officer
University of Dundee
Nethergate, Dundee, DD1 4HN
Tel: +44 (0)1382 385243
Email: c.z.longmuir@dundee.ac.uk