Academician accolades for Dundee duo
Published On Wed 23 Nov 2016 by Grant Hill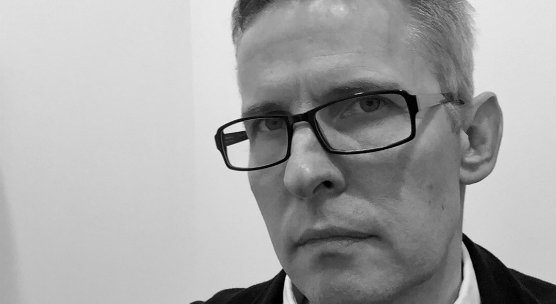 Graeme Hutton, Professor of Architecture at the University of Dundee, has been elected as an academician of the Royal Scottish Academy (RSA).
Jim Pattison, an Honorary Research Fellow at the University, has also received the same accolade. He and Professor Hutton will join more than 100 other artists and architects as Royal Scottish Academicians.
Many academicians take a leading role in higher education and in many of Scotland's cultural institutions. All are esteemed practitioners in their chosen field who were elected to the RSA by their peers.
Professor Hutton is a multi-award winning architect and Associate Dean of Learning and Teaching at the University. He has been engaged in practice and education for over 20 years. As a teacher he uses the city of Dundee to explore the potential of architecture as an agent of social and cultural transformation.
His designs have been widely exhibited internationally and, in partnership with architecture firm Leadingham Jameson Rogers + Hynd, he designed 'Zinc House' near Monikie, which is in the running for the 'Grand Designs/RIBA Best House in Britain 2016' award.
"I am delighted that the Royal Scottish Academy has recognised my work in this way," said Professor Hutton. "The Academy plays a significant role in advocating the vanguard of visual arts practice in Scotland and architecture is the most public art of all."
Jim Pattison studied at Duncan of Jordanstone College of Art & Design from 1973-79 and taught Fine Art there from 1990 until 2012. A renowned artist and printmaker, he was made an Honorary Research Fellow at Dundee in 2013. His practice uses analogue and digital technology to manipulate images and information. In a recent series he looked at the history of tartan and suggested new ways of designing tartan setts using information from his family history and from his own DNA.
He said, "I am very pleased to be elected and look forward to contributing to the ongoing success of the Royal Scottish Academy."
The Royal Scottish Academy of Art and Architecture runs a year-round programme of exhibitions, development programmes and educational events designed to support artists at all stages of their careers. The Academy's distinguished history is reflected in its extensive collections and archives. Led by eminent artists and architects, the RSA embodies a wealth of professional experience in Fine Art and Architecture.
For media enquiries contact:
Grant Hill
Press Officer
University of Dundee
Nethergate, Dundee, DD1 4HN
Tel: +44 (0)1382 384768
Mobile: 07854 953277
Email: g.hill@dundee.ac.uk