10th anniversary of Dundee Literary Festival
Published On Wed 14 Sep 2016 by Cara Longmuir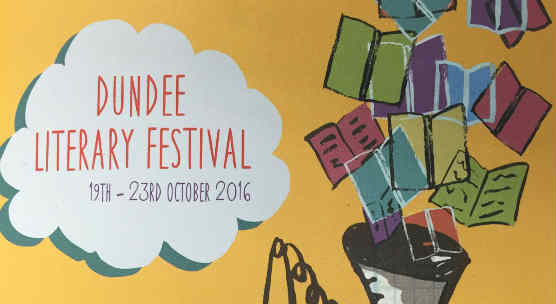 Dundee Literary Festival 2016 is celebrating its 10th birthday in style, pulling in an A-list actor, internationally acclaimed songwriter and a party fit for The Broons and Oor Wullie.
The Festival will take place from Wednesday, 19th October to Sunday, 23rd October, with additional events on 24th September and 25th November.
Critically acclaimed writers who will be appearing include James Kelman, Don Paterson and Jenni Fagan. Singer-songwriter Roddy Woomble will be talking about his book, Instrumentals, and former Makar Liz Lochhead will be joined by saxophonist Steve Kettley for a spellbinding performance. There will also be a tea dance at the Bonar Hall to celebrate 80 years of The Broons and Oor Wullie.
X-Men and Goldeneye star Alan Cumming will also be making an appearance to talk about his new memoir, You Gotta Get Bigger Dreams. His event will take place on Friday, 25th November at the Whitehall Theatre. The Festival will be spreading its wings to other venues around the city including Verdant Works, and for the first time, Frigate Unicorn.
Marking its 10th birthday with a time machine theme, the Festival will journey backwards, marking incredible literary legends including Shakespeare and Roald Dahl, revisiting the herring trade, and celebrating Irish women writers overlooked for centuries. H.G. Wells will also feature in honour of his classic novel The Time Machine.
The Festival will gaze into the future with a look at how literary criticism continues to evolve, a 21st century look at death and events for families and children, with Pamela Butchart, Philip Ardagh, Matthew Fitt and much more.
The winner of the coveted 2016 Dundee International Book Prize will also be revealed as part of a jam packed programme of rising literary stars, workshops and events.
Peggy Hughes, Programme Manager of the Dundee Literary Festival, said, "This year we really wanted to celebrate ten years at the heart of our City of Discovery, by bringing fantastic writers and their stories to Dundee.
"This is our most international programme to date with authors this year from Portugal, Cameroon, South Korea and Ireland, as well as fantastic new voices and ideas from the University and its creative writing programme.
"We can't wait to welcome everyone – writers and readers – to our 10th birthday party, to celebrate the magic of books."
Tickets can be purchased from Thursday, 15th September at 11am at www.literarydundee.co.uk.
Dundee Literary Festival is produced by Literary Dundee is a University of Dundee-led initiative that connects books, readers, writers and the brightest ideas, thanks to the University of Dundee and partners throughout the city and beyond.
ends
For media enquiries contact:
Cara Longmuir
Media Relations Officer
University of Dundee
Nethergate, Dundee, DD1 4HN
Tel: +44 (0)1382 385243
Email: c.z.longmuir@dundee.ac.uk