Exhibition Preview and Performance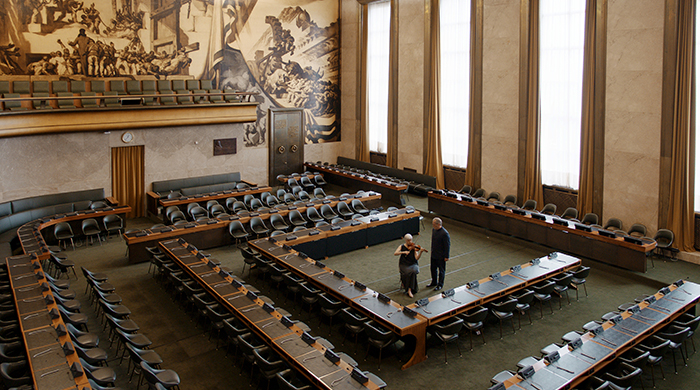 Preview & Performance | Jasmina Cibic: The Pleasure of Expense
Date: 17 October 2019 - 17 October 2019
Gallery: Cooper Gallery
Jasmina Cibic
The Pleasure of Expense
Preview & Performance
Thursday 17 October, 5.30–7.30pm
Replete with the appropriate pomp and circumstance, the curtains will be raised on The Pleasure of Expense at the exhibition preview with an all-female operatic ensemble. Bringing the gifting of culture centre stage, the ensemble will sing excerpts of political speeches made during key moments of social crisis in the 20th century. Sung whilst reclining on hammocks embroidered with political slogans and suspended from three metal sculptures, the new performance brings state power, modernist architecture and the disciplined body into a single spectacle.
The event is free and unticketed.

Performance starts at 5.30pm.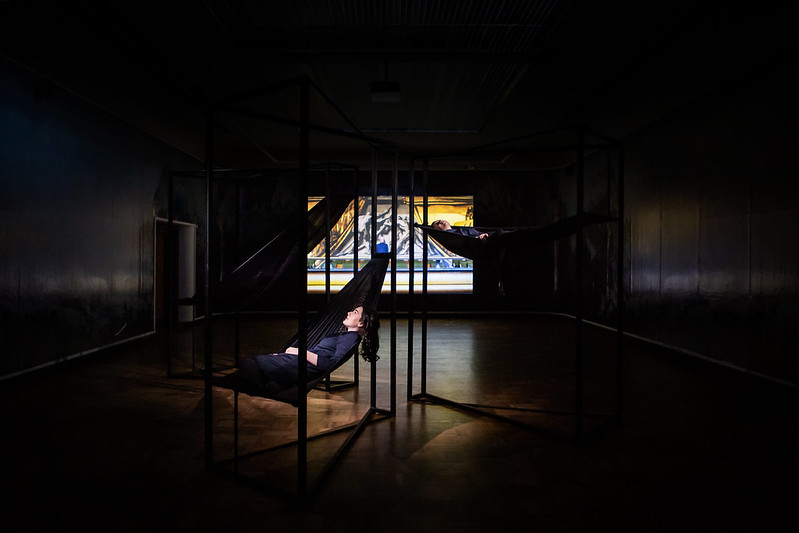 Photography by Sally Jubb.



Video documentation by Rob Page.
Download The Pleasure of Expense Lyrics
____________________
The Pleasure of Expense is a major solo exhibition of new works by award-winning Slovenian artist Jasmina Cibic, internationally lauded since representing Slovenia at the 55th Venice Biennial (2013). Visually evocative and critically engaged, the exhibition at Cooper Gallery choreographs film, sculpture, photography, textile, performance and archives into a provocative mediation on the aesthetics and gestures underscoring contemporary politics and international relations.
With 2019 marking one hundred years since the founding of the League of Nations and haunted by the uncertainties of Brexit and concurrent shifts in global power, The Pleasure of Expense is a timely dissecting of statecraft and the concept of the political gift; the donation of artistic, architectural, political or philosophical thoughts to ideological structures. Composed of a newly commissioned gallery-specific filmic installation, a live performance, existing works and archival material, the exhibition and its Event Series provide a nuanced and subtle play on the recurring politicisation of culture.
The visual touchstone of the exhibition is an immersive photographic mural of a fictitious politicised landscape. Projected onto this assemblage, Cibic's new film The Gift: Act II conjures the architectural space of the Palace of Nations in Geneva (home to the League of Nations 1929-1938), whose interior was comprised of gifts from member states.

Click here for full details on the exhibition.
____________________
Venue Information

Address
Duncan of Jordanstone College of Art & Design
University of Dundee
13 Perth Road
Dundee DD1 4HT
The gallery is on two floors. First floor has ramped access and disabled toilet.
Second floor is accessible via lift and for wheelchair access via a stairclimber.
Large print versions of the exhibition information handout are available, please ask our Guides.

For access enquiries please contact exhibitions@dundee.ac.uk

____________________
Credits

The Pleasure of Expense, a film installation with live performance commissioned by Cooper Gallery - Duncan of Jordanstone College of Art & Design - University of Dundee.
The Gift, Act II (2019), (part of the exhibition The Pleasure of Expense) single channel HD video.

Soprano Singers: Rosie McDonald, Beatrix Milan and Eilidh Thomson.
Co-commissioned by Film London Artists' Moving Image Network, steirischer herbst '19 and macLYON.
Co-produced by FLAMIN Productions through Film London Artists' Moving Image Network with funding from Arts Council England, steirischer herbst '19, macLYON and Waddington Studios London.
Supported by Cooper Gallery - Duncan of Jordanstone College of Art & Design - University of Dundee, Northern Film School - Leeds Beckett University, UGM Maribor Art Gallery, Museum of Yugoslavia, United Nations Geneva, Espace Niemeyer.
Curatorial advisors: Matthieu Lelièvre, Alessandro Vincentelli.






*
Image credit: Jasmina Cibic, The Gift, Act II, 2019. Single channel HD video (still). Courtesy of the artist.
*
Funding support
The Pleasure of Expense at Cooper Gallery, DJCAD is supported by the National Lottery through Creative Scotland.