Exhibition & Events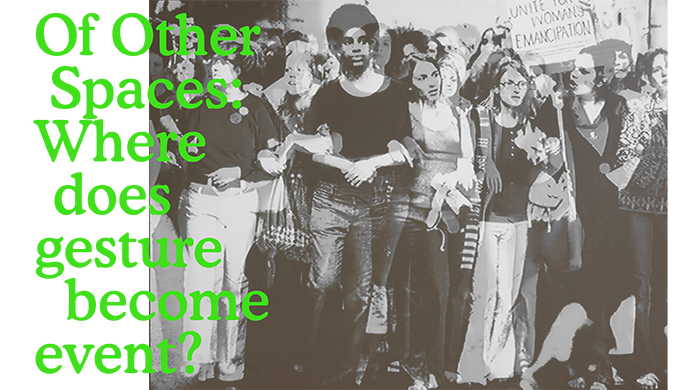 Chapter Two: Of Other Spaces: Where Does Gesture Become Event?
Date: 20 January 2017 - 4 March 2017
Gallery: Cooper Gallery
Chapter Two: 20 January – 4 March 2017
Exhibition Preview: Thursday 19 January 2017, 5:30 – 7:30pm
Screening of The Gold Diggers (1983): Wednesday 8 February, 6:30 - 8:30pm
We Dance Ourselves! Re:Rosas! Participatory Dance Workshop #3:
Friday 10 February, 5:30 – 7.00pm led by Melanie Forbes Broomes
Screening of Nightcleaners (1975): Wednesday 15 February, 6:30 – 8:30pm
Workshop & Screening: Wednesday 22 February, 6:00 - 8:00pm led by Dr. Catherine Spencer
Closing Performance Event: Saturday 4 March 2017, 2:00 – 6:00pm
with performances by Anne Bean, He Chengyao, Siôn Parkinson & Rhubaba Choir
Artists featured in Chapter Two of Of Other Spaces: Where Does Gesture Become Event? include Anne Bean, Cullinan Richards, Rose English, He Chengyao, Mary Kelly, Linder, Annabel Nicolson, Siôn Parkinson & Rhubaba Choir, Georgina Starr and Hanna Tuulikki.
* * *
Of Other Spaces: Where Does Gesture Become Event? is a two-chapter contemporary art exhibition and event programme at Cooper Gallery and off site venues in "She Town" Dundee. Having accomplished Chapter One on the high note of the 12-Hour Action Group in the winter of 2016, Of Other Spaces: Where Does Gesture Become Event? continues its dialogue through word and deed in Chapter Two.
The title of the programme acknowledges the work of Hannah Arendt who understood politics as a 'space of appearance'; a process of being seen and heard by others. Deprived of this, gestures whether artistic, social or political, cannot herald in new alternatives. To do this, gestures must be provoked into becoming an event. Always without precedence an event ruptures and shatters how ourselves and the world appear. Transgressing prejudices and assumptions an event is a moment that declares another world is possible. Summoning the spirit of Arendt's 'space of appearance', Chapter Two proposes the body itself as an event.
Standing among and between others, the body is a resistant otherness, queering and questioning its own appearance. Protesting and speaking, confronting and mythologising, this questioning body utters its answer in performance. Immersed in a depth of meaning and dissonance, the artists' films and live performances, two practices intertwined with feminist thought and action since the 1970s. Chapter Two of Of Other Spaces: Where Does Gesture Become Event? elaborates necessarily complex answers to the otherness of a questioning and critical body.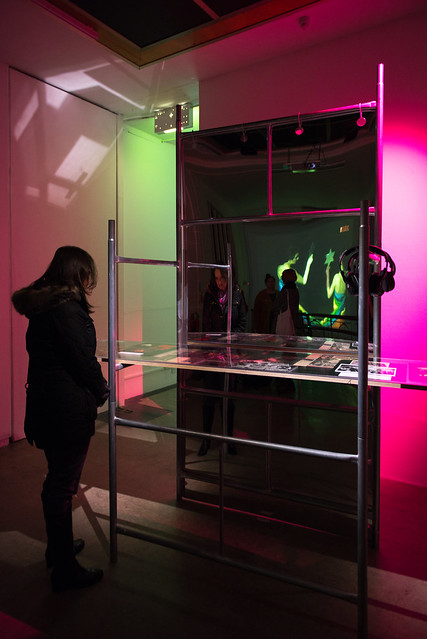 Chapter Two Preview. Photographs by Jacquetta Clark.
Reiterating the necessity of political action, the films Stock Exchange by Annabel Nicolson and WLM Demo Remix by Mary Kelly offer different mediations on historical presence, posing the question of what is left and what can be passed on. Questioning the appearance of the body, Rose English's seminal work Quadrille delves deeply into the aesthetics and political connotations of choreographed bodies. Linder's recent film work The Ultimate Form collages Northern Soul, Ballet and the Gothic fairy-tale to revel in the inherent dissonance and subversiveness of otherness. In the work of Georgina Starr The Lesson & The Birth of Sculpture, the body becomes an infinitely pliable medium; a bubble latent with uncountable events ripe with potential. Resisting dogmatisation Starr's film reinvents and reimagines female identity as a transformative and lucid 'voice'. Striking a different tone to Starr, Hanna Tuulikki's new film cloud-cuckoo-island captures the variability of the texture, weight and voice of a performed body possessed by the notes of a radically other language. Glowering at the camera with an inscrutable and captivating presence, Anne Bean and her co-conspirators in Moody and the Menstruators evoke a politics that contests gender, androgyny and sexuality. Disregarding the norms and conventions of high and low culture, Moody and the Menstruators is an exquisite event that definitively situates the body as the only event on show. Once more, art works and archival ephemera in Chapter Two are choreographed in and amongst Cullinan Richards' 'support structure' A Modular Infrastructure Acting in Concert with Cooper Gallery.
Qualifying the essential liveness of the body and appropriating it as both medium and content, the programme will conclude with live performances from the legendary Anne Bean, preeminent Chinese performance artist He Chengyao and the "She Town" based artist Siôn Parkinson with the Rhubaba Choir.
In keeping with Chapter One, Chapter Two will feature archival material selected from the Women's Art Library (Goldsmiths College, University of London), the Archive Collection of Lynda Morris and from the participating artists' archives. Alongside the exhibition there will be an event programme of screenings, workshops and reading groups.
Of Other Spaces: Where Does Gesture Become Event? is a project initiated and curated by Cooper Gallery DJCAD University of Dundee and is supported by The National Lottery through Creative Scotland, Henry Moore Foundation, Kingston University and Scotland's Jute Museum @ Verdant Works.
For their input and discussions during the research period for the project Cooper Gallery would like to thank: Lynda Morris, Amy Tobin, Alexandra Kokoli, Helena Goldwater, Gavin Wade and Ruth Claxton (Eastside Projects), Live Art Develoment Agency (LADA) and Althea Greenan (Women's Art Library, Goldsmiths University of London).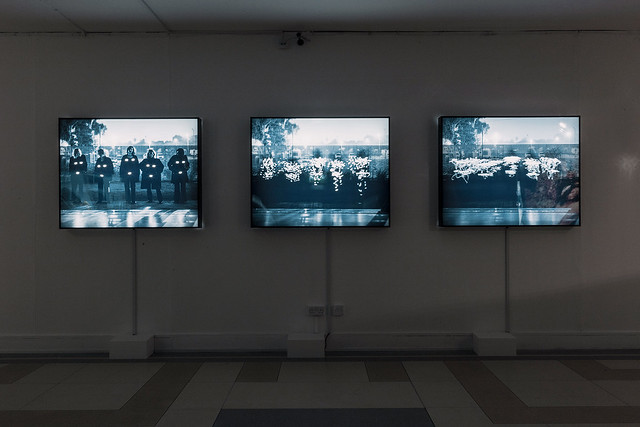 Installation Photos of Chapter One of Of Other Spaces. Photographer: Ross Fraser McLean 2016.
What people are saying about Of Other Spaces...

Nowadays, when, to my mind, there is once again a 'flowering' of media activity and of political consciousness, support is no longer even conceivable in these days of impact, value for money and so on. But the very lack of resources also points to the importance of alternative energies and activities in an academic context and the significance of a gathering such as this: the 12-Hour Action Group, which brings memories of past feminist creativity into dialogue with the new movements and ideas that are emerging in response to the difficult times in which we live.
Laura Mulvey, commenting on the Of Other Spaces 12-Hour Action Group symposium on 3 December 2016

Of Other Spaces: Where Does Gesture Become Event? has been reviewed and featured in numerous online and print publications including a-n, 'this is tomorrow', The List (4*), The Scotsman (4*) as well as forthcoming reviews in major contemporary art magazines. Some reflections include:

What emerges most from all this is the sense of a collaborative nature which highlights the power of collective action in a way that goes beyond macho individualism.
Neil Cooper, The List, 4 stars

There is a strong sense of dialogue between the past and the present in 'Of Other Spaces', and it seems somewhat shocking that many of the issues explored in the works from the 1970s and 1980s still feel relevant and unresolved today. Between them, the works in the exhibition present explorations and subversions of gender, identity, politics, domesticity, consumerism and alternative (un)realities.
Val Norris, a-n

Art Monthly March 2017Art Monthly March 2017‌‌
Artists' Biographies
Anne Bean
A central and inspirational figure in Performance Art over 45 years, Anne Bean, born in Zambia, is intentionally a difficult artist to categorize. Since the 1970s, this 'uncatchability' has been a purposefully created strategy to question style, consistency, career and categorization itself. Morphing between numerous contexts, materials, media, collaborations, ideologies and manifestations she challenged herself to follow a trajectory that allowed for fluid, direct and dynamic response, resulting in a huge range of solo and collaborative projects as well as curatorial enterprises worldwide.
Between 1971-74, Bean was part of the successful cover-band Moody & the Menstruators which was initiated while the group were at art school in the 70s. In the Chapter Two exhibition Bean will present a moving-image portrait of the band Moody & the Menstruators collaging iconic footage from the band's performances across Europe. Alongside the video work, press cuttings, photographs and reflections from the group's activities will be presented. During the closing performance event on Saturday 4 March, Bean will perform with Moody and the Menstuators in Cooper Gallery.
For the Of Other Spaces Chapter One exhibition, Bean presented three new works from her ongoing series of works exploring her relationships with five of her artist contemporaries who recently passed away. Bean intends for these works to be a 'femage,' with rather than for these five women, with whom, over time, she had discussed art/life strategies and negotiations. Three of these artists, Alexis Hunter, Rose Finn-Kelcey and Monica Ross were featured in Chapter One of Of Other Spaces and their works were in dialogue with Bean's new sculptural installations. In addition, Bean premiered a new live performance at the 12-Hour Action Group on Saturday 3 December 2016.
Bean has exhibited in numerous solo and has initiated/participated in numerous collaborative projects, travelling through Britain, Europe, America, Mexico, Southern Africa and Japan, at venues including Palais Des Beaux Arts, Brussels; Museum of Modern Art, Oxford; Creative Time Inc., New York; America Centre, Paris; Whitechapel Gallery, London. Bean has represented British Performance Art in Imports, The Kitchen Gallery, New York; British Radical Theatre at a banquet for Chancellor Schmidt and Henry Kissinger in Bonn; has twice participated in the Hayward Annual. Her British Council Creative Collaborations award, 2009, led to ongoing worldwide work with women from countries of conflict. She received a Legacy: Thinker in Residence Award, resulting in a major work, TAPS, 2010 including over 80 artists, engaged in improvisatory experimental practice and later inspired A Transpective, shown in Venice 2013 and The ABCD ness of it all, an Acme Artists Now commission, 2014. In 2015, she was artist in residence at Whitechapel Gallery and presented a major commission at London Contemporary Music Festival.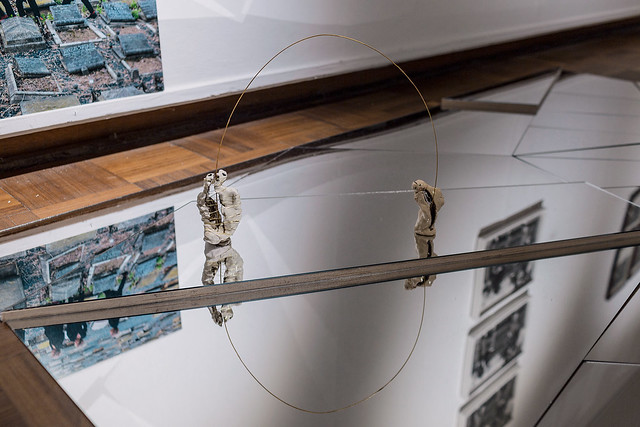 Cullinan Richards
Artist duo Cullinan Richards initially collaborated as artlab and began operating as Cullinan Richards in 2006. Their multi-faceted practice involves many different layers and elements with painting central to their art making.
For Of Other Spaces, Cullinan Richards have responded to Cooper Gallery's invitation to create a bespoke exhibition design that provides a supporting structure for the works, archives and ideas featured in the exhibition with the work A Modular Infrastructure Acting in Concert with Cooper Gallery (2016). In Chapter One the artists showed specific paintings from their studio. Both the supporting structure and the paintings activate a new feminine approach to material, a central overarching interest within their practice. Their 'supportive structure' moves into Chapter Two of the project to display the featured moving-image and performance art works.
In addition to their works in the exhibition Cullinan Richards are the 2016 Cooper Summer Residency artists for which Cooper Gallery have collaborated with Scotland's Jute Museum @ Verdant Works. Responding to the context of Verdant Works and the proud history of strong working women's culture in Dundee's jute mills of the early 20th century, the artists devised workshops in this spirit for local Brownie groups including a screening, rope making using Jute from Verdant Works, choreographing a 'Mushroom Dance', and outdoor activities to explore ideas of collaboration, creativity, self-reliance and expressiveness. In September 2016, the artists presented the one off staged event Tales from Europe at Cooper Gallery as a prelude to the Of Other Spaces project.
Recent exhibitions include: Paradigm Store, Howick Place, London (2014); STAG, Dispari&Dispari project, Reggio Emilia, Italy (2014); The Ultimate Materiality of Women Part 111, Visual Art Centre, Scunthorpe (2012); Display Show, Eastside Projects (2015) Stroom den Haag (2016); DORA (2015) and The Occupants (2012), Stanley Picker Gallery, London; Cooper Gallery, Dundee (2011); The Lab, Dublin (2010); The Laing Gallery, Newcastle (2010); Mead Gallery, Warwick Arts Centre (2008) and Charles H Scott Gallery, Vancouver (2008). They were included in British Art Show 7 (2010/11) and the Whitstable Biennale in 2006. In 2006 they established the Savage School Window Gallery using the window of their studio on Vyner Street, London, as a platform to display texts by writers, artists and curators. In 2014 this space became 4COSE, a social art project as Italian grocery store and exhibition space. Cullinan Richards run the MA Fine Art programme at Kingston University.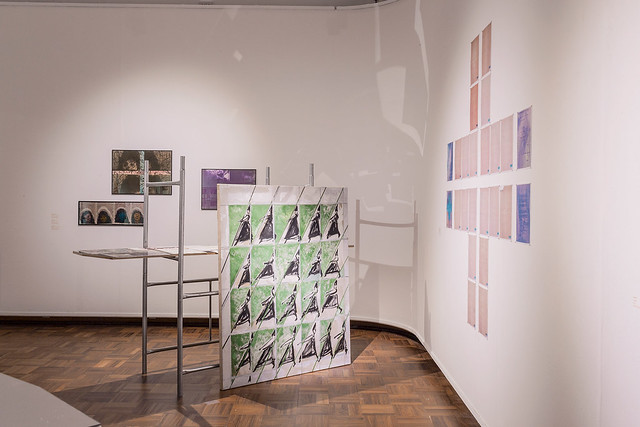 Rose English
A uniquely interdisciplinary artist, Rose English emerged from the conceptual art, dance and feminist scenes of 1970s to become one of the most influential performance artists working today. As a writer, director and performance artist, English combines elements of theatre, circus, opera and poetry to explore themes of gender politics, the identity of the performer and the metaphysics of presence.
English's seminal 1975 performance work Quadrille is exhibited in Chapter Two of Of Other Spaces by way of a Super 8mm colour film transferred to video. Staged among the dressage competitions at the Southampton Show and featuring six dancers dressed with ponies' tails, aprons, knee-high socks and heeled-hooves, the work delves deeply into the aesthetics and political connotations of choreographed bodies. English's legendary collaborative performances Berlin (1976) and Mounting (1977) featured in the Of Other Spaces Chapter One exhibition through ephemeral art works documenting the performances and a new audio visual composition by the artist. Made in collaboration with Sally Potter and performed in four parts between a squatted regency house, an ice rink and an Olympic swimming pool, Berlin is one of their most celebrated works, enacting a reflexive critique on the spectacle of the 'event' itself. Mounting, an interdisciplinary performance of theatre, dance, text and visual art by Rose English, Sally Potter and Jacky Lansley took place at Modern Art Oxford and parodied through political irony and subversive wit a Frank Stella exhibition on display at the time.
Ranging from site-specific performances and collaborations, her recent exhibitions include Keywords: Art, Culture and Society in 1980's Britain (Tate Liverpool, Liverpool, 2014), The Eros of Understanding (Kunsthal Charlottenburg, Copenhagen, 2014), Test Run: Performance in Public (Modern Art Oxford, Oxford, 2015), Liberties (Collyer Bristow Gallery, London, 2015), A Premonition of the Act (Camden Arts Centre, London, 2015) and Rose English (The Harley Gallery, Nottinghamshire as part of The Grand Tour, 2016). English has received numerous awards for her performances including the Time Out Performance Award, the Wingate Scholarship and the Paul Hamlyn Award for Artists. Her publications include Abstract Vaudeville: the work of Rose English which is a comprehensive monograph documenting her 40-year career to date and was published by Ridinghouse in 2014.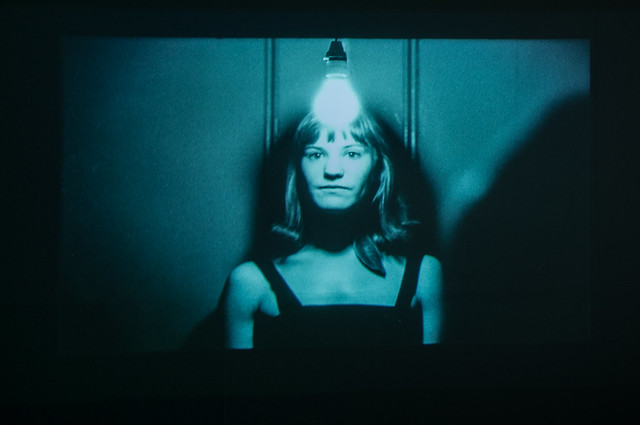 He Chengyao
He Chengyao (b. 1964, China) is an internationally established Chinese artist whose work has been widely exhibited in China, Asia, Europe, and the United States.
He Chengyao's work often draws on her mother's experiences and pain of living in China in the 1960s and 70s as a young woman who became pregnant out of wedlock and subsequently suffered a metal breakdown and ran shouting through the streets naked day and night. Her work is both an intensely powerful form of self-expression and a challenge against social stigmas surrounding mental illness and the power structure in social and institutional systems.
He Chengyao will present a live performance at Cooper Gallery as part of Chapter Two Of Other Spaces.
Chapter One featured the photographic work of He Chengyao's infamous piece Opening the Great Wall in 2001 in which He spontaneously enacted a performance by taking off her top and walking partially nude among German artist H. A. Schult's installation of one thousand 'Trash People' on the Great Wall. In this piece He reconstructed the living space of her childhood under the spatial pressure of both the Great Wall and the 'Trash People', seeing them as symbols of a patriarchal society. The ceremonial act of imitating the insanity of her mother was also a comment on the modern myth that has ruined the lives of Chinese women and their identities.
Recent exhibitions include Pain in Soul: Performance Art and Video Works by He ChengYao (Shanghai Zendai Museum of Modern Art, Shanghai, 2007), THIS IS IT (Alice Chilton Gallery, New York, 2011), ART OF ENCOUNTERING VI (Kologne, 2015) and Half the Sky: Chinese Women Artists (Red Gate Gallery, Beijing, 2016). She has previously participated in exhibitions at Tate Britain, Hayward Gallery, V&A Museum, BALTIC Centre for Contemporary Art, Brooklyn Museum, Centre for Contemporary Art Ujazdowski Castle (Poland) and the Busan Biennial (South Korea).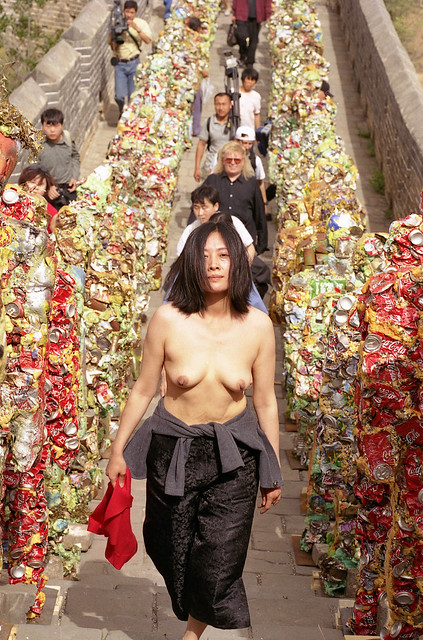 Mary Kelly
American artist Mary Kelly (b. 1941, USA) is an internationally recognized artist based in the USA and is considered among the most influential contemporary artists working today. Mary Kelly has had a profound influence on postmodernism and cultural politics, as well as the development and critique of conceptual art. Predominantly interested in the way language mediates between the social and the psychic, Kelly's working process blurs the boundaries between the personal and the political in order to address the impact of historical events on everyday life. Mary Kelly is Professor in Art and Critical Theory Art at the University of California.
Kelly's film WLM Demo Remix will be shown in Of Other Spaces Chapter Two. The 90-second film loop uses a slow dissolve to bridge past and present representations of the 1970 Women's Liberation demonstration, marking the 50th anniversary of the 19th Amendment, in New York City. In this work Kelly restages a political event to return a past act to the present moment, a move that simultaneously asks what is left and what can be passed on. Archival material provided by the artist reflecting on her earlier practice will also be shown in the exhibition.
Featured in Chapter One was Mary Kelly's light box installation Flashing Nipple Remix (2005-2007) on loan from the collection of the Whitworth Gallery in Manchester. Flashing Nipple Remix uses time-exposed photographs to capture moments from a choreographed re-enactment by performers of the 1971 Anti Miss World Contest protest at the Albert Hall in London where women wore flashing lights over their nipples and crotches in protest of the exploitative, commercial representation of women in the mass media of the time. Mary Kelly participated in the 1971 demonstrations and wrote a pamphlet on the history of the Miss World contest in the UK.
Kelly's work has been the subject of major solo exhibitions at the ICA, London (1976 and 1993); New Museum of Contemporary Art, New York (1990); Generali Foundation, Vienna (1998); Santa Monica Museum of Art (2001); Center for Contemporary Art, Ujazdowski Castle, Warsaw (2008); Moderna Museet, Stockholm (2010); Mary Kelly: Projects, 1973-2010, Whitworth Art Gallery, Manchester (2011) and Pippy Houldsworth Gallery, London (2014). Kelly was represented in the 1991 and 2004 Whitney Biennials, Whitney Museum, New York; Documenta 12, Kassel, 2007 and the 2008 Biennale of Sydney. In 2016, the new extension at Tate Modern has dedicated a room to Kelly's collaborative installation with Margaret Harrison and Kay Hunt, Women and Work (1973-75). Post-Partum Document: Documentation III (1975), part of Tate's permanent collection, was also featured in Tate Britain's 2016 exhibition Conceptual Art in Britain: 1964-1979. Mary Kelly is represented by Pippy Houldsworth Gallery, London and Susanne Vielmetter Los Angeles Projects.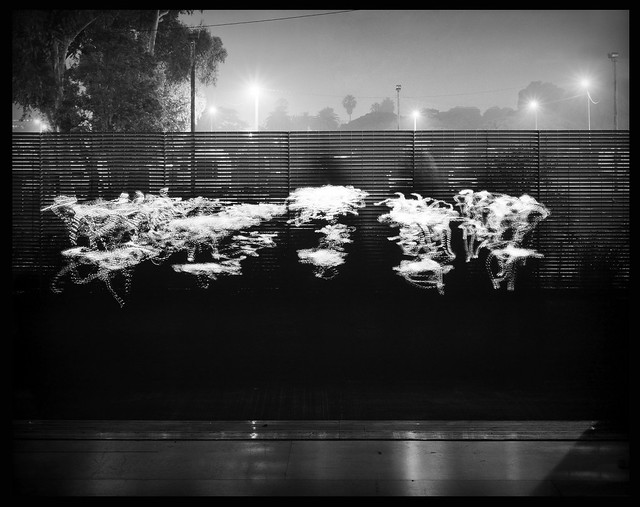 Linder
Linder (b. 1954, Liverpool) is a widely celebrated artist whose work brings together languages of graphic design, popular culture, high fashion and fine art in the production of photomontage, performance and installation. Questioning roles of gender identity and commodification in society, Linder's feminist imagery has received world-wide recognition.
Linder's participation in Of Other Spaces continues in Chapter Two exhibition with her moving-image art work The Ultimate Form drawn from footage of the performance of the same title commissioned by the Hepworth Gallery in 2013. The Ultimate Form collages Northern Soul, Ballet and the Gothic fairy-tale to revel in the inherent dissonance and subversiveness of otherness. Costumes from this performance designed by the fashion designer Richard Nicoll and printed with her photomontage art works, are poised amongst the exhibition structure, as if to be activated once more through dance.
Exhibited in Of Other Spaces Chapter One were Linder's gothic fairytale inspired photomontages. Featuring 1950s ballet dancers counter-posed with creatures of the natural world, the works offer a window into the inherent dissonance and subversion of the fairytale. The exhibition also featured film documentation of Linder's infamous performance wearing a dress with a meat bodice at the Hacienda Manchester in 1982. This performance was a trifecta protest against the club's showing of pornographic films, the hamburgers sold at the club and the recent Bucks Fizz trope of the 'skirt rip' during the 1981 Eurovision Song Contest, revealing Linder's sustained collaborations with music and performance communities as well as a visceral references to the visual consumption of the female body.
At the 12-Hour Action Group on 3 December 2016, Linder premiered a new performance work Love Imposes Impossible Tasks. The work was performed by the dancer Lauren Fitzpatrick with art students from Duncan of Jordanstone College of Art & Design in costumes by fashion designer Louise Gray.
Recent exhibitions include British Art Show 8 (Leeds Art Gallery, 2015; Scottish National Gallery of Modern Art, 2016), Performing for the Camera (Tate Modern, 2016) and Pure Romance (The Redfern Gallery, 2016). She has had solo exhibitions and retrospectives at major institutions at Tate St Ives, Hepworth Wakefield and Musée d'Art Moderne de la Ville Paris. Her major performance work The Dark Town Cakewalk: Celebrated at the House of FAME premiered at the Arches in Glasgow and Chisenhale Gallery in London. Recent she presented Destination Moon. You must not look at her! a five hour performance as part of the London's inaugural Art Night hosted by the ICA this summer. Linder played a key part in the late 1970s punk and post-punk scene in Manchester, creating the photomontage used for the Buzzcocks' debut single Orgasm Addict in 1977. Linder is represented by Stuart Shave / Modern Art, London and Blum & Poe Los Angeles.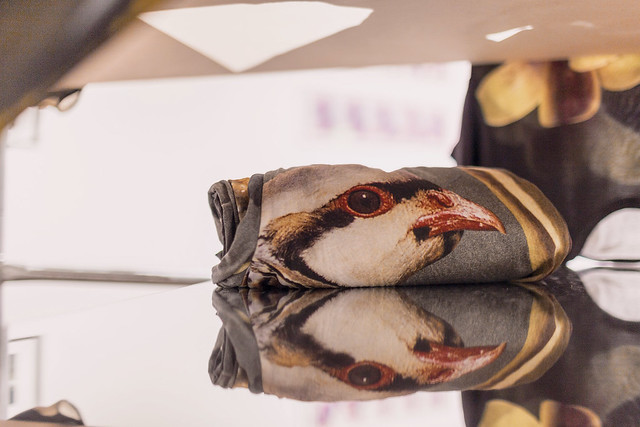 Annabel Nicolson
Annabel Nicolson (b.1946) is an artist film maker and performer based in the Highlands. She is widely celebrated for her film performance works. She was one of the few women members of the London Film-makers co-op.
In 1983, women protestors brought the Stock Exchange in London to a peaceful standstill through the simple, coordinated group action of lying down in all the roads leading into the Stock Exchange area. Nicolson's film Stock Exchange (1983) reiterates the necessity of political action. For Chapter Two of Of Other Spaces the artist will exhibit this film alongside archival materials relating to Nicolson's art and activism in the 1980s.
For Of Other Spaces Chapter One, Annabel Nicolson showed visual and textual documentation of Reel Time (1973) a performance with sewing machine, two projectors, a long loop of 16mm film and two readers. Her live works were not recorded and documentation for this exhibition will include photos and her own recollections of performing Reel Time. There was also documentation of the Menstrual Hut, a communal space created with other women as part of the exhibition at the end of her residency at Norwich School of Art in 1981. Material from this exhibition, Concerning Ourselves, was included in Of Other Spaces. Her super 8mm film Firefilm (1981) was shown during the 12-Hour Action Group on 3 December 2016.
Annabel Nicolson studied at Hornsey College of Art before moving to Edinburgh College of Art studying Drawing and Painting. In 1970 she attended St Martins School of Art as a post-graduate student in the Fine Art Department, specialising in film-making. She ran the gallery at New Arts Lab from 1969-70 and was later cinema programmer at the London Film Maker's Co-op. She was a founding member of Circles - Women's Film in Distribution.
She co-edited and published Readings magazine with Parul Burwell and was an editorial contributor for Musics magazine. Early collaborative exhibitions included A Room of One's Own in 1984 at South Hill Park in Bracknell. Her drawings and works in cloth were shown at Of The Cloth in 1988 at Chelsea School of Art. Recent group shows have included Film in Space at Camden Art Centre in 2012/13, Filmaktion at Tate Modern in 2012 and Winter Garden at Flat Time House in 2015. The most recent show was The Sun Went In, The Fire Went Out at Chelsea Space in 2016.
Her work is in the collection of the Belgian National Film Archive, British Film Institute and the Women Artists slide Library. Copies of her artist's books are in the V&A Museum, Tate Library and the British Library. She has taught at many art colleges including Wimbledon and Falmouth and devised the Women in Art course at Chelsea College of Art (1987-88).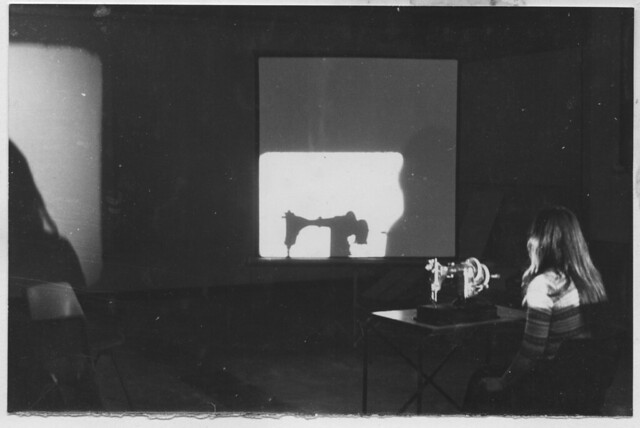 Siôn Parkinson
Siôn Parkinson (b.1978, Dundee, Scotland) Studied Fine Art at Slade School of Art, London (2007-2009), Central Saint Martins, London (2002-2005) & Die Universität der Kunste, Berlin (2004). Parkinson is an artist and singer. His performances often see him appearing in costume to invoke the voice of an animal, variously a burning elephant, a stuffed walrus, a lovelorn worm, and most recently a seal who talks and vomits.
In Chapter Two of Of Other Spaces, Parkinson will present a new performance at the closing event on Saturday 4 March 2017.
Recent exhibitions and preformances include HEY!, Glasgow International (2016), Out of the Cradle, Endlessly Rocking, CCA Glasgow (2016) – both collaborations with artist Richard Whitby and Organo Humano (The Post-Human Gospel) with Lawrence Lek as part of Syndrome Liverpool (2014). Previous events have taken place at David Roberts Art Foundation (2013), ICA London, Limoncello London (2012), Autolitalia London (2010) and Café Oto (2010). In 2012 Parkinson participated in the 48 Hour Splash residency at Dundee Contemporary Arts and in February 2011 he participated in the Live Art Residency at Chisenhale Gallery.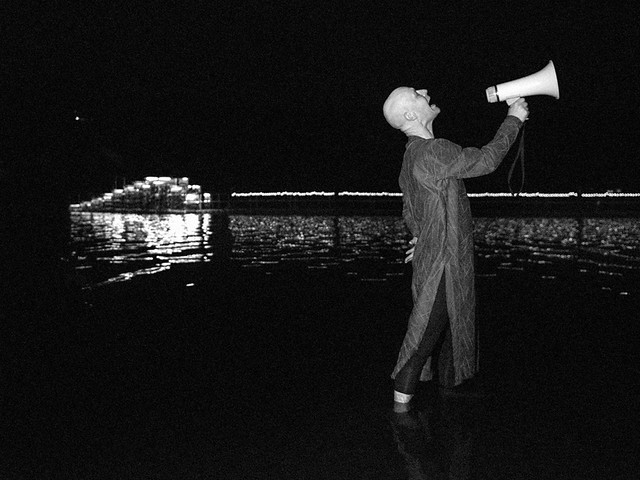 Georgina Starr
Georgina Starr (b. 1968, Leeds) is an artist who rose to prominence in the early 1990s as a YBA (Young British Artist) for her magically complex and multi-layered works, since then she has exhibited her work in numerous iconic international exhibitions. Originally studying Ceramics and Sculpture, Starr went on to make large-scale installations incorporating video, sound, painting, sculpture and performance. Her preoccupations have always been the exploration of future possible worlds. These are worlds in which she often develops her own language, characters, settings and actions, which weave together elements of fiction, philosophy, mythology and theology.
For Chapter Two of Of Other Spaces, Starr exhibits her recent video The Lesson & The Birth of Sculpture. In this two-screen film installation, the body becomes an infinitely pliable medium; a bubble latent with uncountable events ripe with potential. Resisting dogmatisation the work reinvents and reimagines female identity as a transformative and lucid 'voice'.
The works by Starr featured in Of Other Spaces Chapter One play out the concerns of her practice through the medium and materiality of the female voice. In her film The Joyful Mysteries of Junior (1994-2012), she engages in a discussion with a miniature replica of herself named 'Junior'. Questioning the psychological anxieties around motherhood, madness and 'the double', a breakdown between self and its other is uncannily made manifest. Whilst in her new three-dimensional collage work Exorcism of the Luna Milk Orb (Study for the Birth of Sculpture) (2015) and her Cooper Gallery commissioned artists book The History of Sculpture (2013), using the form of a bubble, Starr articulates a loss of distinction between subject and object and positions the breath of the female body as a history and inherent material of sculpture. The bubble, 'an invention from nothing, a thought, a miraculous birth, the captured sculptured voice' resonates with and embodies multiple dissolutions of meaning. In Starr's work the female voice is the intrinsic channel of otherness.
Over the last 20 years her works have been shown at Tate, MOMA New York, Museum of Contemporary Art Sydney, Kunsthalle Zurich, Kunsthalle Vienna, Venice Biennale. Recent exhibitions include FLESH (Royal Academy of Arts, London, 2009), The Joyful Mysteries of Junior (Pinksummer, Genova, 2012) and I, CAVE (Middlesborough Institute of Modern Art, 2015). There are three monographs published on her work Georgina Starr, Ikon Gallery (1998), The Bunny Lakes, Emily Tsingou (2002) and I am a Record, le Confort Moderne (2010). Starr has also produced many artist editions, vinyl records and books. In 2013, Cooper Gallery commissioned Starr's critically acclaimed exhibition and performance work titled Before Le Cerveau Affamé.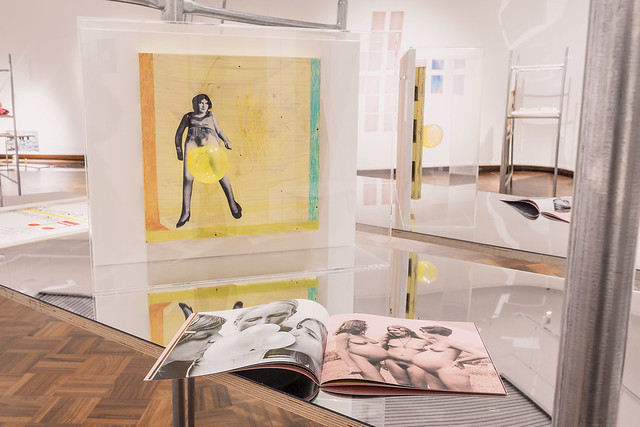 Hanna Tuulikki
Hanna Tuulikki is an artist, composer and performer, who specialises in working with the voice to create ethereal spaces that unearth and re-imagine resonant stories of contemporary relevance. Her practice encompasses extended vocal composition, gestural choreography, innovative visual-scores, site-specific performance, immersive sound and film installation, intricate pen-and-ink drawing, sculptural objects and interactive new media. In research-led, multi-disciplinary projects, Tuulikki considers how sound, gesture, and language frame our connection with places and one another.
Exhibited in Of Other Spaces Chapter Two is Tuulikki's new performance-to-camera work cloud-cuckoo-island (2016) which features a solo vocal improvisation by the artist in a natural amphitheatre on the Isle of Eigg. In this art work the protagonist takes the guise of the wandering bird-man 'gone cuckoo' as she sings his wordless call, capturing the variability of the texture, weight and voice of a performed body possessed by the notes of a radically other language.
Recent works include SOURCEMOUTH : LIQUIDBODY (2016), an audio-visual installation commissioned by Kochi-Muziris Biennale, inspired by the mnemonic landscapes of India, and the relationships between river-systems, the body, and the traditional Sanskrit theatre of Kutiyattam; Women of the Hill (2015), a site-specific performance and film commissioned by ATLAS, featuring a song-cycle for three female performers, responding to the archaeology and topography of an Iron-age, matrifocal, sacred site on the Isle of Skye; SING SIGN: a close duet (2015), a performance and film installation commissioned by Edinburgh Art Festival for the Royal Mile, featuring a score for male and female duo, representing the body-in-communication in relation to gender and the city through wordless song and gesture (shortlisted for 2016 British Composer Award); Away with the Birds (2010-2015), a multi-disciplinary project investigating the mimesis of birds in Scottish Gaelic song, featuring a composition for female vocal ensemble performed on the Isle of Canna, in the harbour, as part of Glasgow 2014's Cultural Programme, with a digital, interactive iteration commissioned by The Space in 2015.
Graduating from Glasgow School of Art in 2006, she now lives and works in Leith, with a studio at Edinburgh Sculpture Workshop.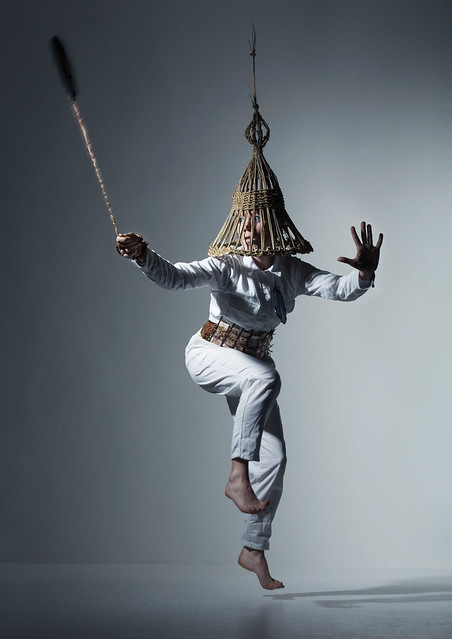 Women's Art Library at Goldsmiths College, University of London
The Women's Art Library began as an artists' initiative that developed into an arts organization publishing catalogues and books as well as a magazine from the early 1980s to 2002. The main purpose however was to provide a place for women artists to deposit unique documentation of their work. WAL collected personal files that functioned together as an alternative public space to view and experience women's art. Thousands of artists from around the world are represented in some form in this collection.
As part of Goldsmiths Library Special Collections, the Women's Art Library continues to collect slides, artist statements, exhibition ephemera, catalogues, and press material in addition to audio and videotapes, photographs and CD-Roms. They welcome donations from women artists to help to continue to develop this collection.
The Archive Collection of Lynda Morris
Lynda Morris is Professor of Curation and Art History at Norwich University of the Arts NUA. From 1980 to 2009 she curated the Norwich Gallery and EASTinternational, working with Mary Kelly, Alexis Hunter and Annabel Nicolson as well as Peter Doig, Neo Rauch, Jeff Wall, Lawrence Weiner, Richard Long, Marian Goodman, Peter Kennard, Gustav Metzger and Konrad Fischer. Her research for Picasso Peace and Freedom 1945-73 for Tate Liverpool 2010 led her to a re-assessment of Picasso's involvement with African Art, rejecting the primitive and asserting Modern Africa. She curated Barbara Walker's exhibition Shock and Awe of life size drawings of Black Soldiers in the two world wars, and three exhibition in Manchester for CVAN on the theme of Modern History.
Morris frequently contributes to international art journals and writes and edits publications including Unconcealed: The International Network of Conceptual Artists 1967-77: Dealers, Exhibitions and Public Collections in 2009 and Conception, Conceptual Documents 1968 to 1972 with Catherine Moseley in 2000. Recently she has written for the Herbert Foundation in Ghent and the Konrad Fischer Collection exhibition at K20 in Dusseldorf. Her archive exhibition Dear Lynda… organised by White Columns in New York was show in Dundee 2013. She has worked with and supported many women artists' practices and has provided significant support and valuable advice during the research of Of Other Spaces.
Morris holds degrees from Canterbury University (BA) and a research degree from the Royal College of Art (MA) where her thesis was on the future of Art Education, based on Art & Language in Coventry, Joseph Beuys in Düsseldorf and The Projects Class at Nova Scotia College of Art and Design in Canada. She previously worked at the ICA (1969-1972) on exhibitions including When Attitudes Become Form and Ed Kienholz 10 Tableaux and as Richard Hamilton's assistant for his Guggenheim retrospective 1973. Between 1976 and 1980, Morris organised exhibitions at the Midland Group in Nottingham including the first UK shows of Gerhard Richter, Bernd & Hilla Becher (ACGB), and Open Photography 1979 selected by R. B. Kitaj and John Szarkowski that included the first showing of Robert Mapplethorpe in the UK.
Of Other Spaces Contributing Researcher
Amy Tobin is an art historian based in London. Her PhD thesis focused on feminism, art and collaboration in Britain and the United States in the 1970s. Other research has been published in the journals MIRAJ, Tate Papers, British Art Studies and Feminist Review. Amy is associate lecturer at Goldsmiths, University of London and City and Guilds Art School. She was also a co-organiser of the Now You Can Go programme, as well as a member of the Litany Reading Group and Channels writing group.