Film Screening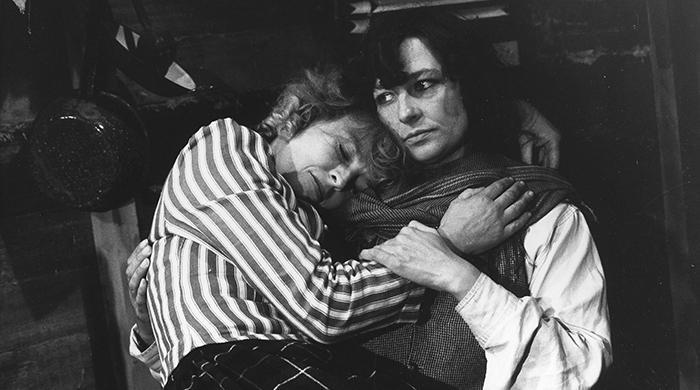 Screening: The Gold Diggers
Date: 8 February 2017 - 8 February 2017
Gallery: Cooper Gallery
Please join us for a free Screening of Sally Potter's The Gold Diggers (1983) at Cooper Gallery on Wednesday 8th February from 6.30–8.30pm as part of the Event Series for Of Other Spaces: Where Does Gesture Become Event?
Directed by the esteemed UK film-maker Sally Potter and scripted in collaboration with Of Other Spaces artist Rose English and musician Lindsay Cooper, The Gold Diggers follows the quest of two women seeking to understand the nature of money (gold) and the nature of the female film star as an icon of cinema. Drawing parallels between gold and the iconic celebrity woman as objects to be exchanged, the film uses Brechtian techniques between what is the film and what is real life.

With its numerous references to the history of cinema, from D.W Griffith's Way Down East (US, 1920) through the Hollywood musical Gold Diggers of 1933 (US, d. Mervyn LeRoy, 1933) to David Lean's Doctor Zhivago (1965), The Gold Diggers celebrates and yet also critiques mainstream cinema including the exchangeable bodies featured.

35mm film transferred to digital, black and white, 89 mins
Director: Sally Potter
Production Company: BFI Production Board
Channel Four
Script: Lindsay Cooper, Rose English, Sally Potter
Photography: Babette Mangolte
Music: Lindsay Cooper
Find out more about the film via the BFI website here and Sally Potter's website here.
This screening of The Gold Diggers is part of the Of Other Spaces Event Series.
Upcoming Events:
We Dance Ourselves! Re:Rosas! Participatory Dance Workshop #3:
Friday 10 February, 5:30 – 7.00pm led by Melanie Forbes Broomes
Screening of Nightcleaners (1975) by Berwick Street Film Collective: Wednesday 15 February, 6:30 – 8:30pm
Reading Group / Workshop: Wednesday 22 February, 6:00 - 8:00pm led by Dr. Catherine Spencer
Closing Performance Event: Saturday 4 March 2017, 2:00 – 6:00pm with performance by Anne Bean, He Chengyao and Siön Parkinson.
All events are free to attend however you may need to RSVP in advance.
* * *
Exhibition continues until 4 March 2017

Of Other Spaces: Where Does Gesture Become Event? is a two-chapter contemporary art exhibition and event programme at Cooper Gallery and off site venues in "She Town" Dundee. Having accomplished Chapter One on the high note of the 12-Hour Action Group in the winter of 2016, Of Other Spaces: Where Does Gesture Become Event? continues its dialogue through word and deed in Chapter Two.
The title of the programme acknowledges the work of Hannah Arendt who understood politics as a 'space of appearance'; a process of being seen and heard by others. Deprived of this, gestures whether artistic, social or political, cannot herald in new alternatives. To do this, gestures must be provoked into becoming an event. Always without precedence an event ruptures and shatters how ourselves and the world appear. Transgressing prejudices and assumptions an event is a moment that declares another world is possible. Summoning the spirit of Arendt's 'space of appearance', Chapter Two proposes the body itself as an event.
Standing among and between others, the body is a resistant otherness, queering and questioning its own appearance. Protesting and speaking, confronting and mythologising, this questioning body utters its answer in performance. Immersed in a depth of meaning and dissonance, the artists' films and live performances, two practices intertwined with feminist thought and action since the 1970s. Chapter Two of Of Other Spaces: Where Does Gesture Become Event? elaborates necessarily complex answers to the otherness of a questioning and critical body.

Artists featured in Chapter Two of Of Other Spaces: Where Does Gesture Become Event? include Anne Bean, Cullinan Richards, Rose English, He Chengyao, Mary Kelly, Linder, Annabel Nicolson, Siôn Parkinson, Georgina Starr and Hanna Tuulikki.
Of Other Spaces: Where Does Gesture Become Event? is a project initiated and curated by Cooper Gallery DJCAD University of Dundee and is supported by The National Lottery through Creative Scotland, Henry Moore Foundation, Kingston University and Scotland's Jute Museum @ Verdant Works.
For more information on the exhibition please visit the exhibition page for Chapter Two of Of Other Spaces.