Student recreates the face of Indian Goddess
Published On Fri 8 Dec 2017 by Dominic Younger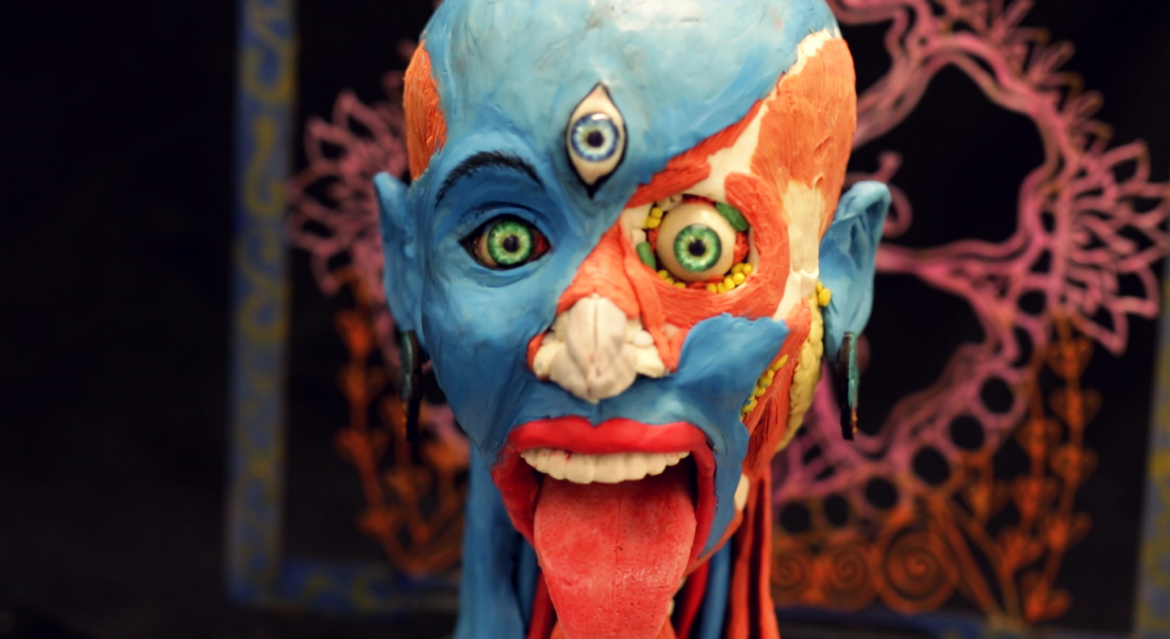 A student on the University of Dundee's Medical Art MSc, which attracts people from around the world, has brought a new face to the studios, that of Kali the Indian Goddess of War.
Tejeswini Padma, from Bangalore, chose to depict Kali in the middle of battle, for a first-year assignment to create an anatomical facial model which will be used by students to learn key forensic and medical skills.
Created from recycled materials in Duncan of Jordanstone College of Art & Design (DJCAD), Tejeswini combined wax and plasticine mixed with clay to depict the Goddess with her eyes wide open in rage and her tongue sticking out - after drinking the blood of rakshasas (demons) and taunting any remaining on the battlefield.
Tejeswini said, "I've created the face of Kali because I wanted to create something unique. She is wearing a garland made from the skulls of her enemies and is a fierce and powerful Goddess.

"Using materials I found in DJCAD, I wanted to bring some of my culture from home to the studio. Behind the head is a laser cut backdrop in a pattern of hibiscus flowers, the flower associated with the Goddess."
Dr Caroline Erolin, Programme leader at the University said, "Tejeswini's face of Kali is a wonderful depiction of an anatomically accurate head portraying rage and bloodlust and is a very different face than any we've seen before.

"Students on the related MSc in Forensic Art and Facial Recognition recreated the face of Lord Darnley but this is the first time that we've had a Goddess in the studio."
The face of Kali will form part of Tejeswini's coursework submission for the medical art course and will remain in the studio to help teach other students forensic and anatomy skills, as well as a little history.
Tejeswini said, "'Kali is represented and worshiped in various forms and also celebrated in the Navarathri festival dedicated to the divine feminine. She is depicted as blue or black skinned and her tongue covered in the blood of the destroyed demons. I wanted to show what the anatomy of a raging goddess would look like."
The Medical Art MSc offers specialist training for those who wish train as medical and scientific illustrators.
For media enquiries contact:
Dominic Glasgow
Media Relations Officer
University of Dundee
Nethergate, Dundee, DD1 4HN
Tel: +44 (0)1382 385131
Email: d.w.glasgow@dundee.ac.uk