Symposium and Workshop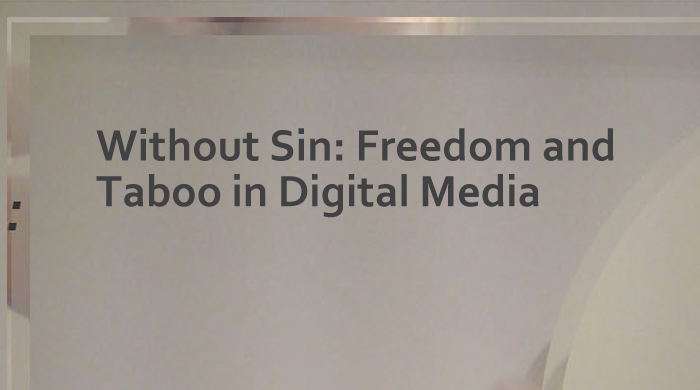 Without Sin: Freedom and Taboo in Digital Media
Date: 28 January 2014 - 29 January 2014
Gallery: Centrespace
Symposium: 28 January 10am-5.30pm
Workshop: 29 January 10am-5.30pm
Freedom and Taboo in Digital Media
This day symposium will explore and expand on the issues contained within the newly launched Leonardo Online Special Issue titled Without Sin: Freedom and Taboo in Digital Media. Confirmed speakers include: Heath Bunting (Irational.org), Leonardo Online's Editor in Chief Lanfranco Aceti, Director of the Centre for Fine Art Research at Birmingham Institute of Art and Design Prof Johnny Golding, Sheena Calvert (University of Westminster), Dundee based researchers - Zoë Irvine, Cornelia Sollfrank, Ashley Woodward (Editor of Parrhesia), Sandra Wilson, Simone O'Callaghan and the volume Editor Donna Leishman.
This one day symposium will be followed by Heath Bunting's Workshop How to Make a New Identity on 29 January. For more information please see below.
For free tickets register:
https://www.eventbrite.co.uk/e/freedom-and-taboo-in-digital-media-symposium-workshop-tickets-10086355561
http://www.eventbrite.co.uk/e/heath-bunting-how-to-make-an-identity-workshop-tickets-10243238803
28 January 2014:
10am Coffee / Tea
Session 1
10.20am Welcome from Prof Stephen Partridge
10.30–11am Introduction by Dr Donna Leishman
11-11.20am Dr Lanfranco Aceti
Post-Society: Data Capture and Erasure One Click at a Time
11.20–11.40am Prof Johnny Golding
Ana-Materialism & the Pineal Eye: Becoming Mouth-Breast Visual Arts in the Age of Algorithmic Reproduction
11.40am–12pm Dr Sheena Calvert
The Economies of Language in Digital Space/s
12–12.20pm Dr Ashley Woodward
Existential value in the information age
Questions Chaired by John Dummett
Lunch Break
Session 2
2-2.30pm Dr Cornelia Sollfrank
The Power of Ignorance. How being dumb can help to make smart art.
2.30-3pm Dr Simone O'Callaghan
Seductive Technologies and the Inadvertent Voyeur
3-3.30pm Dr Sandra Wilson
The Premediation of Identity Management in Art and Design: New Model Cyborgs – Organic & Digital
3.30pm–4pm Heath Bunting
Identity Workshop
Plenary Discussion Chaired by Dr Sarah Cook and Gair Dunlop
Drinks
5pm–5.30pm Zoë Irvine
Eloquent Voices
29 January 2014
10.00am – 5.30pm
Heath Bunting Artist Identity Workshop / Crypto Party.
For more information on Heath Bunting's Workshop please see: https://www.dundee.ac.uk/djcad/exhibitions/events/how-to-make-a-new-identity/
This Symposium is organised by Donna Leishmann in collaboration with Cooper Gallery and Duncan of Jordanstone College of Art & Design and will be held in Centrespace, Visual Research Centre, Duncan of Jordanstone College of Art & Design, University of Dundee. Centrespace is located on the lower floors of the DCA building, 152 Nethergate, Dundee.