Preview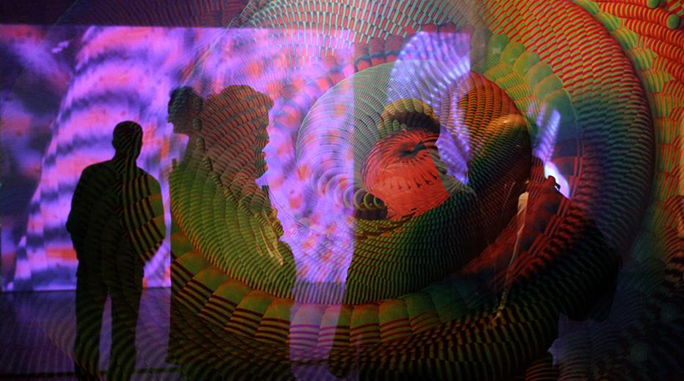 William Latham: Mutator 2 Preview
Date: 31 October 2014 - 31 October 2014
Gallery: Centrespace
We invite you to the Preview of William Latham: Mutator 2 in Centrespace, VRC.
Artist's Talk by William Latham: Thursday, 13 November, 5.30-6.30pm
Exhibition: 1 November – 31 January, Mon-Sat 12-4pm
Please note the exhibition will be closed during winter holidays from 20 December – 7 January, dates inclusive.
Exhibitions at DJCAD is delighted to present the first solo exhibition in Scotland by William Latham, a pioneering figure of Computer Art in the UK since the 1980s. The exhibition includes Latham's interactive video works, drawings and prints that explore and embody evolutionary processes, physical and virtual space.
Central to the exhibition is a three screen interactive video projection Mutator 2 Triptych (2013), using software modelled on the processes of evolution, it blends organic imagery and computer animation. Through computer touch screens, visitors are able to shape and mutate vibrant animated forms in real time. Starting with a simple horn-like shape, Mutator 2 Triptych introduces random 'mutations' in order to generate increasingly complex three-dimensional creations that resemble fantastical, futuristic organisms, transforming the gallery into a fascinating world of hybrid forms, a process Latham describes as "evolution driven by aesthetics".
Mutator 2 simultaneously highlights a series of early drawings and prints by Latham. Latham's intricate drawings show an imagined evolution of complex forms developed following a simple set of transformation rules such as 'beak, bulge, stretch and twist'. Although in contrast visually and experientially to the colourful computer graphics of Mutator 2 Triptych, these early works share Latham's on-going concern with systems and process to underline the motives of aesthetics and scientific development inherent in his practice.
The exhibition is the first major solo exhibition of Latham's work in Scotland and is programed as part of the Dundee Science Festival 2014. An Artist's Talk by William Latham on 13 November, 5.30-6.30pm, encourages further insight into the inter-relation between the fields of art, science and computer science technology as well as providing a closer examination of Latham's practice.
Images: William Latham, 1985-2014
Originally trained as an artist at The Ruskin School of Drawing (Oxford University) and at the Royal College of Art, Latham moved into the computing industry and became a Research Fellow at The IBM UK Scientific Centre in Winchester in 1987. Between 1994 and 2003, Latham founded and led the leading games developer Computer Artworks Ltd who produced popular games such as The THING (Playstation2, Xbox and PC) for Universal Studios, which became a Number 1 hit in the UK and Germany. From 2005 to 2006 Latham was Professor of Creative Technology at Leeds Metropolitan University and in 2007 he was appointed Professor of Computer Art at Goldsmiths (University of London). Latham was co-author with Stephen Todd of the book "Evolutionary Art and Computers" published by Academic Press which is still recognised as a key work in this area.
Latham's considerable career also encompasses national and international exhibitions. "The Conquest of Form" toured to over ten galleries between 1987-1991 including The Arnolfini Gallery in Bristol, (1987) to The Natural History Museum, London (1991) as well as the Cultural History Museum, Magdeburg, Germany (1991). In 1991 he presented work in the group show "Computer Art" at Centre George Pompidou, Paris, France and in 1993 "Mutation Room" at the British Council Show in Hong Kong. More recently, Latham's solo exhibition Mutator 1 + 2: Evolutionary Art at Phoenix Brighton was part of Brighton Digital Festival, 2014.
The exhibition and the Artist's Talk on 13 November are programmed as part of the Dundee Science Festival 2014 in Dundee. Dundee Science Festival aims to celebrate Dundee as a city of science and innovation and establish science as an aspect of culture, alongside arts and heritage and runs from 1-16 November 2014.

Image: Mutator 1 + 2 : Evolutionary Art exhibition by William Latham at iMAL- Center for Digital Cultures and Technology, 2013
Centrespace, Visual Research Centre is part of Duncan of Jordanstone College of Art & Design and is located on the lower floors of Dundee Contemporary Arts, 152 Nethergate, Dundee, DD1 4DY