International Symposium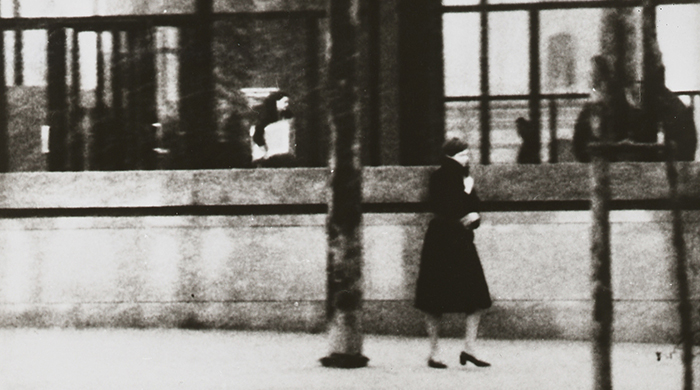 So You See Me | International Symposium
Date: 2 December 2017 - 2 December 2017
Gallery: Cooper Gallery
So you see me | International Symposium
2 December 2017
2 – 6.30pm

On the occasion of Ulay: so you see me, we are delighted to present an International Symposium.
Tickets are free, refreshments will be provided. Please register via Eventbrite.
Drawn from the historical and contemporary positions embodied in performance and participatory practices and reflecting on Ulay's oeuvre, the symposium will bring leading international thinkers to Scotland to examine vulnerability, generosity, and relationality of the self to the other, the role of vulnerability in practices of resistance and the ethical role of art in social and cultural practices.

Speakers include: art historian and writer Dr Dominic Johnson, art historian, theorist, and critic Prof. Amelia Jones, architectural historian, cultural critic and art writer Prof. Jane Rendell, Ulay Foundation curator Tevž Logar and the artist, Ulay.

Commissioned responses
Artists and writers, Jude Browning, Amelia Bywater, Seán Elder, Kirsty Hendry and Alexander Hetherington have been invited to respond to Ulay's distinct and varied practice. These responses will be presented live as part of the Symposium and text-based responses will also feature on Cooper Gallery's Group Critical Writing website, a space that advocates for experimental, radical and critical writing about arts and culture in Scotland and beyond.

See here for more information about Cooper Gallery's Group Critical Writing programme.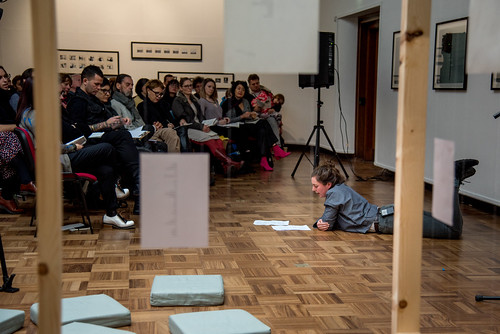 Photography by Jacquetta Clark
***
Speakers' biographies

Dominic Johnson is Reader in Performance and Visual Culture in the School of English and Drama, at Queen Mary University of London. He is the author of Glorious Catastrophe: Jack Smith, Performance and Visual Culture (2012); Theatre & the Visual (2012); and The Art of Living: An Oral History of Performance Art (2015). He is the editor of five books, including most recently Pleading in the Blood: The Art and Performances of Ron Athey (2013); and (with Deirdre Heddon) It's All Allowed: The Performances of Adrian Howells (2016). A new monograph, Unlimited Action: The Performance of Extremity in the 1970s is forthcoming from Manchester University Press in 2018. He is also an Editor of the journal Contemporary Theatre Review.
Amelia Jones is the Robert A. Day Professor at the Roski School of Art and Design at University of Southern California. A feminist curator and a theorist and historian of art and performance, her recent publications include Seeing Differently: A History and Theory of Identification and the Visual Arts (2012), Perform Repeat Record: Live Art in History (2012), co-edited with Adrian Heathfield, the edited volume Sexuality (2014), and, co-edited with Erin Silver, Otherwise: Imagining Queer Feminist Art Histories (2016). Her exhibition Material Traces: Time and the Gesture in Contemporary Art took place in 2013 in Montreal and she programmed the events Trans-Montréal (2015) in that city, followed by a related publication "On Trans/Performance," a special issue of Performance Research (2016). Her Live Artists Live performance and conference program took place at USC in 2016. Jones is currently working on a retrospective of the work of Ron Athey and a book tentatively entitled Intimate Relations: A Critical Genealogy of Queer / Performance.
Tevž Logar (1979) currently works as an independent curator and collaborates with different galleries and institutions. Between 2009 and 2014 he worked as artistic director of Škuc Gallery in Ljubljana, Slovenia, and was a regular lecturer on the history of the 20th century art at the Academy of Visual Arts in Ljubljana (AVA). He has curated various group and solo exhibitions in various galleries and museums. In 2013, at the 55th Venice Biennial, Logar curated the project "Jasmina Cibic For Our Economy and Culture" for the Slovenian Pavilion. In 2009, Logar worked as assistant commissioner of the Slovenian Pavilion at the 53rd Venice Biennial. Logar worked as a screenwriter on a full-length feature documentary Project Cancer, Ulay's journal from November to November. He is also a co-founder of Ulay Foundation in Amsterdam. In 2014, he was nominated for ICI Independent Vision Curatorial Award in New York. Logar regularly publishes texts and lectures on contemporary visual art, and currently lives and works in Ljubljana.
Jane Rendell is an academic and writer with a training in architectural design and history, whose work crosses architecture, art, feminism, history and psychoanalysis. She has developed concepts of 'critical spatial practice' (2002/6) and 'site-writing' (2007/10) through such authored books as Site-Writing (2010), Art and Architecture (2006), and The Pursuit of Pleasure (2002). Her new book concerning transitional spaces in architecture and psychoanalysis will be published by IB Tauris in December 2015. Rendell is Professor of Architecture and Art at the Bartlett, UCL. www.janerendell.co.uk
Ulay is the pseudonym of Frank Uwe Laysiepen. He was born in 1943 in Solingen, Germany. Ulay was formally trained as a photographer, and between 1968 and 1971, he worked extensively as a consultant for Polaroid. In the early period of his artistic activity (1968-1976) he undertook a thematic search for understandings of the notions of identity and the body on both the personal and communal levels, mainly through series of Polaroid photographs, aphorisms and intimate performances. At that time, Ulay's photographic approach was becoming increasingly performative and resulted in performative photography (Fototot, 1976). In the late stage of his early work, performative tendencies within the medium of photography were transformed completely into the medium of performance and actions (There Is a Criminal Touch to Art, 1976). From 1976 to 1988, he collaborated with Marina Abramovi? on numerous performances; their work focused on questioning perceived masculine and feminine traits and pushing the physical limits of the body (Relation Works). After the break with Marina, Ulay focused on photography, addressing the position of the marginalised individual in contemporary society and re-examining the problem of nationalism and its symbols (Berlin Afterimages, 1994-1995). Nevertheless, although he was working primarily in photography, he remained connected to the question of the 'performative', which resulted in his constant 'provocation' of audiences through the realisation of numerous performances, workshops and lecture-performances. In recent years, Ulay is mostly engaged in projects and artistic initiatives that raise awareness, enhance understanding and appreciation of, and respect for, water (Earth Water Catalogue, 2012). Ulay's work, as well as his collaborative work with Marina Abramovi?, is featured in many collections of major art institutions around the world such as: Stedejlik Museum Amsterdam; Centre Pompidou Paris and Museum of Modern Art New York.
After four decades of living and working in Amsterdam, several long-term artistic projects in India, Australia and China, and a professorship of Performance and New Media Art at the Staatliche Hochschule für Gestaltung, Karlsruhe in Germany, Ulay currently lives and works in Amsterdam and Ljubljana, Slovenia.

Artists and writers' biographies

Jude Browning is an artist and writer based in Glasgow and current practice based PhD candidate at Edinburgh College of Art. Her PhD Mouthwork: Staged Presentation and Laboured Expression investigates a relationship between language and professionally training the voice and body for forms of public speaking. Through acts of writing and performance she explores expectations of failure, the practice of recitation and resulting tensions between desire and requirement. By plotting a network of references from performance art, theatre studies, queer and feminist theory her research considers personas of the speaking body as a medium of persuasive communication. Recent public events include To write, to speak, to publish, to move in collaboration with Emmie McLuskey at The CCA Glasgow, Figure 4 at Baltic Project Space (curated by Kati Kärki, with Kirsty Hendry, Jake Watts and Magda Buczek), Oral Rinse 2 at Waterloo Action Centre, Squeezer Collective, SAR 2016 conference Writing as Practice, Practice as Writing and Cally Spooner's Study Week at Wysing Arts Centre. She has organised national events centered around the dissemination of writing as artistic practice at The CCA, The Cooper Gallery, The Whitechapel Gallery, X Marks the Böxship and in collaboration with Paperwork Magazine.
Amelia Bywater, lives in Glasgow. Much of Amelia's work involves a movement across collaborative practices, often looking to what is facilitated and included in modes of collective working, and exploring notions of the self in discursive space, and intimacy in technological space. Works take the form of text and publishing in print and online, and installations including video and performance. Since 2010 she has collaborated with Emma Fitts on a publishing project Victor & Hester, and began loomloomloom in 2016, a publishing project that hinges on collaborative working. She also makes work with artist Rebecca Wilcox, and within a collective OAPAO with Mark Briggs, Sarah Forrest and Rebecca Wilcox. Recent projects include I digress, Enjoy Gallery, Wellington, NZ (2017); lang. nest. ins., with Rebecca Wilcox, CCA, Glasgow (2017); Horror film, OAPAO, part of Two Night Stands, Cooper Gallery, Dundee (2017); BLOW UP MY TOWN, with Liam Casey and Gesa Helms, Market Gallery, Glasgow (2017); The Triumph of Geology is Total, with Scott Rogers, Publication Studio, Edmonton, Canada and CCA, Glasgow (2017).
Seán Elder is a Birmingham-based Curator from the far North of Scotland. He is currently Associate Curator at Grand Union and his research seeks to situate the Curatorial as a site for potential development and mobilisation in relation to Queer and Other'd art practices. He completed an MLitt in Curatorial Practice (Contemporary Art) at Glasgow School of Art in 2016. Recent projects include: To Brent: The Photography of Mark Morrisroe, Essay for NOTES Photography Journal, Summer 2017; Introductions, Writing for Habits of the Co-existent, with Tako Taal, The Newbridge Project and Platform Glasgow, 2017; Anthology of American Folk Song: Selected Shorts by Steve Reinke, Glasgow Film Theatre (Curated for LUX Scotland), 2017 and tracing the [public] garden wall, with artists Gordon Douglas and Tako Taal, Glasgow Botanic Gardens & The Glasgow School of Art, 2016
Kirsty Hendry is an artist who produces writing, events, and projects interested in practices of distribution and their relationships to language, identity, and subjectivity. Hendry's works often reflect on ideas of labour, work, and the body; unpicking their effect upon our sense of selfhood and embodiment. Recent projects include: Colourless Green Ideas Sleep Furiously (curated by Kati Kärki, with Jude Browning, Jake Watts and Magda Buczek), Figure 4 at Baltic 39, Newcastle, UK (2017); Unknown Outcomes(collaboration with Debi Banerjee) online commission for MAP Magazine, UK (2016); Alt-W Blush Response, Edinburgh Arts Festival, City Art Centre, Edinburgh, UK (2016); Soft Control, Embassy Gallery, Edinburgh, UK (2016) and Tenderpixel: Futures, ICA, London, UK (2015).
Alexander Hetherington is an artist who works with the moving image, writing, publishing, performance and curatorial activities in event and exhibition-making. Recent projects include TREATMENT, Kate Davis, Stills Gallery, Edinburgh; Anonymiser Particular, Richard Taylor, This is it – Universe, Helen McCrorie, ENTHUSIASM, Andrew Gannon and Orchids, Catherine Street at No.35, Stirling; Five Propositions, Toward A Scottish Collection of Artists' Moving Image, LUX Scotland; The Hallucinating Edge, Pure Movement and >>FFWD, as part of CURRENT, Contemporary Scottish Art in China, Phase Two, Cooper Gallery, Dundee; the publication and screening project Ripples on the Pond, GoMA, Glasgow, CCA and GSS and MOTHS, Summerhall, Edinburgh. Recent writing includes You hardboiled I softboiled, Rhubaba Gallery; Stephen Sutcliffe, Sex Symbols in Sandwich Signs, Talbot Rice Gallery, Tschabalala Self, Tramway, Glasgow and Shanghai Biennale/Raqs Media Collective, Shanghai, China, all for This is Tomorrow and Folly, curated by Rowan Markson at David Dale Gallery, Glasgow.

***
Image credit: Ulay, There is a Criminal Touch to Art, 1976. Film still. Courtesy of Ulay Foundation.


Cooper Gallery would like to thank Amelia Jones, Dominic Johnson and Tevž Logar for their support in the research and development of this project and REWIND for digitising Ulay's video works.
This exhibition is kindly supported by The National Lottery through Creative Scotland, and The Goethe Institute.



‌