Event
Two Night Stands: Ross Sinclair
Date: 17 March 2017 - 18 March 2017
Gallery: Cooper Gallery
Happening: Friday 17 March to Saturday 18 March, 10am - 5pm
For One Night Stands in 1997, Sinclair performed a 24hr drum solo inspired by Moby Dick – both the track by Led Zeppelin and the epic novel by Herman Melville.
Returning to the project in 2017, Sinclair will work with four emerging artists, Millie Angel, Hayley Jane Dawson, Amy Di Rollo and Iain McCall, to create a new performance work of the two songs I Love Real Life and Real Life is Dead, alongside as yet unseen footage of his original 24hr drum solo, the classic 1957 John Huston version of Moby Dick featuring Gregory Peck, and the John Bonham Led Zeppelin drum solo.
"Real Life Moby Dick 2017 is a very different prospect. Gone is the solo voyage into the limits of extremity – nowadays it appears that the only way to fulfil the quest for an understanding of the meaning and identity of Moby Dick is by embarking on the journey with like-minded souls, a collection of voices, a melancholic chorus."
Following the eponymous One Night Stands that launched the careers of leading UK artists two decades ago, Two Night Stands brings a new a series of ephemeral projects. In a spirit of contesting space and politics, Cooper Gallery will be taken over by artists and collaborative groups between 17 March to 8 April.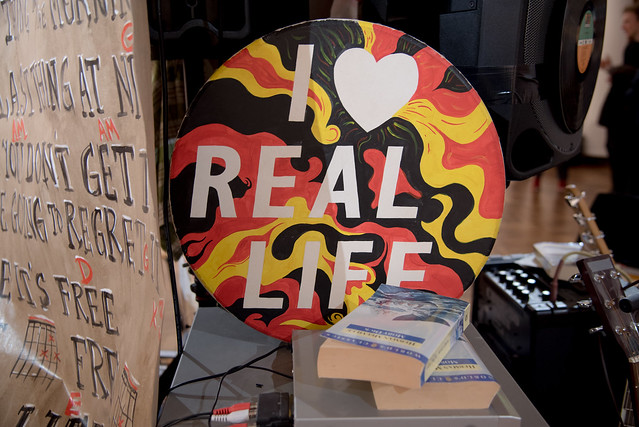 * * *
Biography
Ross Sinclair is an artist, writer and musician, and currently Reader in Contemporary Art Practice in the School of Fine Art at The Glasgow School of Art.
He is best known for his 'Real Life project' initiated when he had the words REAL LIFE tattooed in black ink across his back, at Terry's Tattoo parlour in Glasgow, 1994. The 'Real Life Project' has been exhibited in public and private spaces, museums and galleries in the UK, Europe, USA, South Korea, Japan and Australia, and has been disseminated across a range of publication contexts.
Recent public exhibitions include the display of his large-scale neon installation, 'We Love Real Life Scotland' for the 'Devils in the Making, GSA and the Collection' exhibition, Gallery of Modern Art, Glasgow (2015/16); a recreation of his 1996 performance installation 'Real Life Rocky Mountain' at The Scottish National Gallery of Modern Art, Edinburgh for 'Generation: 25 Years of Contemporary Art in Scotland' (2014/15), an exhibition at Simone de Souza Gallery, Detroit (2015) and a new commission by UK Parliament, to contribute to a year-long project in Westminster Hall, Palace of Westminster (2015).
Sinclair has published essays and texts in books, journals and magazines and has written extensively on the generation of Scottish artists emerging from the 1990s onwards, recently contributing an essay on (2010 Turner Prize winner), Susan Philipsz: Socialism in Her Heart, to the ArtAngel/Koenig monograph 'You Are Not Alone', 2014. In spring 2016, Sinclair will be a visiting fellow at St Johns College, Oxford University, where he will undertake a 3 month artist in residence programme.
Since the 1980s Sinclair has utilised music throughout his practice. In 2015 he released a gatefold vinyl album with booklet documenting a 3 year project with Collective Gallery (Edinburgh) 20 Years of Real Life: Free Instruments for Teenagers where he worked with young people developing, recording and releasing music made on instruments given away for free during his exhibition of the same name that was live at The City Dome, on Calton Hill in Summer 2014.
Images courtesy of the artist.