Event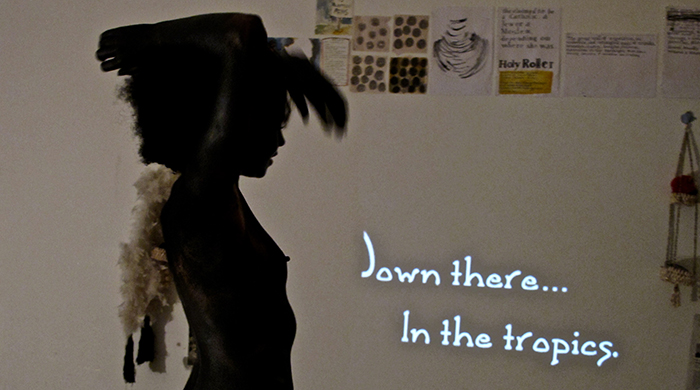 Two Night Stands: Jade Montserrat
Date: 7 April 2017 - 8 April 2017
Gallery: Cooper Gallery
Happening: Friday 7 April and Saturday 8 April, 10am - 5pm
Event: Friday 7 April, 6pm
For the final happening of Two Night Stands, Jade Montserrat introduces her work No Need for Clothing and Shadowing Josephine to Cooper Gallery.
Transcribing individual texts into a temporary wall drawing, No Need for Clothing is a new durational performance by Jade Montserrat that speaks of entanglement and commodity fetishism; a polemic engaged in combat between histories of colonialism and today's realities, imposition and economies of trust, protection and survival. Alongside the performance, Shadowing Josephine, film documentation of the artist's previous durational performances will be featured in the Happening. Shadowing Josephine is a surefooted but lightly choreographed work set to Cab Calloway's popular Cotton Club track "Pickin' up the Cabbage". The work recognizes the indebtedness owed to Josephine Baker, the first widely celebrated, independent black celebrity who emerged from colonial and segregation contexts and measures physicality as a visual language. How do we read bodies and how is this body to be read?
Following the eponymous One Night Stands that launched the careers of leading UK artists two decades ago, Two Night Stands brings a new a series of ephemeral projects. In a spirit of contesting space and politics, Cooper Gallery will be taken over by artists and collaborative groups between 17 March to 8 April.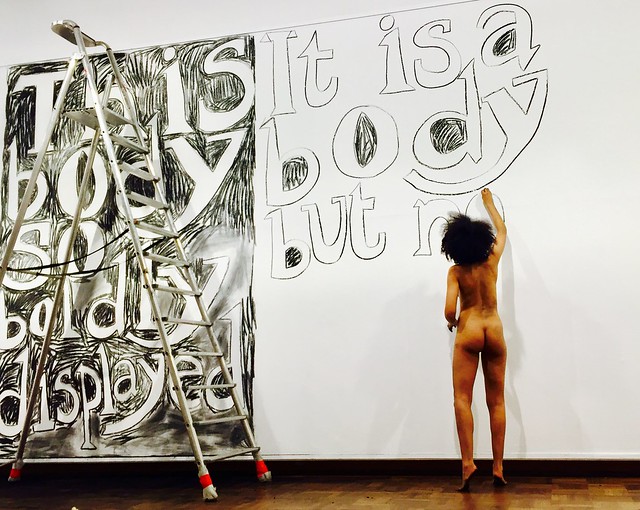 * * *
Jade Montserrat studied at Courtauld Institute of Art (2003) and Norwich School of Art and Design, MA Drawing (2010). Jade works at the intersections of art and activism, progressing through performance and live art, works on paper and interdisciplinary projects. Jade works collaboratively with Network 11, Press Room, the Conway Cohort and Rainbow Tribe:Affectionate Movement. Recent selected screenings and performances include Panolopy Lab, Brooklyn (2016), The Kitchen, New York (2016), 198 Gallery (2016), Spill Festival (2016), Steakhouse, Rich Mix (2016), IBAR UCLAN (2016), Princeton University (2016), Durham University (2016), Latitude Festival (2015), Conway Hall (2015), Steakhouse, ArtsAdmin (2015), Iniva (2014), Performance ]s p a c e[ (2014).
Image credit: 72 hour performance, occupancy, "Iterations of the Rainbow Tribe", Performance ]s p a c e[, London, 2014 (Image: Alethea Raban)