Event
Two Night Stands: Dundee Print Collective
Date: 28 March 2017 - 29 March 2017
Gallery: Cooper Gallery
Happening: Tuesday 28 March and Wednesday 29 March, 10am - 5pm
Event: Wednesday 29 March, 6pm with Lynda Morris
For the fourth Happening of the Two Night Stands programme, Dundee Print Collective will put into production a series of posters that responding to the phrase 'I'm Trouble' or 'We're Trouble' within the gallery. Inviting visitors to interact with the screen printing process as well as Live Zine Making over the two-day period, the space will become a site of subtle protest, resembling the detritus of cast aside protest paraphernalia. On Wednesday evening they will be accompanied with a performance by Bob Flambé, and Lynda Morris will give her lecture Cadere Was Trouble, and so was Beuys and discuss the proposition that "it is still possible to be an artist who is a moral force in modern history".

Following the eponymous One Night Stands that launched the careers of leading UK artists two decades ago, Two Night Stands brings a new a series of ephemeral projects. In a spirit of contesting space and politics, Cooper Gallery will be taken over by artists and collaborative groups between 17 March to 8 April 2017.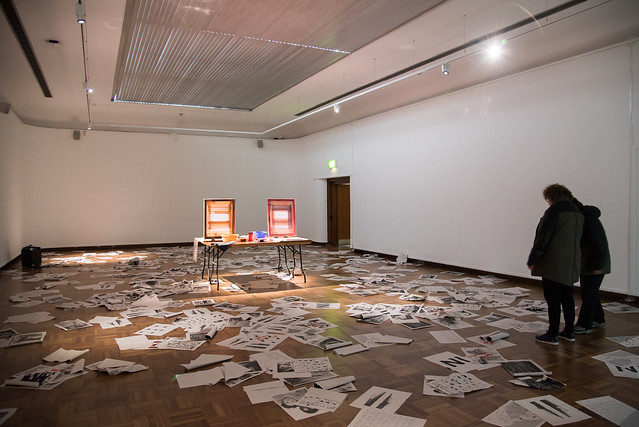 * * *
Biography
Dundee Print Collective (DPC) came out of the IMPACT 8 International Printmaking Conference which the city of Dundee hosted between many partners in 2013. IMPACT was the catalyst for a group of artist friends deciding they would like to form their own collective here in Dundee. The unique aspect of Dundee Print Collective is that it is collective for not just artists and designers. Over one hundred individuals have been involved with DPC over the last two years and many of these individuals have no artist training and background. Primarily based in Dundee Contemporary Art's Print Studio, DPC initiate print based projects with simple set parameters to the design brief, occasionally working to a concept.
To date Dundee Print Collective have exhibited six major bodies of work over the last two years. Exhibitions to date are 'Edition One' WASPS Studios, Dundee (2014), 'Edition Two' Hannah Maclure Centre, Dundee (2015), 'Silk Road - Dundee Print Collective' IMPACT 9 International Printmaking Conference, Hangzhou, China (2015), 'EU In.. EU Out.. EU In.. EU Out Shake It All About - The Dundee Print Collective EU Referendum Hokey Cokey' Vision, Dundee (2016) and 'Edition Three' WASP Studios, Dundee (2016), 'Dundee Publics: Past, Present and Future Subversions' Dundee(2017). As well as producing and exhibiting screen printed limited editions, DPC has initiated another collective project 'Riso Soup', which is specifically for producing artist zines and comics using Risopgraph machines. Riso Soup has now made four collaborative bodies of work to date and has attended 'PRINT ed' artist book and zine fair in Barcelona in 2015.
Dundee Print Collective continue to promote printmaking as a creative, social and educational method for anyone to express themselves visually. They encourage individuals to engage with future Dundee Print Collective projects.