Live sets and listening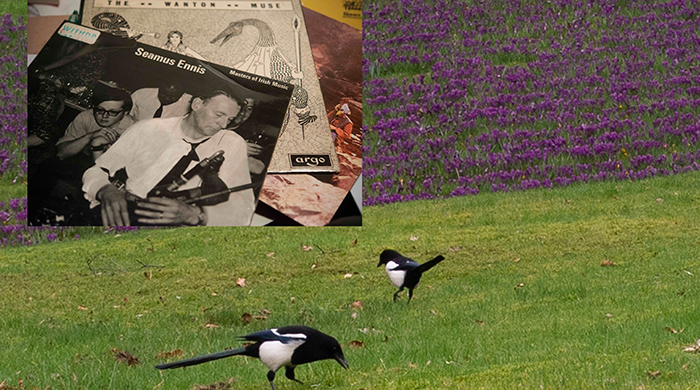 Thin gold chains link ears to the tip of their tongue
Date: 28 March 2019 - 28 March 2019
Gallery: Cooper Gallery
Thin gold chains link ears to the tip of their tongue
Thursday 28 March, 6–9pm
An evening of live sets and listening by Ailbhe Nic Oireachtaigh, Anna Clock, Neil McDermott, Francis McKee and Anne-Marie Copestake. The evening includes collaborations, solo pieces, composed and traditional tunes, and a talk accompanied by audio extracts.
The event is named after a description of Ogmios, not so much to conjure the figure of Ogmios more to consider the compelling nature, strengths, and social functions of collective tunes and performance within a community.
This event brings together collaborators of Anne-Marie to perform within her exhibition Looking in either direction the whole street was filled with people, some singing, moving towards x...

The event is free and unticketed.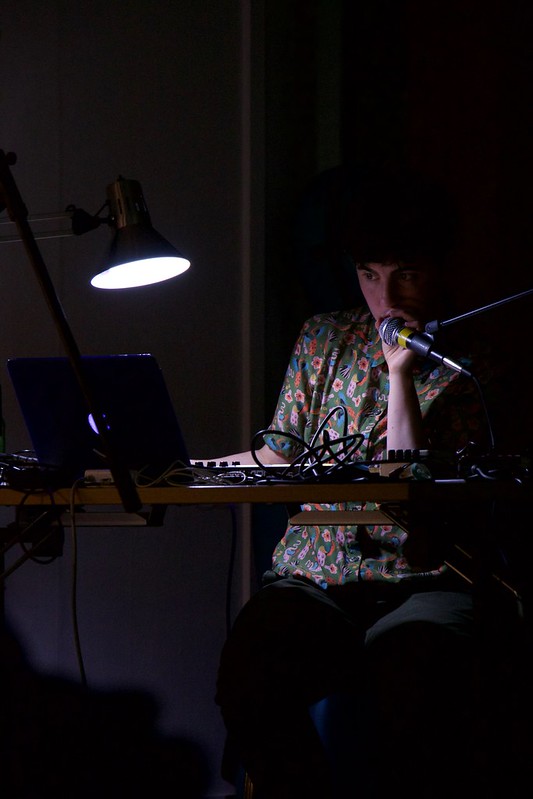 Photography by Amalia Shipman-Mueller

Collaborators' Biographies
Ailbhe Nic Oireachtaigh is a viola player from Ireland who takes influence from improvised, traditional and early music styles. She has played with a variety of musicians and groups which include Woven Skull, Circuit des Yeux, Josephine Foster and Alasdair Roberts and Irish improvisers David Lacey, Aonghus McEvoy and David Donohoe. Her first solo recordings were released on Fort Evil Fruit under the title Oreing and feature four semi-improvised pieces for viola and tape delay.
www.ailbhenicoireachtaigh.com
Soundcloud


Anna Clock is a composer, sound designer and musician working across theatre, film, radio and installation.
Recent projects include Soft Animals (Soho Theatre); Twelfth Night (Southwark Playhouse); Pomona; Punk Rock (New Diorama); Bury The Dead (Finborough Theatre); Fabric (Soho Theatre & Community spaces tour); Katie Johnstone; In The Night Time; [BLANK] (Orange Tree Theatre); Overexposed (V & A Museum); UNCENSORED (Royal Haymarket Theatre); Songlines (Edinburgh & HighTide Festivals, Regional Tour); Finding Fassbender (Vault, Edinburgh & HighTide Festivals); Forgotten Women podcast series (Peer Productions). Anna studied Music Composition and English Literature at Trinity College Dublin, Cello performance at the Royal Irish Academy of Music and holds an MA in Advanced Theatre Practice from Central School of Speech and Drama.
www.annaclock.com


Neil McDermott is a musician, recording engineer, sound designer and researcher. He has recently performed with National Theatre of Scotland, Alasdair Roberts, Quinie, Tartine de Clous Donald Lindsay and Askolenn. His recording and sound design output has included work for Scottish Opera, the BBC Scottish Symphony Orchestra, Alex Neilson's Crying Lion and bespoke incidental music for Channel 4 drama Skins. In 2017 Neil gained an MRes Creative Practices from the Glasgow School of Art. His degree show film, The Sea Fork & The North Star, examining historic musical protest to the Polaris nuclear weapons presence in the Holy Loch, was re-shown in January 2018 as part of Knots an event looking at authenticity, tradition, ownership, exclusion and appropriation in traditional music.

Recently Au Cube, a live recording of Neil's work with French a cappella trio Tartine de Clous and Alasdair Roberts on Brussell's Okraina Records received a Playlist Album Choice recommendation from fRoots magazine. Neil works in the School of Culture & Creative Arts at the University of Glasgow, teaching and supporting musical applications of ICT.


Francis Mckee is Director of CCA, Glasgow and a tutor and research fellow at Glasgow School of Art, working on the development of open source ideologies. From 2005 to 2008 he was also curator of Glasgow International Festival of Contemporary Visual Art.
He has curated many exhibitions including This Peaceful War, The Jumex Collection for the first Glasgow International in 2005; Zenomap (together with Kay Pallister), the presentation of new work from Scotland for the Venice Biennale in 2003; and he was one of the curators invited to contribute in Lyon Biennale 2007. Previously, Francis worked as a historian of medicine for the Wellcome Trust and as Head of Programme at CCA.
For the past fifteen years he has written extensively on the work of artists such as Christine Borland, Willie Docherty, Ross Sinclair, Douglas Gordon, Matthew Barney, Simon Starling, Catherine Yass, Joao Penalva, Kathy Prendergast and Pipilotti Rist. A recent collection of essays has been published and he was one of seven writers to collaborate on a sci-fi novel entitled Philip. Selections of his writing are also available on his website: francismckee.net

*
Image courtesy Anne-Marie Copestake and Francis McKee.