Online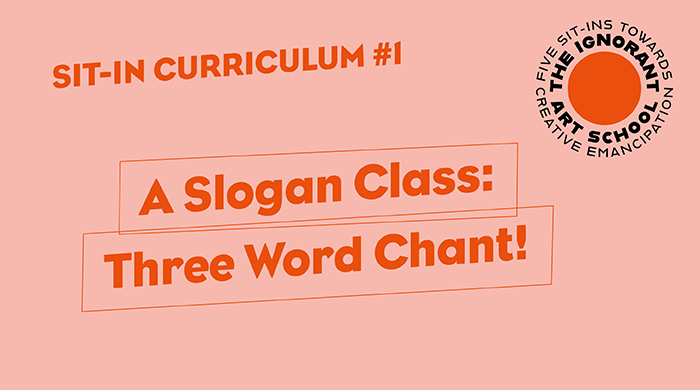 A Slogan Class: Three Word Chant!
Date: 15 April 2021 - 15 April 2021
Gallery: Off-site venue
A Slogan Class: Three Word Chant!
Thu 15 April 6.00 – 7.30pm
Investigating the history of protest posters, this workshop facilitated by designer Neil McGuire will explore ways of using expressive lettering and political slogans to promote a cause, defend a right, or stake a claim. Through the process of honing and refining three-word slogans, a toolkit of protest materials will be created together. Following the workshop, at a later date the posters will be placed in public space, documented and shared in context.
Free tickets are available on Eventbrite.
This event forms part of The Ignorant Art School, Sit-in Curriculum #1.
___________________
Facilitator Biography
Neil McGuire is a designer and teaches part-time at Strathclyde University in the Architecture department. He works with artists, architects, writers, theatre makers, and other designers on a range of projects across print and digital media, exhibitions and events. Projects include the curation of an exhibition on Graphic Design and Politics, the creation, with jeweller Marianne Anderson, of 'the Golden Tenement' (an alternative souvenir for the 2014 Commonwealth Games); Test Unit (an art, design and architecture summer school), and Then/Now (a public art commission for the Forth and Clyde canal).
___________________
All enquiries please contact: exhibitions@dundee.ac.uk
Funding support:
The Ignorant Art School at Cooper Gallery, DJCAD is supported by the National Lottery through Creative Scotland and the Henry Moore Foundation.