Screening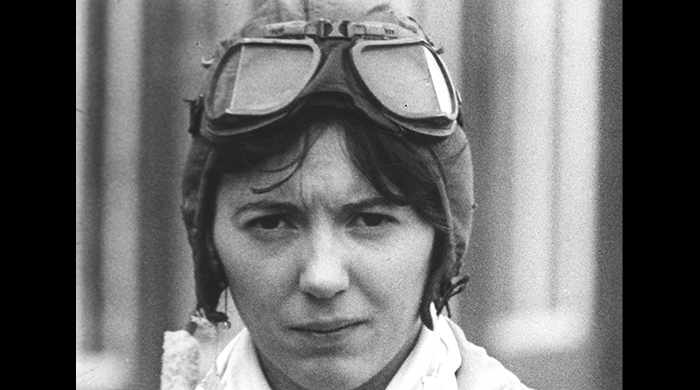 Screening | AMY! and Artist Talk by Laura Mulvey
Date: 29 September 2017 - 29 September 2017
Gallery: Cooper Gallery
Laura Mulvey and Peter Wollen
Urgency and Possibility: Counter-Cinema in the 70s and 80s

AMY!
Talk by Laura Mulvey and film screening
Friday 29 September
7pm – 8.30pm
To mark the opening of the screening programme, Urgency and Possibility: Counter-Cinema in the 70s and 80s, Laura Mulvey will give a talk discussing the political context and critical approach in her collaborative work with Peter Wollen. Dr. Ana Salzberg will introduce the event and moderate a Q&A with Laura Mulvey after the screening of Laura Mulvey and Peter Wollen's AMY! (1980).
Mulvey and Wollen's third film, AMY! is a tribute to Amy Johnson, a pioneering British aviator who was the first female pilot to fly solo from England to Australia. In this experimental short the aviator is used as a symbolic figure, her journey exemplifying the transitions between female and male worlds required by women struggling towards achievement in the public sphere.
"AMY! is neither a drama not a portrait in the conventional sense, but an assembly of sounds and images which evoke the subject through historic documents and relics, re-enactments and metaphors. The film also asks an underlying question; what is a heroine? We want to enquire into the idea and image of the heroine, not in an explicitly theoretical way, though the film has a theoretical background, but by putting fragments on display to suggest both the frustrations from which heroism is born and to which it is condemned, and at the same time something of the exhilaration it provides for the heroine herself and for others. Formally, our points of reference are Maya Deren and Gertrude Stein."
Statement by the artists, 1980, courtesy LUX.

Laura Mulvey & Peter Wollen, AMY!, 1980
Colour 16mm transferred to digital
30mins
Courtesy BFI.



Biographies

Dr. Ana Salzberg is a lecturer in Film Studies and Visual Culture at the University of Dundee. Her book Beyond the Looking Glass: Narcissism and Female Stardom in Studio-Era Hollywood was published by Berghahn Books.

Laura Mulvey is Professor of Film and Media Studies at Birkbeck College, University of London. She was Director of Birkbeck Institute for the Moving Image (BIMI) from 2012 to 2015. She is the author of: Visual and Other Pleasures (Macmillan 1989; second edition 2009); Fetishism and Curiosity (British Film Institute 1996; second edition 2013); Citizen Kane (BFI Classics series 1992; second edition 2012); and Death Twenty- four Times a Second: Stillness and the Moving Image (Reaktion Books 2006). She made six films in collaboration with Peter Wollen, and two films with artist/filmmaker Mark Lewis.

Peter Wollen is a radical filmmaker, film theorist, and screenwriter, whose book, Signs and Meaning in the Cinema (1969/72/98), continues to challenge and provoke. He co-wrote the screenplay for Michelangelo Antonioni's The Passenger (1975) and subsequently worked outside mainstream cinema, collaborating on six films with Laura Mulvey. His only solo feature, Friendship's Death (1987) stars Tilda Swinton as an extraterrestrial. His expansive interests included organizing paradigm-shifting art exhibitions, such as Frida Kahlo and Tina Modotti (1982) and On the Passage of a Few People Through a Brief Moment in Time: The Situationist International (1989).
* * *

Urgency and Possibility: Counter-Cinema in the 70s and 80s, is a two-week screening programme of the collaborative film works by widely influential film theorists and filmmakers Laura Mulvey and Peter Wollen. The programme, selected with Laura Mulvey, includes the artists' experimental shorts, features and documentary, which instigated Counter-Cinema in the 1970s. These films are underpinned by the discourse of feminist theory, semiotics, psychoanalysis and leftist politics and an attempt to work against the formalist and ideological domination of Hollywood cinema.

See full programme screening times here.

Image credit: AMY! (production still), Laura Mulvey and Peter Wollen, 1980. Image courtesy the artists and BFI.