Screening and In Conversation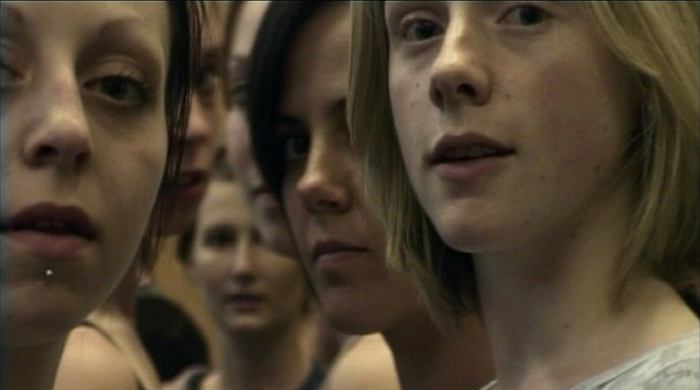 Screening and In Conversation with Miranda Pennell and Isla Leaver-Yap
Date: 24 February 2016 - 24 February 2016
Gallery: Cooper Gallery
Please join us for a Screening and In Conversation with esteemed film-maker Miranda Pennell and Director of Lux Scotland, Isla Leaver-Yap on Wednesday 24 February from 6.30 - 8.00pm in Cooper Gallery.
Film-maker and artist Miranda Pennell will be joined by Isla Leaver-Yap (Director, LUX Scotland) for an In Conversation, expanding upon Pennell's practice and thinking around performance in relation to the moving image and the tension between still and moving image. Pennell's recent films including Why Colonel Bunny Was Killed (2010) and You made me love you (2005) amongst others, will be screened during the evening.
Filming & Editing: Schedule D Productions
Photographer: Samuel Hill
Biographies:
Miranda Pennell is an artist and film-maker living and working in London. She originally trained in contemporary dance and later received an MA in Visual Anthropology from Goldsmiths, University of London.
Pennell has produced a body of award-winning film and video work that explores forms of collective performance, whether dancers, soldiers or fight directors. Her most recent moving-image work uses colonial archives as the starting point for investigations into the colonial imaginary.
Selected screenings and exhibitions of Pennell's work includes mixed programs and group shows at Tate Britain (2014), Whitechapel Gallery (2015), Museum of Modern Art Vienna (2012) and Kunsthaus Zurich (2015). Her award-winning video Why Colonel Bunny Was Killed (2010) is published on DVD by Filmarmalade.The Host (2015), Pennell's feature length film is based on the archives of the Anglo-Iranian Oil Company and will be touring the UK in spring of 2016. To find out more information about The Host, see The Host Website.
Isla Leaver-Yap
Isla Leaver-Yap works with artists to produce essays, books, exhibitions and events. She is currently working on upcoming book projects with artists Lucy McKenzie and James Richards. Recent projects include work with Hanne Darboven, Moyra Davey, Dexter Sinister, Maria Fusco, Will Holder, Charlotte Prodger, Stuart Marshall, Shahryar Nashat, Anne Charlotte Robertson, Jack Smith, Patrick Staff and Leslie Thornton. Leaver-Yap is Director of LUX Scotland.
Images courtesy of Miranda Pennell and LUX: Artists' Moving Image.
* * *
ALL SYSTEMS... go
22 January - 27 February 2016
Dance & Poetry: Wednesday 17 February, 6.30 - 8.00pm
ALL SYSTEMS…go is a group exhibition featuring artists' films by leading international artists Liam Gillick & Anton Vidokle, esteemed film-maker Miranda Pennell and recent Glasgow School of Art MFA graduate Dominic Watson.
Taken from the US Apollo missions the title has since entered everyday use and conveys the implication of an irreversible act. Once 'all Systems go' flashes up there is no escape from its consequences and there is no turning back.
The three works presented in the exhibition hollow out moments in the unstoppable systems which underscore the inescapable conditions of contemporary power discourse. Enabling the discursive and the improbable, the compromise and the negotiation as disruptive practices, the featured works enter into the hardwired trajectories pre-loaded into the systems propelling all aspects of our world.
For more information about the ALL SYSTEMS.. go exhibition and the artists, please see the exhibition page: www.dundee.ac.uk/djcad/exhibitions/exhibitions/all-systems-go
* * *
The galleries can be accessed via the Cooper Gallery doors at the east side of the DJCAD car park.
Opening hours: Monday - Friday: 10am - 5pm, Saturday: 11am - 5pm, Sunday: closed.
Images: Miranda Pennell, stills from You made me love you,(2005), Tattoo (2001), Why Colonel Bunny Was Killed (2010). Images courtesy of the artist.
Miranda Pennell's participation in ALL SYSTEMS... go is kindly supported by LUX: Artists' Moving Image.