Symposium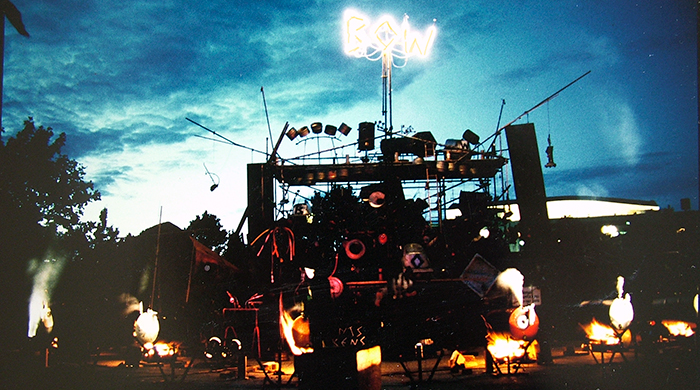 Scoring Noise | Bow Gamelan Ensemble Symposium
Date: 24 November 2018 - 24 November 2018
Gallery: Cooper Gallery
Bow Gamelan Ensemble
Great Noises That Fill The Air
Scoring Noise Symposium
Saturday 24 November, 2–6pm
On the occasion of Bow Gamelan Ensemble's exhibition, Great Noises That Fill The Air, Cooper Gallery presents the symposium Scoring Noise. Acting as a coda to the project the symposium brings together artists, thinkers, theorists and musicians, tuning into current social and critical discourse to delineate the politics at stake in the discordances and harmonies that divide and unite 'noise' and 'collective voice'.

Confirmed speakers include: Sam Ainsley & David Harding, Anne Bean & Richard Wilson (Bow Gamelan Ensemble), Graham Fagen, Rob La Frenais and David Toop.

Artists Ceylan Hay and Tina Krekels & Adam Campbell will punctuate the symposium with live sound interventions, commissioned as responses to the ethos of improvisation, camaraderie, provocation and antagonism within Bow Gamelan Ensemble's practice.

Tickets are free. Sign-up via Eventbrite.
___


Schedule
11.00am
Exhibition open

2.00pm
Sound Intervention by Tina Krekels & Adam Campbell
2.20pm
Talk by David Toop
2.50pm
Talk by Rob La Frenais
3.05pm
Performance talk by Anne Bean & Richard Wilson

3.20pm
Talk by Graham Fagen

3.50pm
Sound Intervention by Ceylan Hay
4.00pm
Break & refreshments
4.30pm
Talk by Sam Ainsley & David Harding
5.00pm
Panel Discussion
5.40pm
Sound Intervention by Tina Krekels & Adam Campbell
6.00pm
Closing remarks from Janice Aitken
&
Book Launch, Anne Bean: Self Etc
___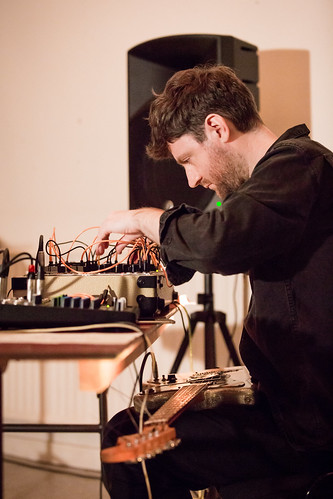 Slideshow: Scoring Noise Symposium documentation, photography by Sally Jubb
Utilising found objects, invented instruments and everyday sound, Bow Gamelan Ensemble have, since 1983, inspired generations of artists with their radical collaborative and cross-disciplinary practice.

Embodying an urgently creative and discursive space resonating with improvisation, camaraderie, provocation and antagonism, Bow Gamelan Ensemble is driven by the uniquely subversive and collective sensibilities of Bean, Burwell and Wilson. Charged with their individual virtuosity in performance art, avant-garde music and kinetic sculpture, Bow Gamelan Ensemble's sound installations and performances are immersed in an orchestra of instruments made from scrap metal, electric motors, river barges and domestic objects including glass sheets, light bulbs and fireworks. With this passionate and radical sojourn in the possibilities of sound and light, Great Noises that Fill the Air will engineer a live interrogation of the dissonance between 'noise' and 'meaningful utterance' that will astonish the ears and ravish the imagination with unearthly magic.
Exhibition runs 27 October – 15 December 2018
For more information on the exhibition and Event Series see Cooper Gallery's website here.

Speakers' Biographies


Sam Ainsley is an artist and teacher and until 2005 was Head of the MFA Programme at Glasgow School of Art. She has forged a remarkable career within the visual arts sector nationally and internationally. From 1985-1991 she taught on the Environmental Art programme under David Harding's leadership when she then co-founded the Master of Fine Art course. She has since worked collaboratively with David Harding and Sandy Moffat as AHM and continues to work independently in her studio.

She is a respected and published spokeswoman for the visual arts and her own artwork is in a number of public and private collections nationally and internationally. Ainsley has contributed to a broad range of visual art initiatives in Scotland and has served as a Board member on many arts organisations. She has exhibited in and curated independent exhibitions and undertaken residencies in numerous institutions and arts organisations across the USA, Australasia, Europe and the UK. More recent presentations of her work include 'New Scots', RSA Edinburgh,'Atlas of Encounters' at I Space Gallery, Chicago and Athens, 'Live your questions now' and 'Studio 58' Mackintosh Museum, GSA and 'After Growth and Form' at Glasgow Print Studio. In 2017 she was invited to have a one person exhibition at An Tobar Gallery on the Isle of Mull. A full colour catalogue is available. Ainsley was also represented in two recent exhibitions in Edinburgh and Glasgow to mark the 30th anniversary of The Vigorous Imagination, a landmark exhibition held at the Scottish National Gallery of Modern Art in 1987. She was also elected to the Royal Scottish Academy and was inducted into the "Outstanding Women of Scotland" by the Saltire Society in 2017.

‌
Graham Fagen is a Scottish artist living and working in Glasgow, Scotland.
He studied sculpture at The Glasgow School of Art (1984-1988, BA) and Art & Architecture at the Kent Institute of Art and Design (1989-1990, MA). He is Professor of Fine Art at Duncan of Jordanstone College of Art & Design in Dundee. His work mixes media and crosses continents; combining video, performance, photography and sculpture with text, live music and plants. Fagen's recurring artistic themes, which include flowers, journeys and popular song, are used as attempts to understand the powerful forces that shape our lives. In 1999 Fagen was invited by the Imperial War Museum, London to work as the Official War Artist for Kosovo, and since then has exhibited widely both in the UK and abroad. He has exhibited internationally at the Busan Biennale, South Korea (2004), the Art and Industry Biennial, New Zealand (2004), the Venice Biennale (2003).
In Britain he has exhibited at the Victoria & Albert Museum, Tate Britain, and the Institute of Contemporary Arts, London. In 2011 Fagen was the International Artist in Residence at Artpace, San Antonio, concluding with a solo exhibition, Under Heavy Manners. With theatre director Graham Eatough he created The Making of Us, a performance, installation and film, for Glasgow International 2012. Recent exhibitions include Cabbages in an Orchard at The Glasgow School of Art (2014); participation in GENERATION: 25 Years of Contemporary Art from Scotland (2015) at the Scottish National Gallery of Modern Art in Edinburgh, and In Camera (2015) with Graham Eatough at the Panorama, La Friche, Marseille. The Mighty Scheme with Matt's Gallery at Dilston Grove and CPG London (2016). The Slave's Lament at Galerie de l 'UQAM, Montreal and the Scottish National Portrait Gallery (2017) and at the Doris McCarthy Gallery, Toronto and The National Art Gallery of the Bahamas (2018). In 2015 he was selected to represent Scotland at the 56th Venice Biennale.


Rob La Frenais is an independent contemporary art curator, working internationally and creatively with artists entirely on original commissions. He believes in being directly engaged with the artist's working process as far as possible, whilst actively widening the context within which the artist can work. He founded Performance Magazine in 1979 before becoming a curator in 1987. From 1997 for 17 years he was based at The Arts Catalyst, UK, where he developed an ambitious artistic programme and was responsible for some of the most innovative art and science exhibitions and events in the world. La Frenais curated early performances by Bow Gamelan Ensemble in the mid 1980s at the Diorama and Air Gallery. In the last four years he has been an independent curator working internationally. He has a PhD in curatorial practice. La Frenais writes regularly for Art Monthly UK and Makery.info in France and has edited a book on the artist Anne Bean, to be published by Intellect Books and LADA in November 2018.



Photo credit: Leena Kela


David Harding, studied at Edinburgh College of Art leaving in 1959. He spent four years teaching art in a remote part of Nigeria. He was Town Artist of Glenrothes in Fife from 1968 to 1978 where he developed the concept of the artist as planner. From 1978 to 1985 he was senior lecturer in Art & Social Contexts at Dartington College of Art. In 1985 he was appointed head of a new department, Environmental Art, at Glasgow School of Art that has been credited with contributing to Glasgow's highly regarded contemporary art scene. He left GSA in 2001. Since 2004 he has collaborated with Ross Birrell making films and associated art works travelling to Spain, Mexico and Cuba among others. Recent exhibitions include, 'Winter Line' at the Kunsthalle in Basel in 2014, 'Where Language Ends' at the Talbot Rice Gallery, Edinburgh in 2015 and various works in Athens and Kassel as part of Documenta 14 in 2017. He has lectured widely here and abroad on social and public art practices.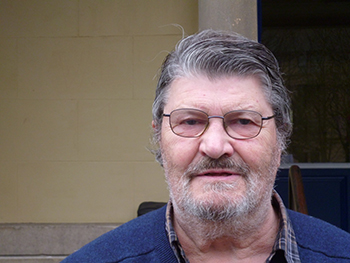 David Toop has been developing a practice that crosses boundaries of sound, listening, music and materials since 1970. This encompasses improvised music performance, writing, electronic sound, field recording, exhibition curating, sound art installations and opera. It includes seven acclaimed books, including Rap Attack (1984), Ocean of Sound (1995), Sinister Resonance (2010), Into the Maelstrom (2016) and Flutter Echo, a memoir first published in Japan (2017). Briefly a member of David Cunningham's pop project The Flying Lizards in 1979, he has released thirteen solo albums, from New and Rediscovered Musical Instruments on Brian Eno's Obscure label (1975) and Sound Body on David Sylvian's Samadhisound label (2006) to Entities Inertias Faint Beings (2016). His 1978 Amazonas recordings of Yanomami shamanism and ritual were released on Sub Rosa as Lost Shadows (2016). In recent years his collaborations include Rie Nakajima, Akio Suzuki, Tania Chen, John Butcher, Ken Ikeda, Elaine Mitchener, Henry Grimes, Sharon Gal, Camille Norment, Sidsel Endresen, Alasdair Roberts, Thurston Moore, Ryuichi Sakamoto and a revived Alterations, the iconoclastic improvising quartet with Steve Beresford, Peter Cusack and Terry Day first formed in 1977. Curator of sound art exhibitions including Sonic Boom at the Hayward Gallery (2000), his opera – Star-shaped Biscuit – was performed as an Aldeburgh Faster Than Sound project in 2012. He is currently Professor of Audio Culture and Improvisation at London College of Communication.



Artists' Biographies

Ceylan Hay is a self-trained musician, sound artist and composer from Scotland with a very open-minded approach to music and sound. Primarily a singer with an extraordinarily flexible voice full of emotional range, she is also an accomplished multi-instrumentalist, with a distinctive finger-style guitar technique, who frequently collaborates with other creatives from art, film, science, dance, theatre and literary backgrounds. She has performed at Glasgow International Festival of Visual Art 2018, Fort Process 2018, Swansea International Festival 2018, Edinburgh Art Festival 2017 and Edinburgh Festival Fringe 2017, and appeared on BBC Radio 3, BBC Radio 4, BBC Radio 6, NTS and Radio 1 Czech. She plays violin in Glasgow Improvisers Orchestra, founded free improv vocal group MAW (based at Centre for Contemporary Arts Glasgow) and performs solo as Bell Lungs, a one-woman band exploring the microcosms of macro relationships, folklore, online culture, landscape excursions and fantastical whimsy through a flurry of pedals, field recordings, homemade electronics and electro-acoustic meldings. She is also a community musician working across Scotland, delivering workshops to a wide range of people from all kinds of backgrounds. The therapeutic nature of music is key to her overall practice.


Tina Krekels and Adam Campbell regularly collaborate as a duo and as part of larger groups using synthesis, saxophone and guitar.
Tina Krekels is a saxophonist and writer and recently escaped Brexit with her German passport. She is interested in expanding the saxophone into a spitty, vocal and breathy instrument as part of her feminist practice, counteracting muscular masculinity in free jazz. When she writes she likes to entangle politics, pathology and science-fiction scenarios into non-linear meanings. She was recently commissioned by the BBC Scotland for their music festival Tectonics, where she performed with Adam Campbell. When she doesn't perform with Adam, she also plays with their friend Tristan, Grant and others. www.tinakrekels.com
Adam Campbell is a musician and media artist from Glasgow. His work focuses on improvisation, collaboration and noise, utilising the configuration of modular synthesiser, performance practice and custom developed software. He currently plays in Ego Depletion with Fritz Welch and Fua with Tina Krekels and Tristan Clutterbuck. His performances and installations have been featured at Tectonics Festival, the Talbot Rice Gallery, STEIM, Counterflows Festival, Goldsmiths University, Glasgow Centre for Contemporary Arts, Café Oto and Dundee Contemporary Arts; including projects commissioned and supported by Goethe Institute, the European Funding Council and the Jerwood Charitable fund. https://cargocollective.com/adamcampbelland http://www.fancyyyyy.com/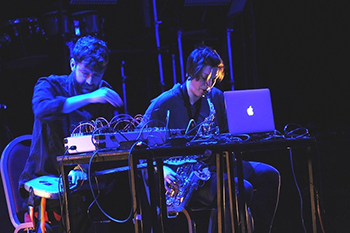 *
Image credit: Bow Gamelan Ensemble, Damn Near Run Thing, 1988. Sounds Unusual Festival, South Bank, Jubilee Gardens, London. Courtesy Bow Gamelan Ensemble.