Roundtable Discussion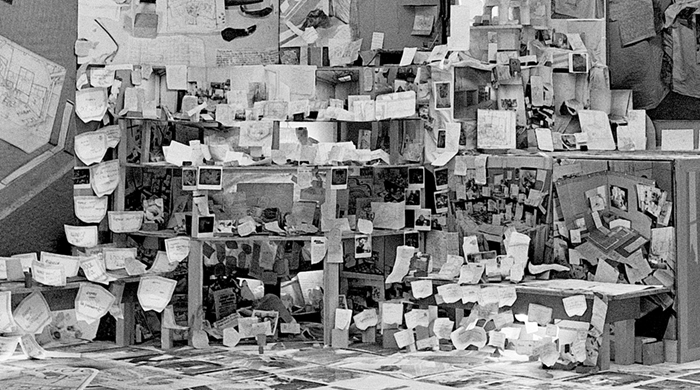 The Process of Content: on a temporality in contemporary art
Date: 29 November 2014 - 29 November 2014
Gallery: Cooper Gallery
Roundtable Discussion
The Process of Content: on a temporality in contemporary art
Saturday 29 November 2014, 2.00pm - 4.30pm
Speakers: Guy Brett (Curator and Critic, London), Lynda Morris (Curator and Art Historian, Norwich), Tobi Maier (Curator and Writer, São Paulo), Prof. Martin Warnke & Carmen Wedemeyer (Researchers, Leuphana University Lüneburg). Chaired by Dr. Lisa Otty (Research Fellow, The University of Edinburgh).

Cooper Gallery are pleased to announce the Roundtable Discussion The Process of Content: on a temporality in contemporary art will take place on the afternoon of Saturday 29 November, 2-4.30pm to accompany the current exhibition Anna Oppermann: Cotoneaster horizontalis.
Anna Oppermann's practice with its distinctive attention to the intellectual and aesthetic possibilities of text, image and object, understands perception and awareness as a 'practice of thinking'. Echoing the work of the French philosopher Gilles Deleuze who theorized 'thinking' as a series of moments that together constitute a practice, Oppermann's unique 'practice of thinking' is perpetually fluid and dynamic, an expansive process that evades any possibility of closure or conclusion. The possibilities inherent in this approach, alongside ideas of 'inhabiting' and the construction of multiple moments of encounter, manifest the extraordinary spirit in the practices of Oppermann and of many of her contemporaries, which will be explored and elaborated at the Roundtable Discussion.
Drawn from the proposition that the work of Anna Oppermann acts as 'a practice of thinking', the roundtable discussion is a stimulating gathering of thoughts that elaborates and amplifies the histories, politics and social reverberations of art practices in the 1970s and 80s, and the influence and impact they have on our thinking about art and culture today. ?
Accompanying the Roundtable Discussion will be a series of readings by writers in Scotland: Frances Davis, Kirsty Hendry, Alex Hetherington, Catherine Street (&JL Williams) and Richard Taylor.
Video documentation of the Roundtable Discussion on 29 November. Filming & editing by Rob Page, 2014.
Documentation of the Readings from art writers' in Scotland on 29 November. Filming & editing by Rob Page, 2014.
Art in Scotland TV covered the Roundtable Discussion 'The Process of Content: on a temporality in contemporary art' on 29 November.
Images of the Roundtable Discussion, Cooper Gallery, 2014. Photos: Kathryn Rattray
Please click to the Anna Oppermann: Cotoneaster horizontalis webpage for more information about the exhibition.
www.dundee.ac.uk/djcad/exhibitions/exhibitions/anna-oppermann
Speaker's Biographies
Guy Brett
Guy Brett is an art critic and curator based in London. He worked as Art Critic for The Times from 1964-74, and was also a founding member of Signals Gallery, which held a series of exhibitions between 1964-66 showing the works of artists such as Jesus Raphael Soto, Sergio Camargo, Lygia Clarke and Hélio Oiticica. He later played a fundamental role in facilitating Oiticica's major London exhibition, The Whitechapel Experiment, held at the Whitechapel Gallery in 1969.
Guy Brett is a Visiting Professor at University of the Arts London.
Tobi Maier
Tobi Maier is a curator and writer based in São Paulo, where he was an associate curator for the 30th edition of the Bienal de São Paulo (2012). Previously, he worked as a curator at Frankfurter Kunstverein in Frankfurt am Main (2006–2008) and at Ludlow 38 in New York (2008–2011). He recently co-edited OEI #60–61 Extra-disciplinary spaces and de-disciplinizing moments. In and out of the 30th Bienal de São Paulo (2013) and OEI #66 poema/processo (2014) as well as the fourth edition of the Brazilian online magazine Periódico Permanente.
Lynda Morris
Lynda Morris is Professor in Curation and Curator of the Norwich Gallery at NUA and the renowned EASTinternational contemporary art programme. EASTinternational over the last 30 years has included work with Peter Doig, Neo Rauch, Jeff Wall, Lawrence Weiner, Richard Long, Marian Goodman, Peter Kennard, Gustav Metzger and Konrad Fischer. Morris holds degrees from Canterbury University (BA) and the Royal College of Art (MA) where her thesis was on the future of Art Education, based on Art & Language in Coventry, Joseph Beuys in Düsseldorf and The Projects Class at Nova Scotia College of Art and Design in Canada. She previously worked at the ICA (1969-1972) on exhibitions including When Attitudes Become Form and Ed Kienholz 10 Tableaux and as Richard Hamilton's assistant on his retrospective at the Guggenheim in 1973. Between 1976 and 1980, Morris organised exhibitions at the Midland Group in Nottingham including the first UK shows of Gerhard Richter, Robert Mapplethorpe and a curatorial project with R. B. Kitaj and John Szarkowski.
Morris frequently contributes to international art journals and writes and edits publications including Unconcealed: The International Network of Conceptual Artists 1967-77: Dealers, Exhibitions and Public Collections in 2009 and Conception, Conceptual Documents 1968 to 1972 with Catherine Moseley in 2000.
Dr. Lisa Otty
Dr Lisa Otty is currently a research fellow on the AHRC-funded Palimpsest project at the University of Edinburgh. Her research explores the relationship between literature, visual art and technology and she has interests in critical theory, the archive in practice and theory, and material culture. Between 2012 and 2013, she was AHRC Early Career Fellowship at the Centre for the History of the Book. In Spring 2012, she was the Alfred W. and Blanche Knopf Visiting Fellow at the Harry Ransom Centre, University of Texas at Austin, and prior to that, she was Postdoctoral Research Fellow on the AHRC-funded project 'Poetry Beyond Text: Vision, Text and Cognition' at the University of Dundee.
Martin Warnke
Martin Warnke studied in Berlin and Hamburg, where he acquired his PhD in theoretical physics in 1984, and then began his affiliation with the University of Lüneburg, where he was head of the computing and media center for many years. He finished his habilitation at the University of Lüneburg in 2008, becoming an associate professor for digital media/cultural computer science, and was the University's Director of the Institute for Culture and Aesthetics of Digital Media at the Faculty Culture. He is now Professor at the faculty. He is also a visiting professor in Vienna, Klagenfurt, and Basel and works in the fields of history, digital media, and the digital documentation of complex works of art. He is one of the directors of the DFG funded 'Institute for advances Study in Media Cultures of Computer Simulation' (mecs). He heads the Meta-Image research project, and works with the IFIP and the Gesellschaft für Informatik, as counsellor to the Zeitschrift für Medienwissenschaft.
Carmen Wedemeyer
Carmen Wedemeyer studied art history and cultural analysis in Hamburg and Lüneburg. She acquired the Magister Artium with a first digital documentation of Anna Oppermann's Ensemble Umarmungen, Unerklärliches und eine Gedichtzeile von R.M.R..Currently she works as a researcher in application projects of the HyperImage software at the Leuphana Universität in Lüneburg. Selected publications include Anna Oppermann in der Hamburger Kunsthalle published by Hamburger Kunsthalle 2004 and 'Anna Oppermann's self-archives' in interachive; Archival Practices and Sitesin the Contemporary Art Field, Koenig, 2002.
Cooper Gallery would like to thank the estate of Anna Oppermann and Galerie Barbara Thumm.
This project is kindly supported by The National Lottery through Creative Scotland and The Henry Moore Foundation.
We also thank Goethe Institut Glasgow for their kind support of the exhibition.

Cooper Gallery is open Monday - Saturday, 11am - 5pm, and can be accessed via the Cooper Gallery doors on the east side of the DJCAD car park.
‌Image: Anna Oppermann in the Ivory Tower of the ensemble The Artist's Task to Solve Problems (Problem of Space), 1978–1984. Musée d'Art Moderne de la Ville de Paris 1981. Courtesy of the Estate of Anna Oppermann and Galerie Barbara Thumm Berlin.