Artist's Film Screening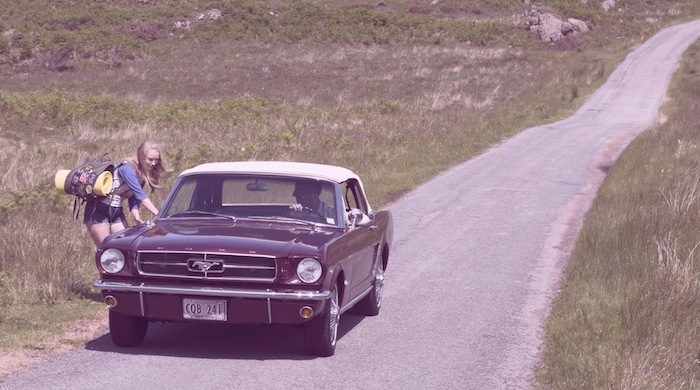 Jamie Shovlin
Date: 16 May 2014 - 17 May 2014
Gallery: Centrespace
Exhibitions, DJCAD are delighted to stage the debut screening in Scotland of Rough Cut (2013), an artist's film by Jamie Shovlin. The film will be screened consecutively over 2 days at Centrespace, VRC, to coincide with the opening of the DJCAD Degree Show 2014.
Rough Cut, the critically acclaimed debut feature from artist Jamie Shovlin, explores the re-making of imaginary 1970s teen horror film Hiker Meat; an exploitation film that never existed. The meta-documentary emphasises the archetypes and mythologies of this often critically maligned period of filmmaking.
Shovlin explores in his practice the tensions between truth and fiction, reality and invention, history and memory, seeking to question how information and knowledge becomes authoritative.
Based in London, Shovlin is a graduate of the Royal College of Art and has shown extensively across Europe including solo exhibitions at Cornerhouse (Manchester), MACRO (Rome), IBID Projects (London), Haunch of Venison (London) and Tate Britain (London). Rough Cut is a co-commission between Cornerhouse Artist Film and TIFF: Toronto International Film Festival and is a feature in the 43rd International Rotterdam Film Festival.
Jamie Shovlin has received extensive positive press coverage for Rough Cut in a number of high profile print and online publications such as The Guardian, Frieze Magazine, Art Review, The Skinny and Dazed Digital.
Opening Times:
Friday 16 May: 10.30am – 6pm
Saturday 17 May: 10.30am – 6pm
The film will be screened consecutively and is 86 minutes.
Rough Cut Trailer:
Rough Cut
Dir Jamie Shovlin / Great Britain / 2013 / 86mins / In English
Director: Jamie Shovlin
Writer: Mike Harte
Producer: Bren O'Callaghan
Assistant Producer: Marisa Draper
Executive Producer: Sarah Perks
Director of Photography: John Grey
Composer: Euan Rodger
Produced and Distributed by: Cornerhouse Artist Film
Image: Still from Hiker Meat (2013), Artist: Jamie Shovlin. Image: courtesy and copyright the artist.