Drawing workshop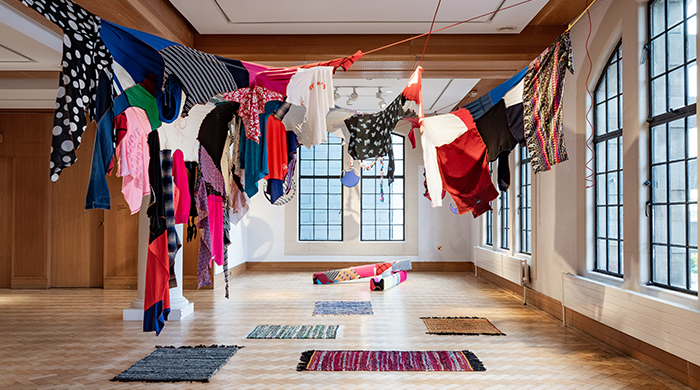 Rhona Jack | Freehand Weaving
Date: 24 November 2020 - 24 November 2020
Gallery: Off-site venue
Rhona Jack
Freehand Weaving
Tuesday 24 November, 1–3pm
Zoom

The workshop will focus on observational drawing and frame-loom weaving. Rhona will lead participants from initial sketches, through collages to a gestural technique using a combination of collage, stitching and weaving.
Participants will be encouraged to use their domestic space as inspiration, finding shapes and colours in their surroundings. Working primarily with scrap materials, and addressing form and colour, the workshop will bring attention to domestic space, the play of light and often overlooked materials. This workshop accompanies the Trinity Buoy Wharf Drawing Prize 2020, 13 November – 19 December 2020 at Cooper Gallery.
Sign-up
This event is free and open to all. Places are bookable via Eventbrite.
After booking a space participants will be sent a link to join the Zoom video call.

Biography
Rhona Jack lives and works in Dundee. She graduated from Duncan of Jordanstone College of Art & Design in 2017 and is currently a Committee Member of GENERATORprojects. Recent exhibitions include 'Women in Print', Zane Bennett Contemporary Art, Santa Fe, 2020; Platform: 2020, City Art Centre, Edinburgh, 2020; Reduct, Royal Scottish Academy, Edinburgh, 2020; Satellite, Summerhall, Edinburgh, 2018; Inside:Outside and An Isolated Process, both Merz Gallery, Sanquhar, 2020; and New Scottish Artists, The Cello Factory, London, 2018.
Suggested Materials
For this workshop participants will be invited to work primarily with scrap and found materials available around the home. The materials list is flexible depending on what is to hand. The following list is not essential and is a suggestion from Rhona.
Paper
Plain, coloured, lined, squared. Scrap paper, old receipts, bills, cardboard, junk mail, magazines, newspapers, cards or packaging. Anything that might have an interesting pattern, text or colour. Greaseproof paper, tracing paper, acetate or food wrappers.
Drawing material
Pens or pencils, colourful ones or graphic/ink.
String
Yarn, twine, plastic or natural materials, ideally not too thin.
A needle and thread
To work material into the weaving
Scrap fabric
Torn up t-shirts or bedsheets, old clothes, rags.

Weaving frame
For the final part of this workshop participants will require a picture frame or cardboard to weave on. Customise a picture frame, by wrapping yarn/string around to create the base frame work for weaving. The bigger the frame, the more space you have for working.
Particpants can also make a loom from cardboard, instructions can be found online tutorials.
Participants will be working primarily with paper and fabric, but if you have any other ideas of materials to include in your weaving feel free to bring them along.
____________________

Venue Information
Zoom

Participants are not required to download any software to join. The workshop requires internet access. For access enquiries please contact exhibitions@dundee.ac.uk

*
Image credit: Rhona Jack, Trouble Maker Heart Breaker, 2020, part of Platform: 2020, Edinburgh Art Festival. Photo: Tom Nolan.